The time has come to blog my wedding. I haven't been able to do it up to this point because it was such a massive event, and maybe I have just gotten over planning it.
It was truly the best week of our lives. I have NEVER had so much fun in such a beautiful place with all (well most) of the people I love. Sure, there will always be someone who can't make it. And yes, it will surprise you (and hurt) to see who doesn't come. But more frequently, you will be pleasantly surprised by who does come, especially those that you never dreamt would make it.
It was great, truly great. Here's to re-living every moment of it!
How did we decide on France?
I knew that I wanted a destination wedding. Imagine the best night of your life and multiply it by 7. That's a destination wedding. You get to hang out with the people you love most for MULTIPLE days. What can be better? Yes, it's expensive to fly to France. But it's also expensive to fly to Cleveland, rent a car, rent a hotel and at the end of the day, would you rather be in Bordeaux or Cleveland? (No offense to Cleveland. I love Cleveland. I love Colt McCoy!)
Why Bordeaux?
Wine. Sun. Excellent food. Less expensive than the Cote D'azur, but still gorgeous.
Who was your photographer?
Jason Huang of Table 4 Photography and Aric & Casey of Aric + Casey Photography. All are absolutely amazing. I love them and their photog skills so much. Not only are they amazing photographers, but they are super nice people. Yes, we brought over 3 people from the US and it was worth every penny and then some. I will denote their pics with "Pro Pic". (You would be able to tell anyways). The rest of personal photos.
Also, super fun about this blog post, Starbies & Sangrias both get their well-deserved shout outs.
Day 1: Departure from USA & Arrival in France
Me getting in my last bit of Starbies in PDX.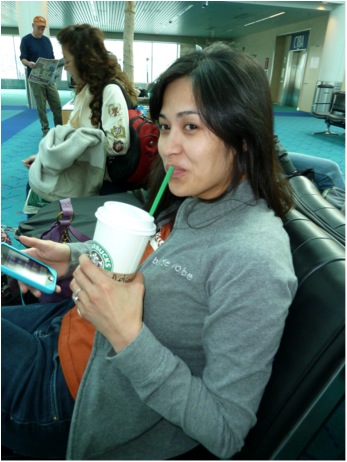 Bienvenue! J & I arrive into Bordeaux. He wanted to practice his tasting technique.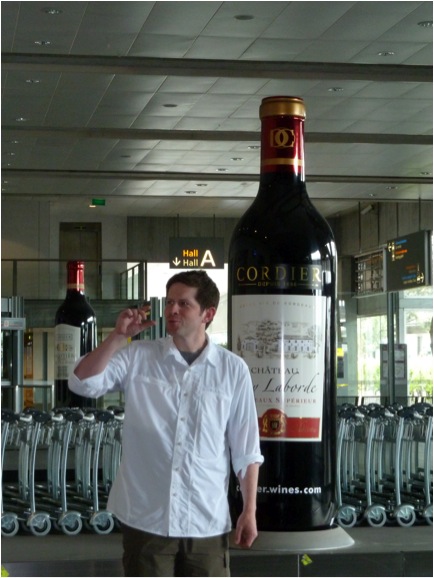 We rented a van for the week, totally reasonable, especially compared to US standards. This car, in retrospect, was super awesome. You will need a car in this area. We are intent on staying up the entire day so as to acclimate immediately to our new time zone. What do we do that day? Wedding stuff!
We first high tail it to IKEA where we buy hundreds of euros worth of beach towels/ napkins/ vases/ candles.
Then we went to the grocery store to shop for 40 people. This is a completely insane and awesomely fun experience. It's kinda like supermarket sweep. Remember that show?
"4th jar of Nutella in the basket?" "Sure! Absolutely!" 700 euro grocery bill? Sweet action.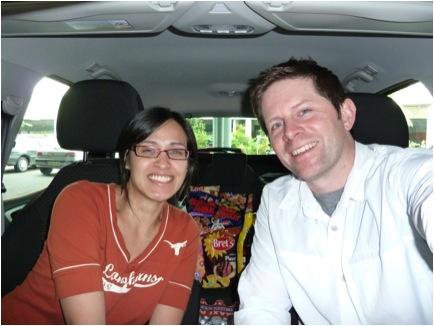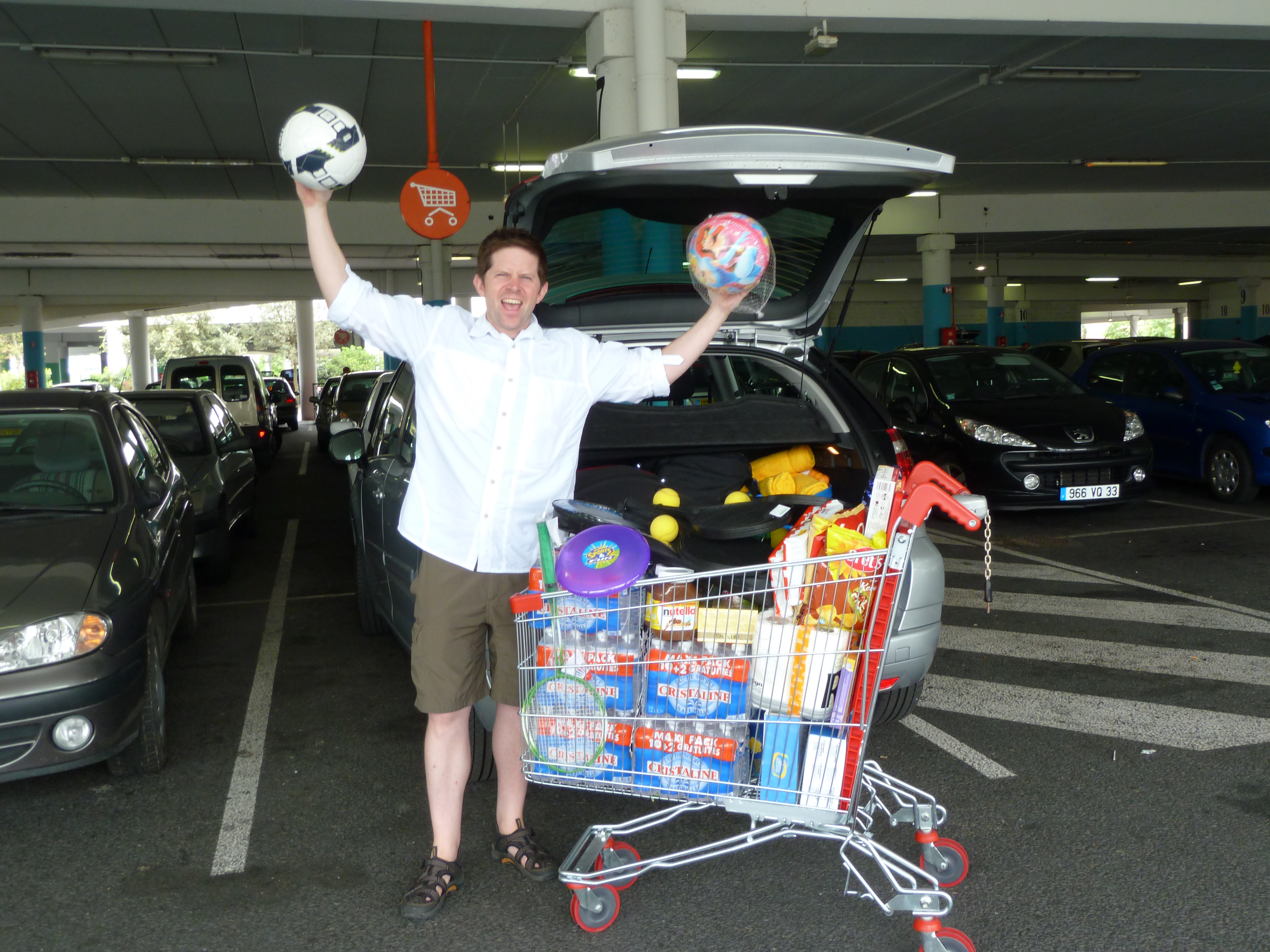 We drove off with our spoils back to the chateau.
Impromptu wine tasting, jetlagged? Why not?
The next morning, we prepared the Chateau to greet our arriving guests.
Chateau Lagorce was our home for the week. It is truly a fairytale place. Absolutely gorgeous, with gorgeous grounds.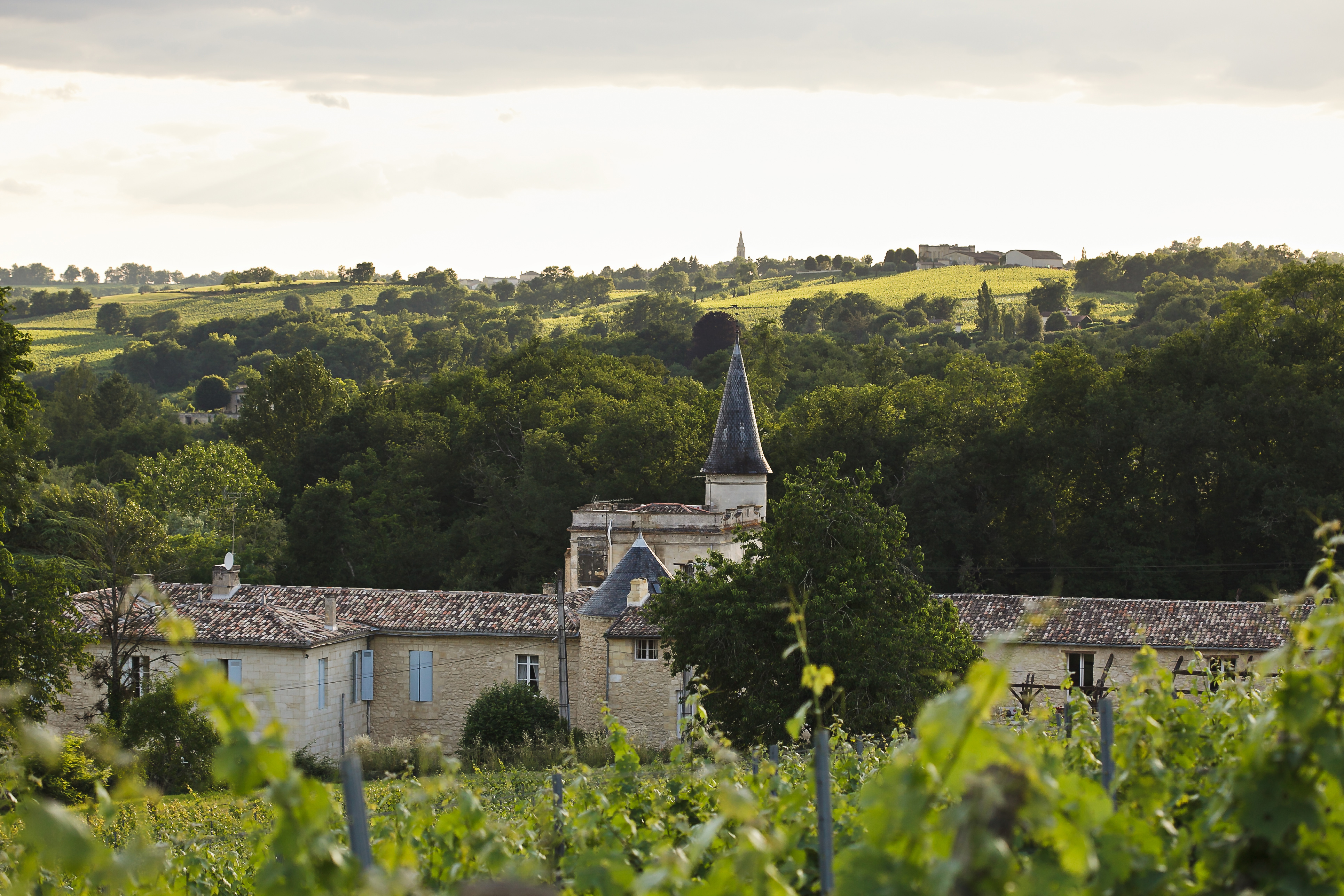 B & K kindly went to the train station armed with the following sign to pick up my cousins. The fun part was that they had never met, and they had no idea what they looked like. I gave them a description- He is tall, dark, handsome. She is petite, pretty with dark hair.
Here is documentation of their search.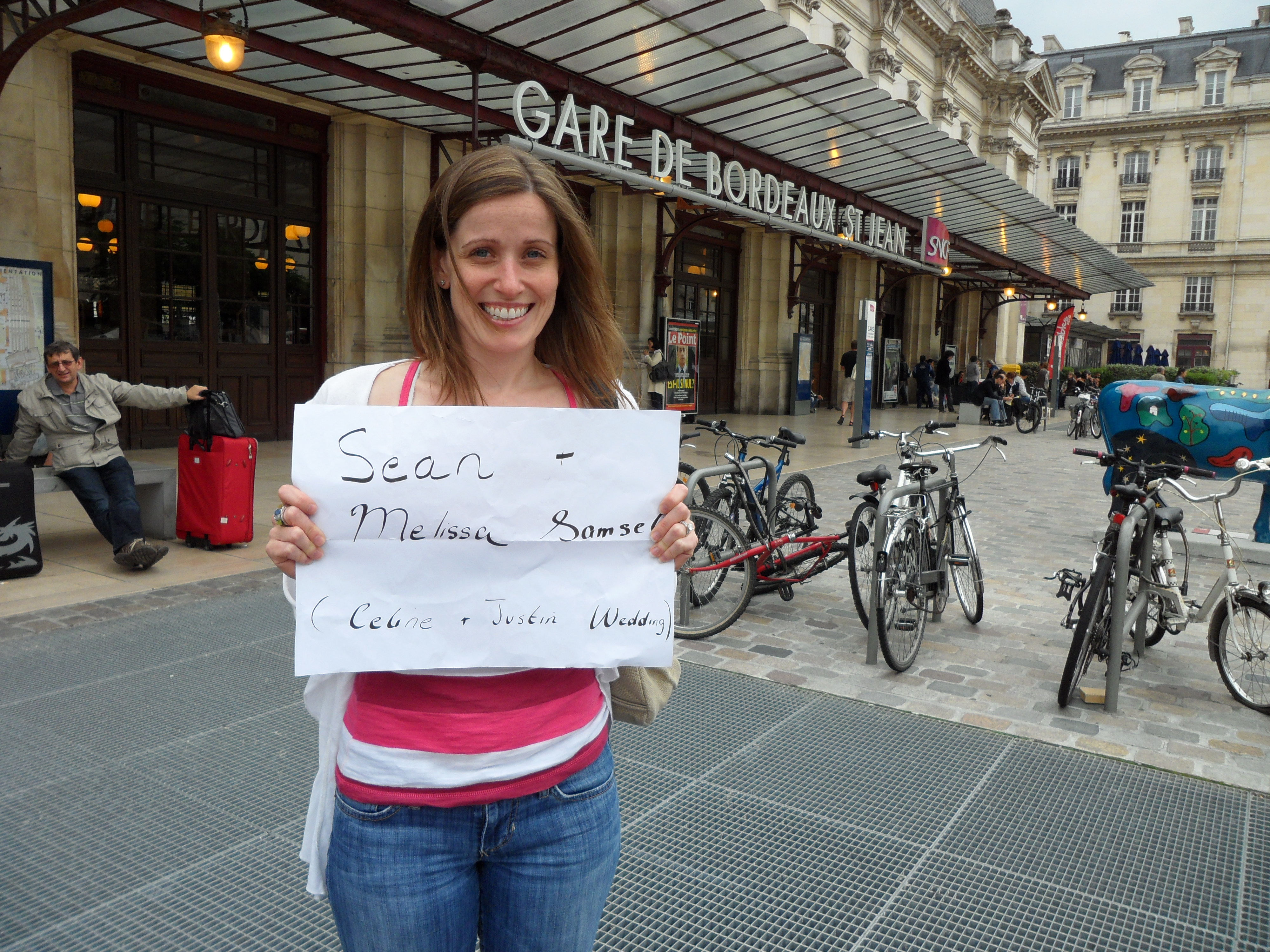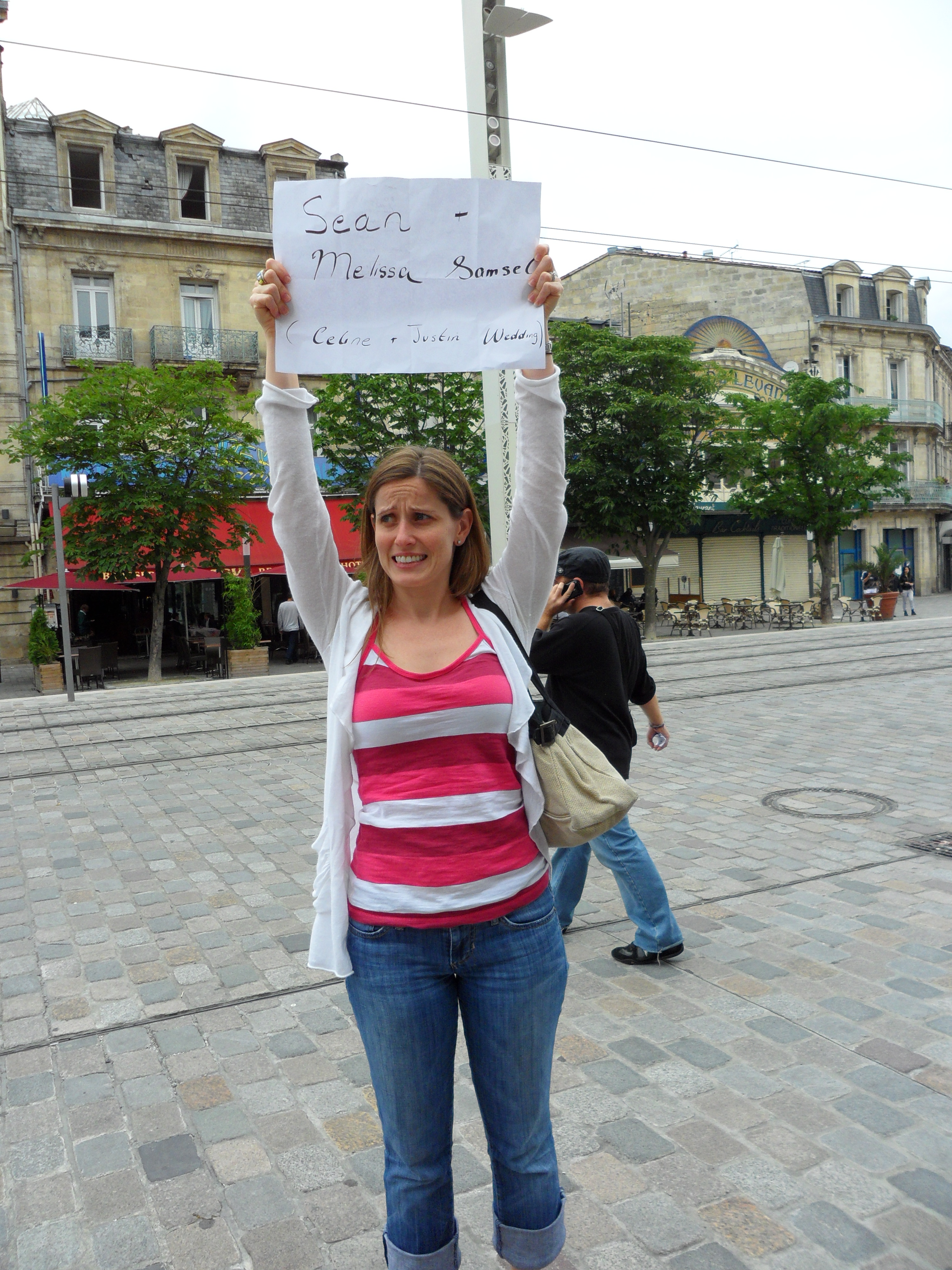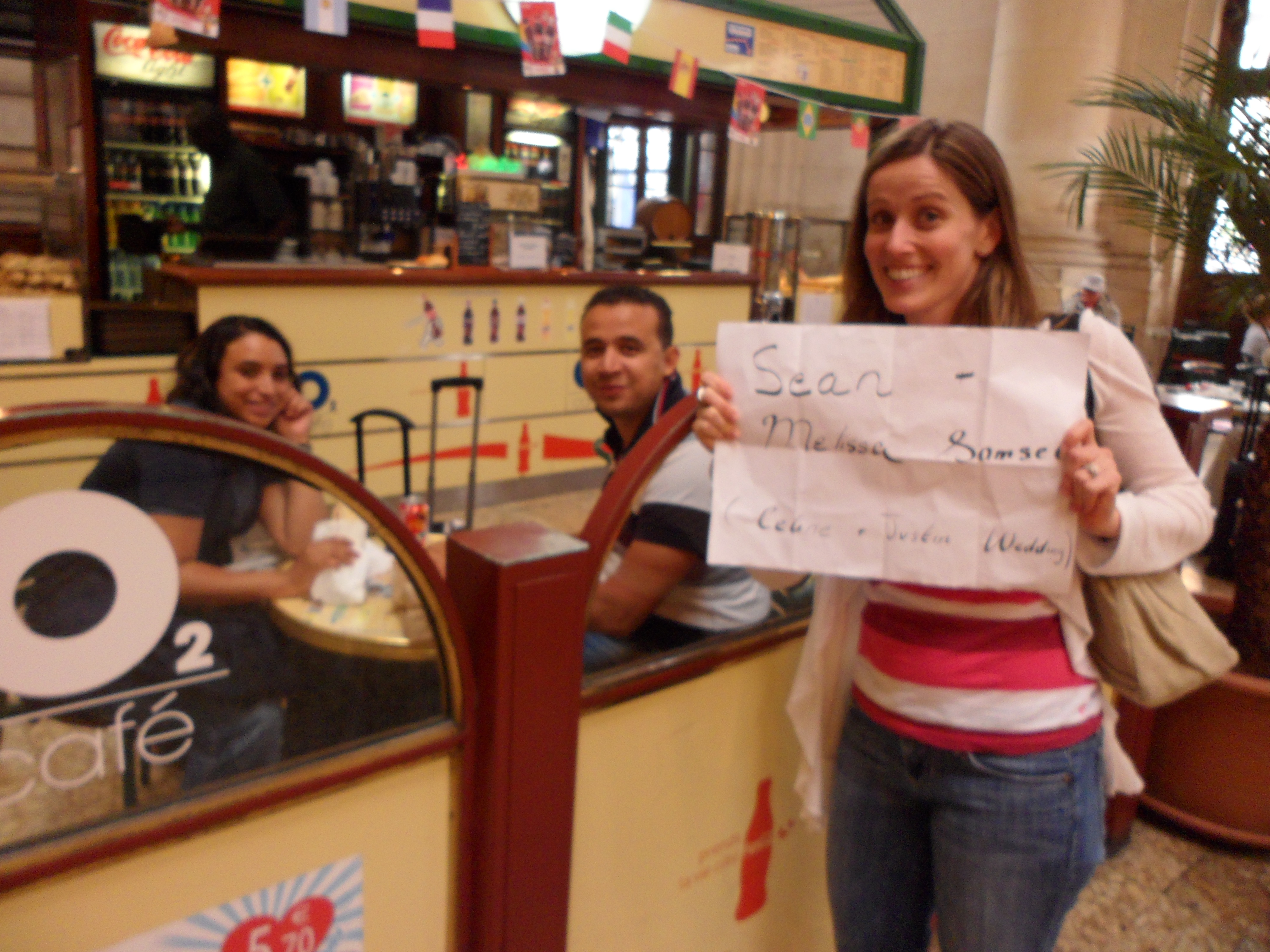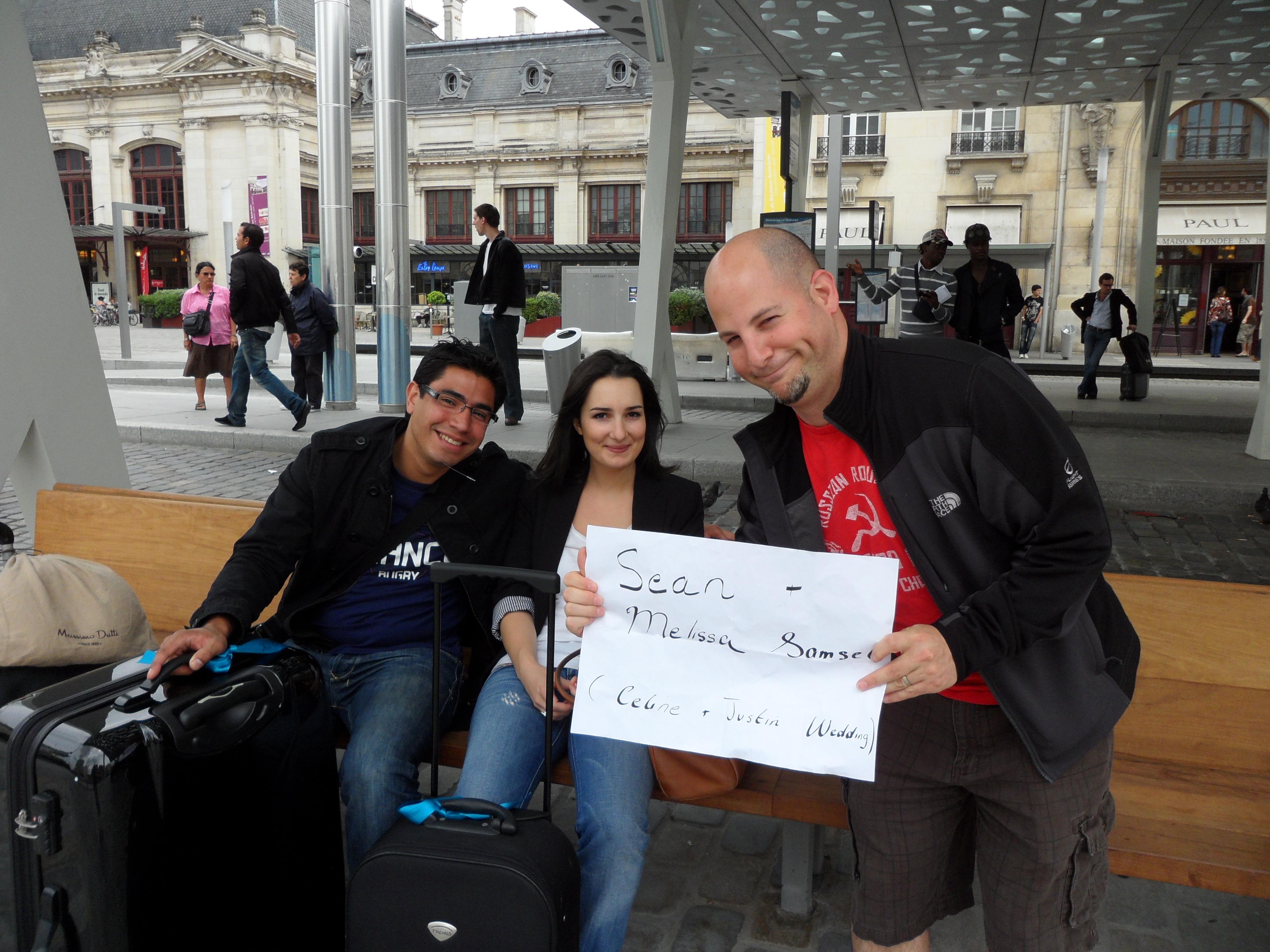 Hilarity!! Turns out their train was due the NEXT day.
Back at the chateau, we opened the wine. And had a party on the patio.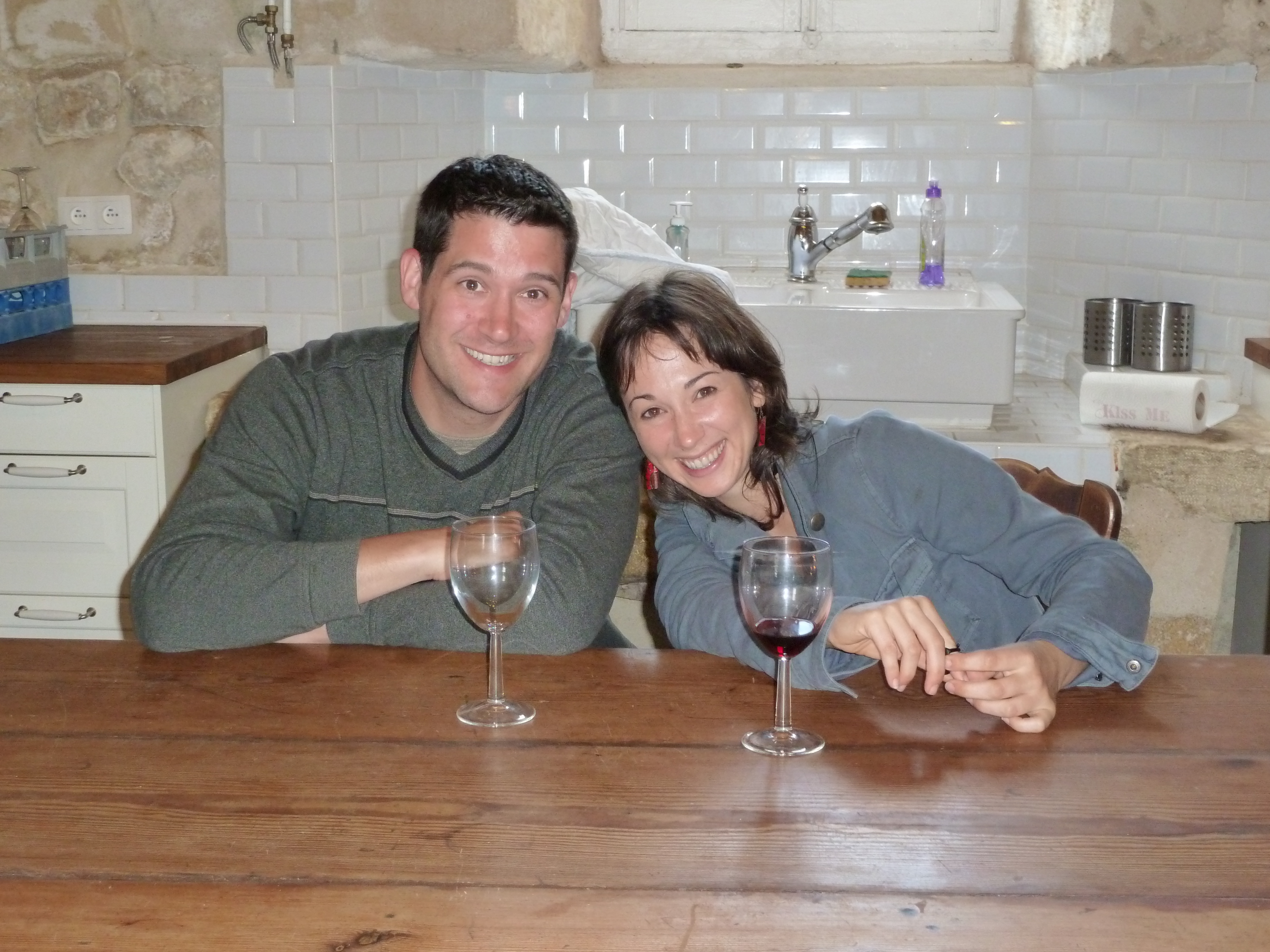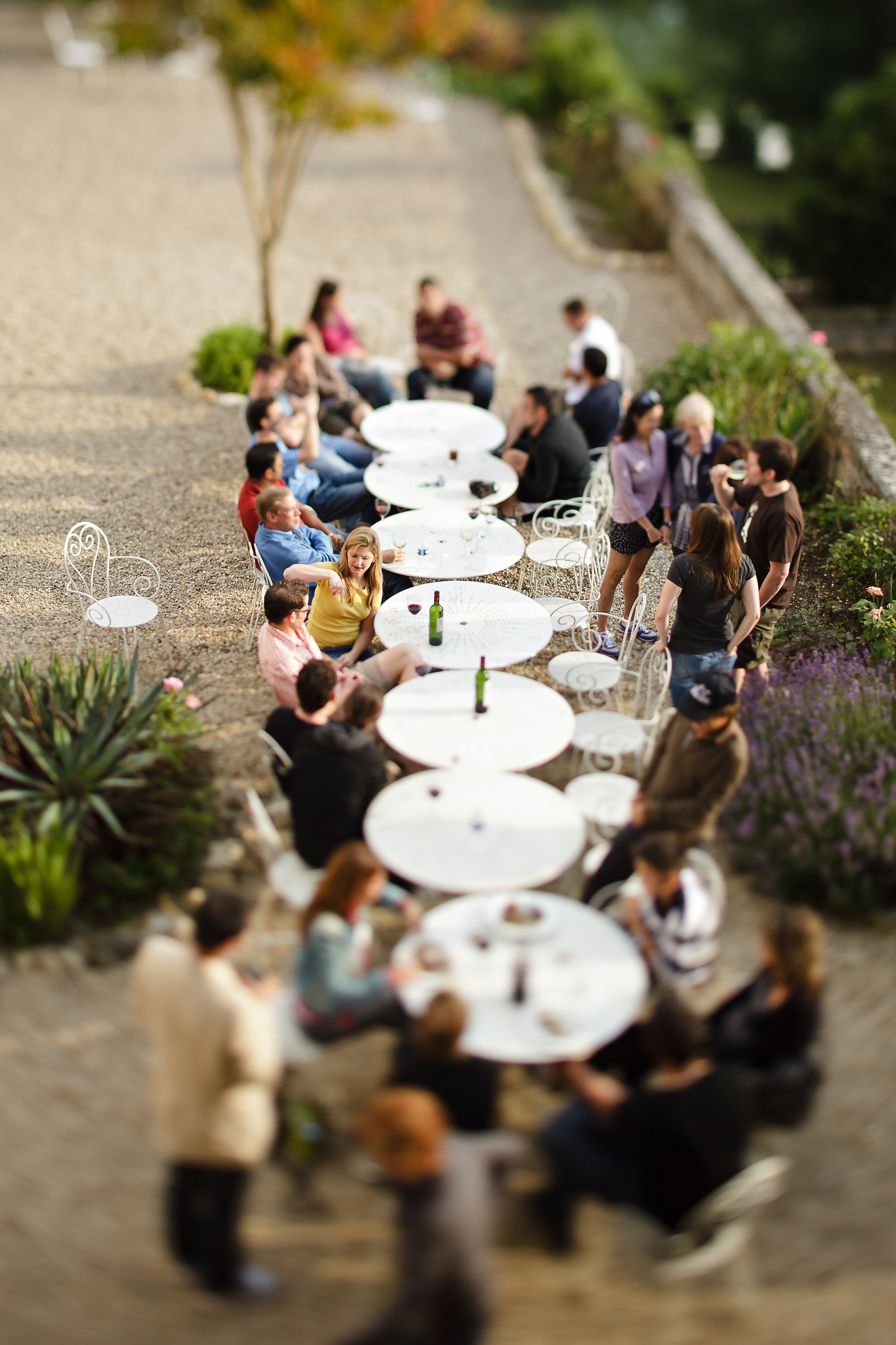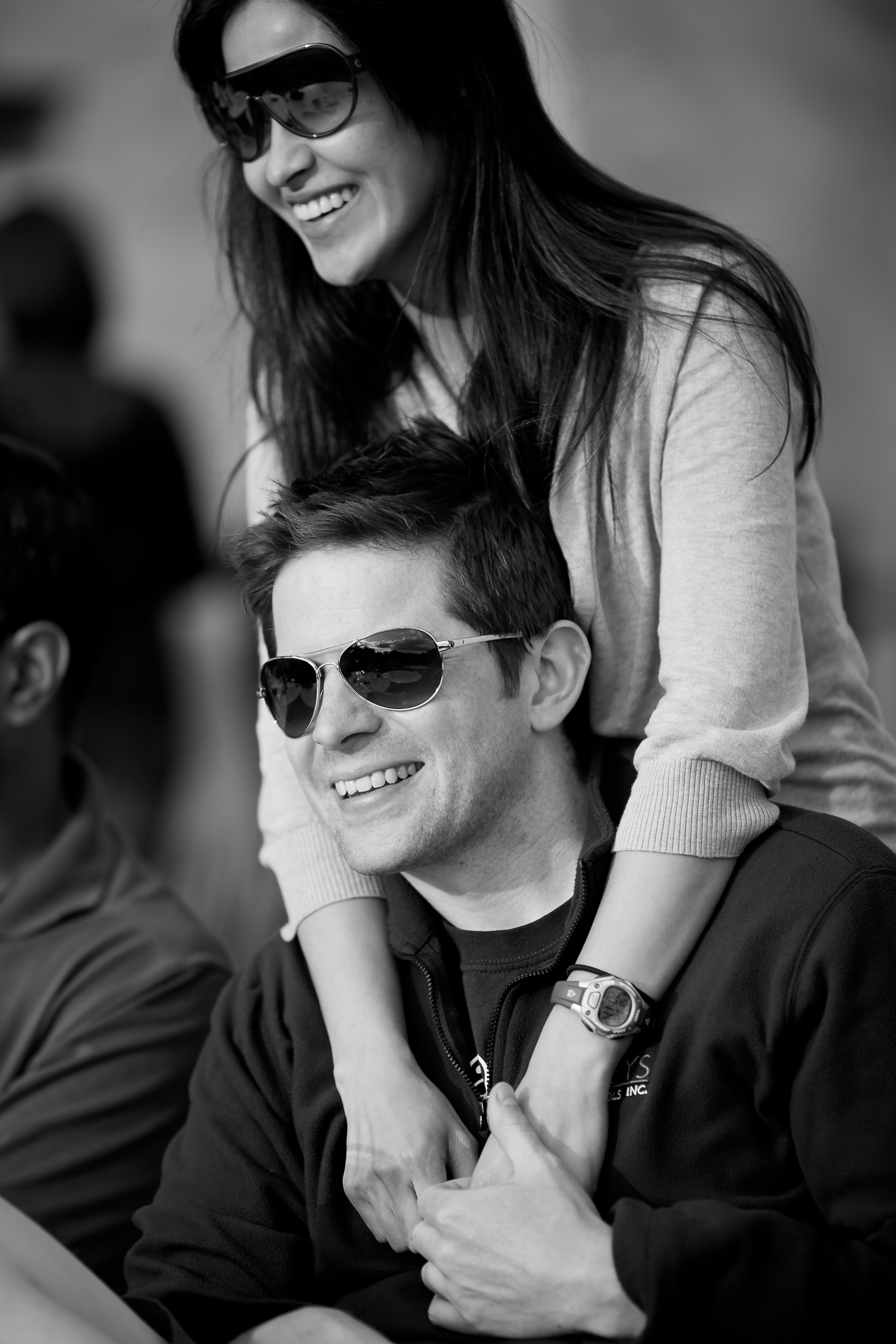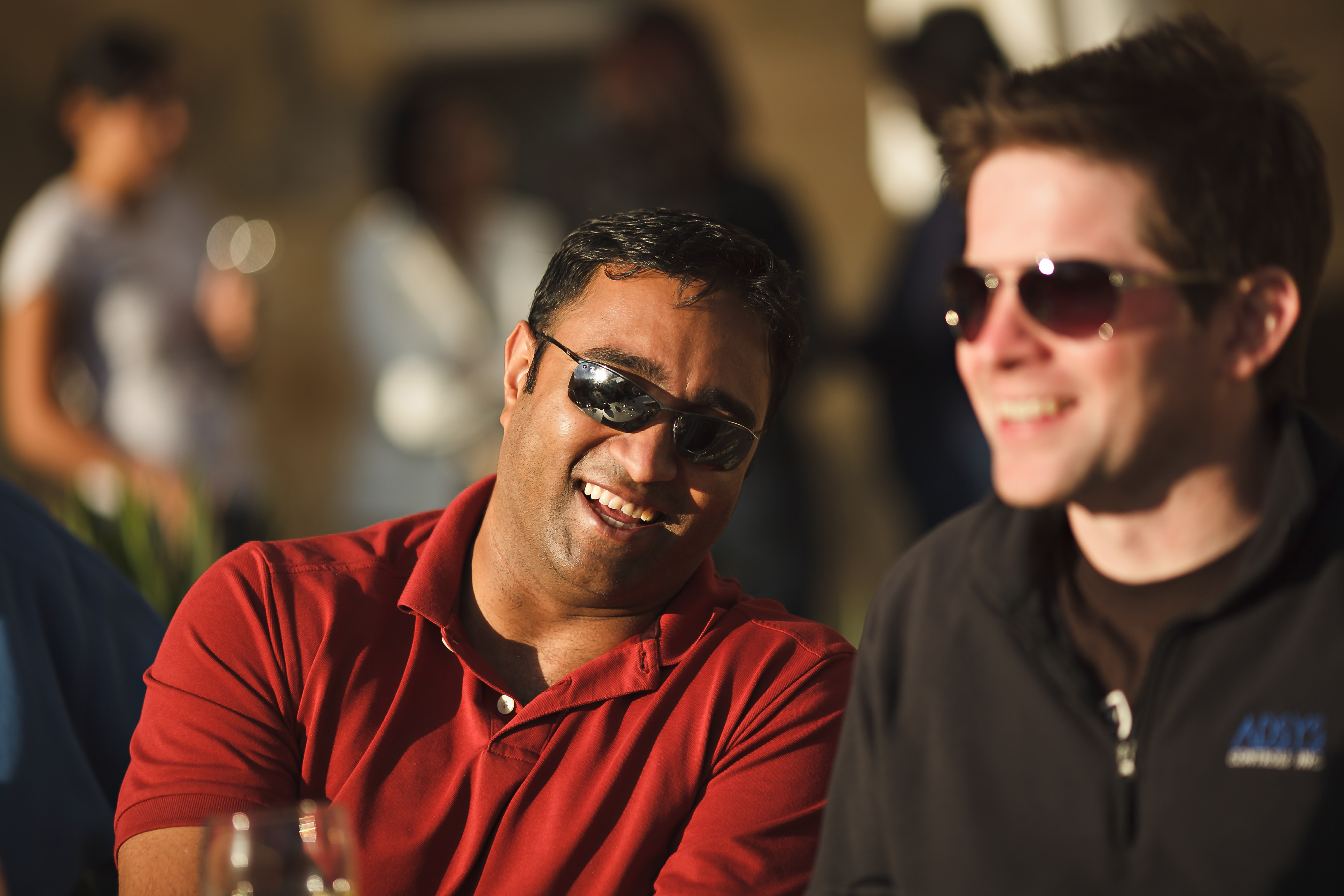 This last pic was also a pro pic.
We had an amazing welcome dinner. We had catering for the entire week by Le Plaisir du Gout. They are amazing. If you stay at Chateau Lagorce, please use them. For the welcome dinner, we had roasted pig.
Don't drink and chess.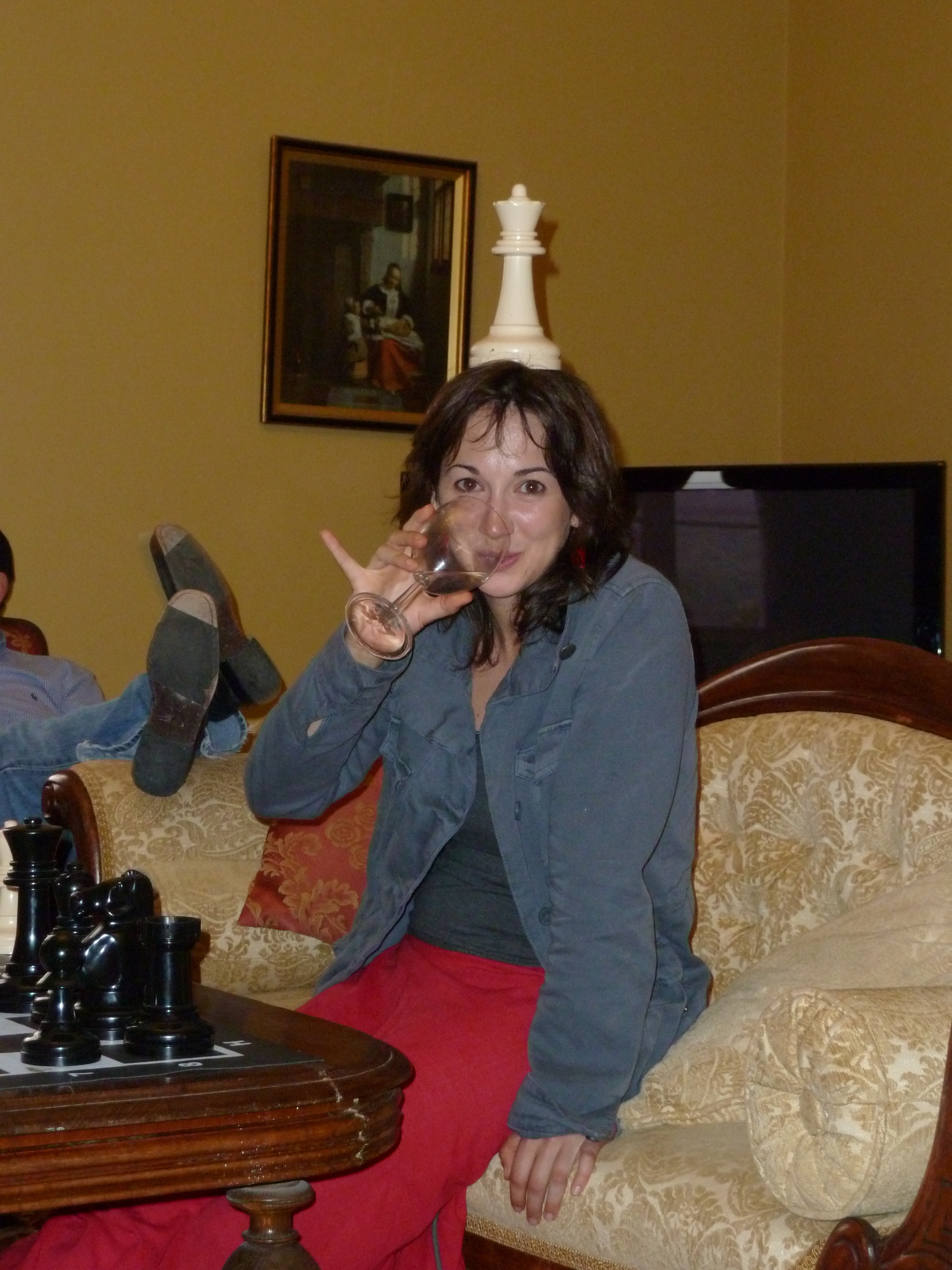 But do nerfis. This game is awesome. You are basically playing volleyball with a badmitton net, plastic rackets, and foam ball. Very awesome. Especially on the lawn of a chateau.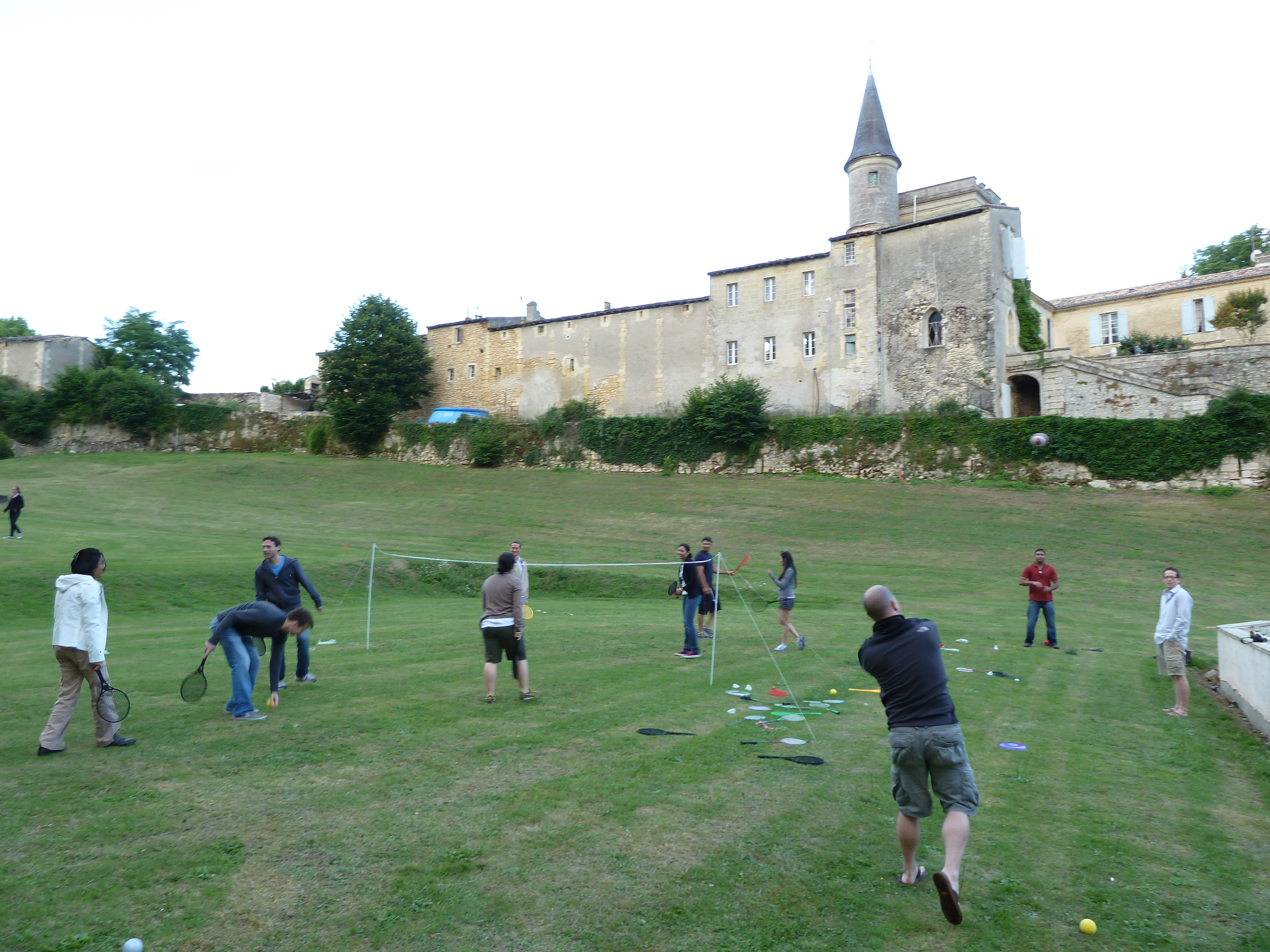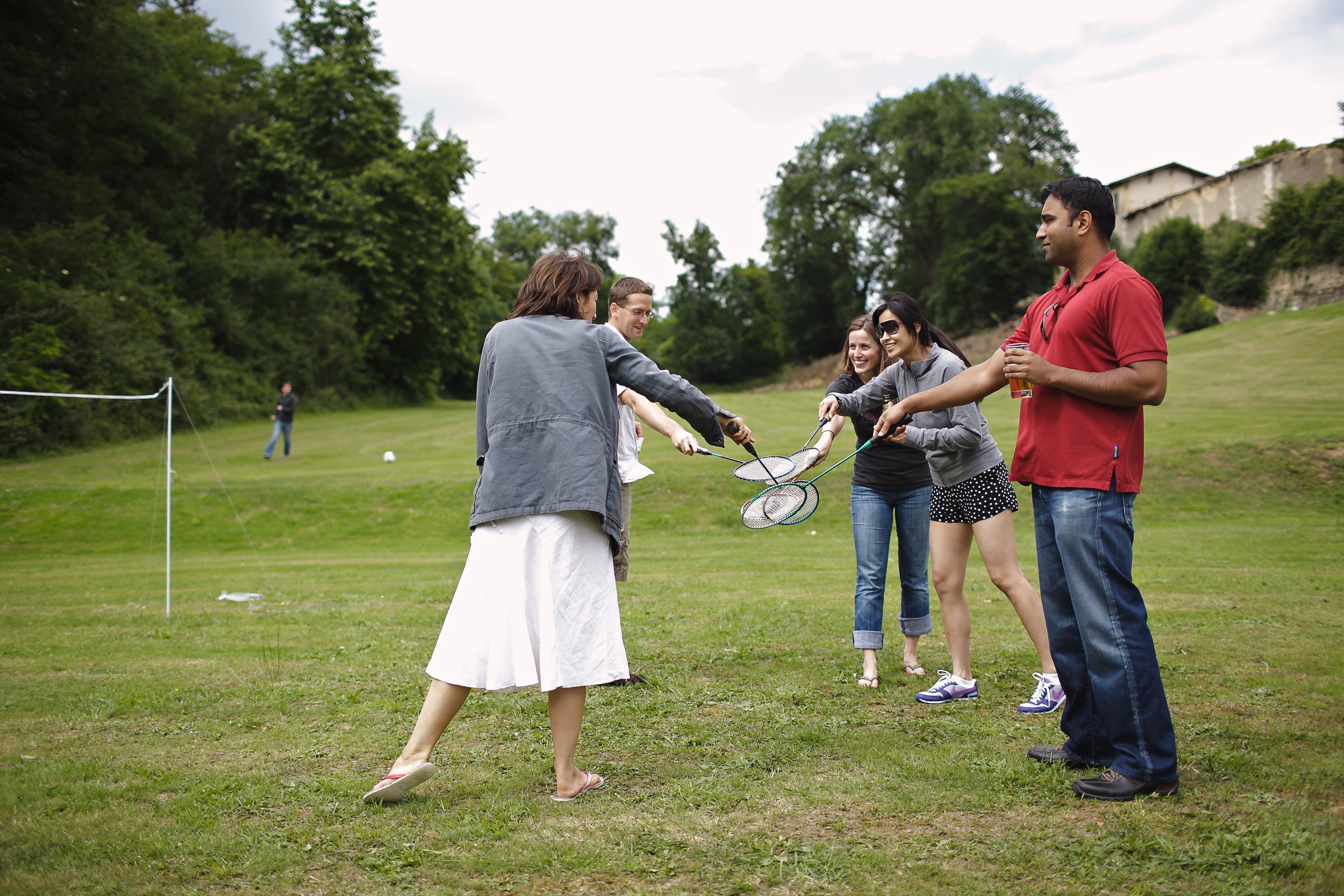 Some people take it seriously.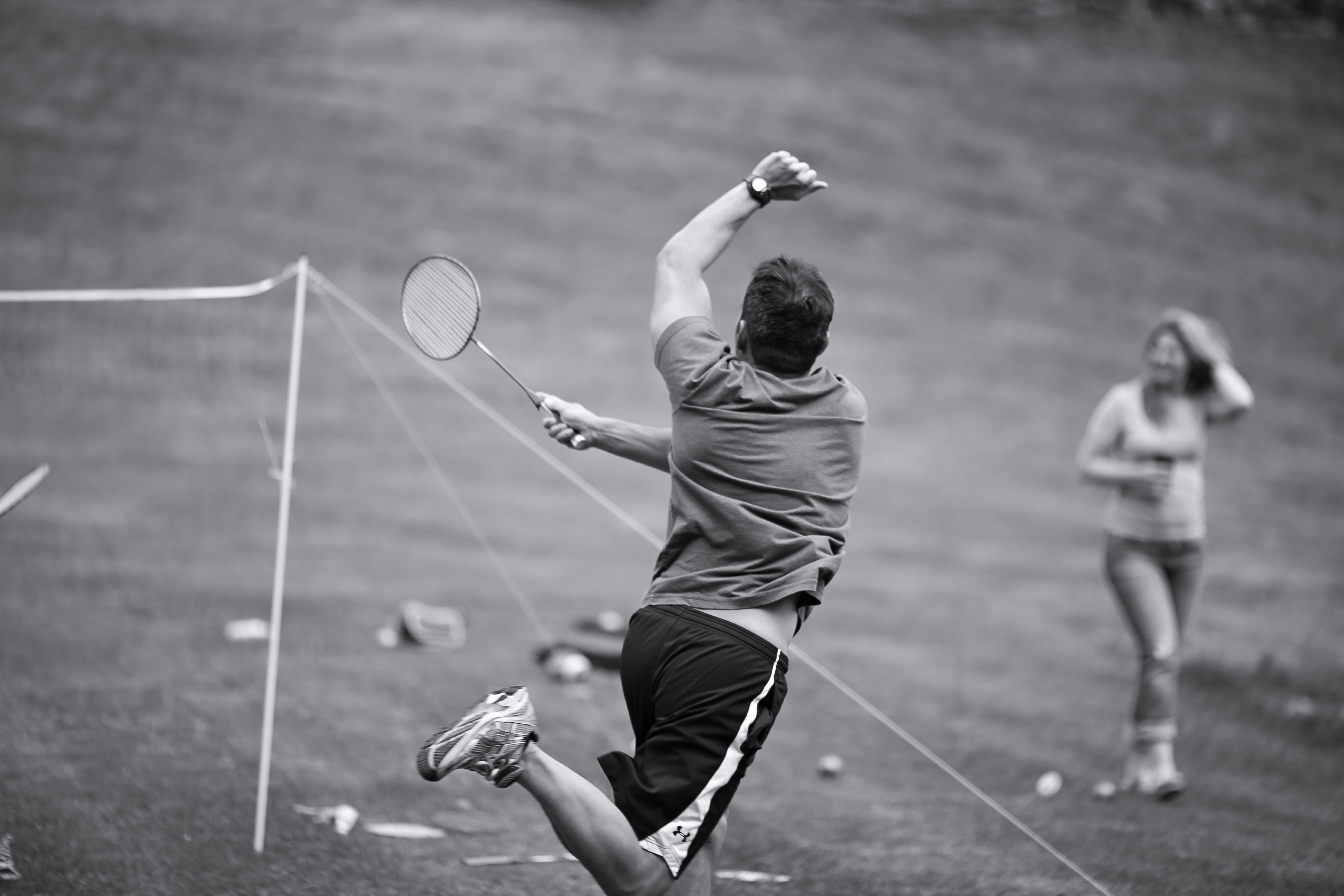 Really seriously.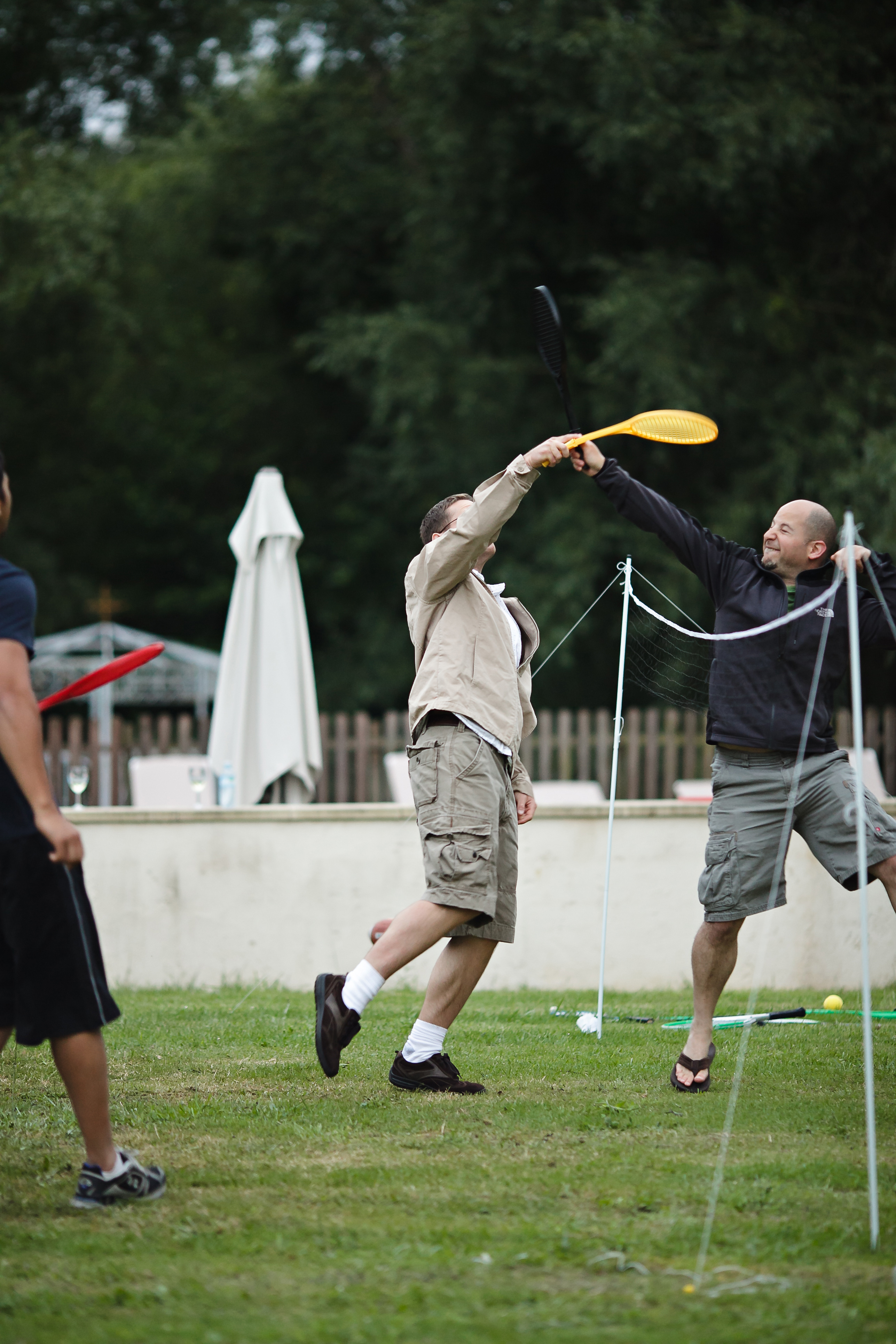 Some people play while drinking.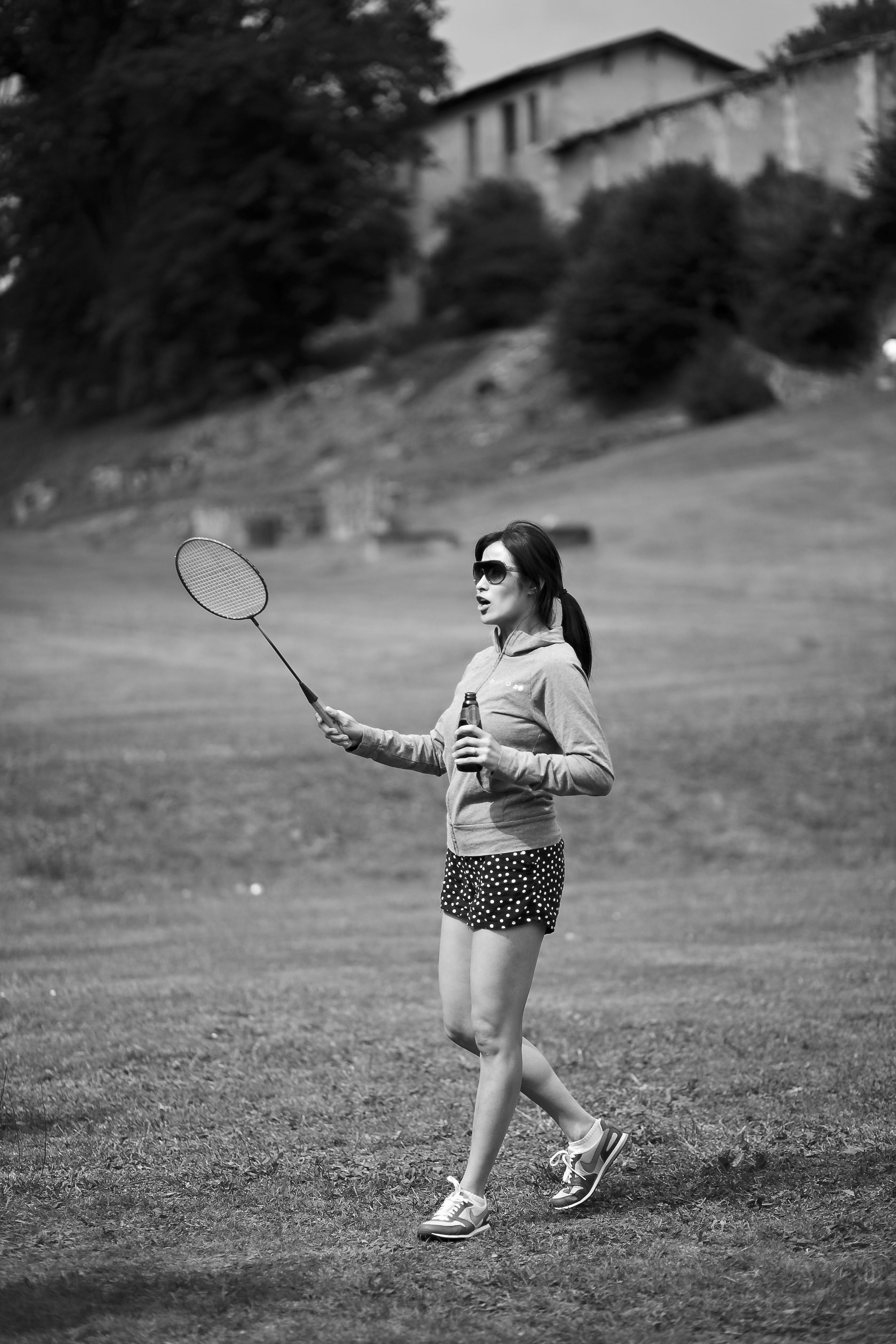 This was the first of many nights of nerfis. And what do you do after nerfis? You play flip cup. With whatever alcohol you have.
This is some OJ/ coke/ vodka/ beer mixture.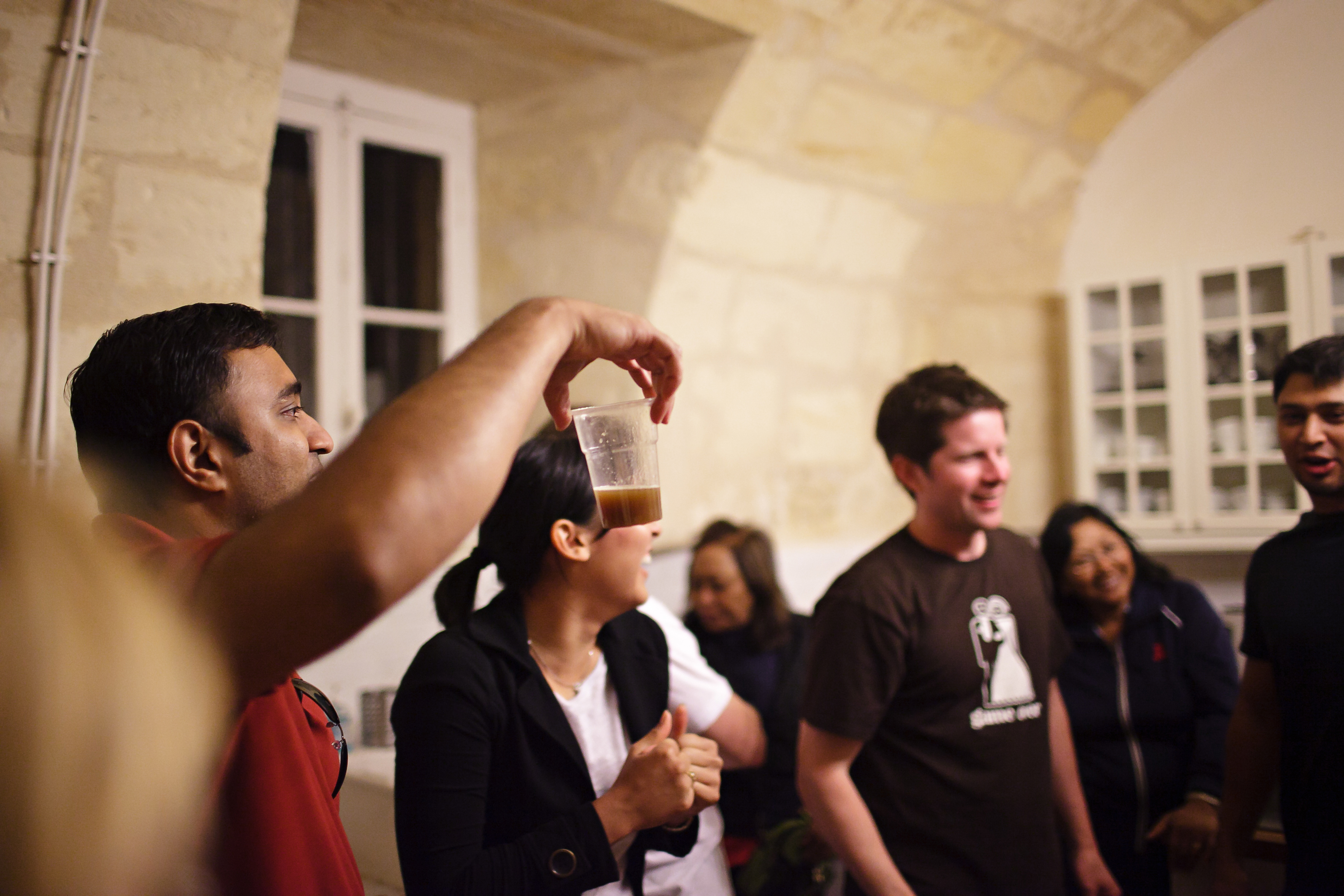 Then we ran out of OJ. So it became coke/ vodka.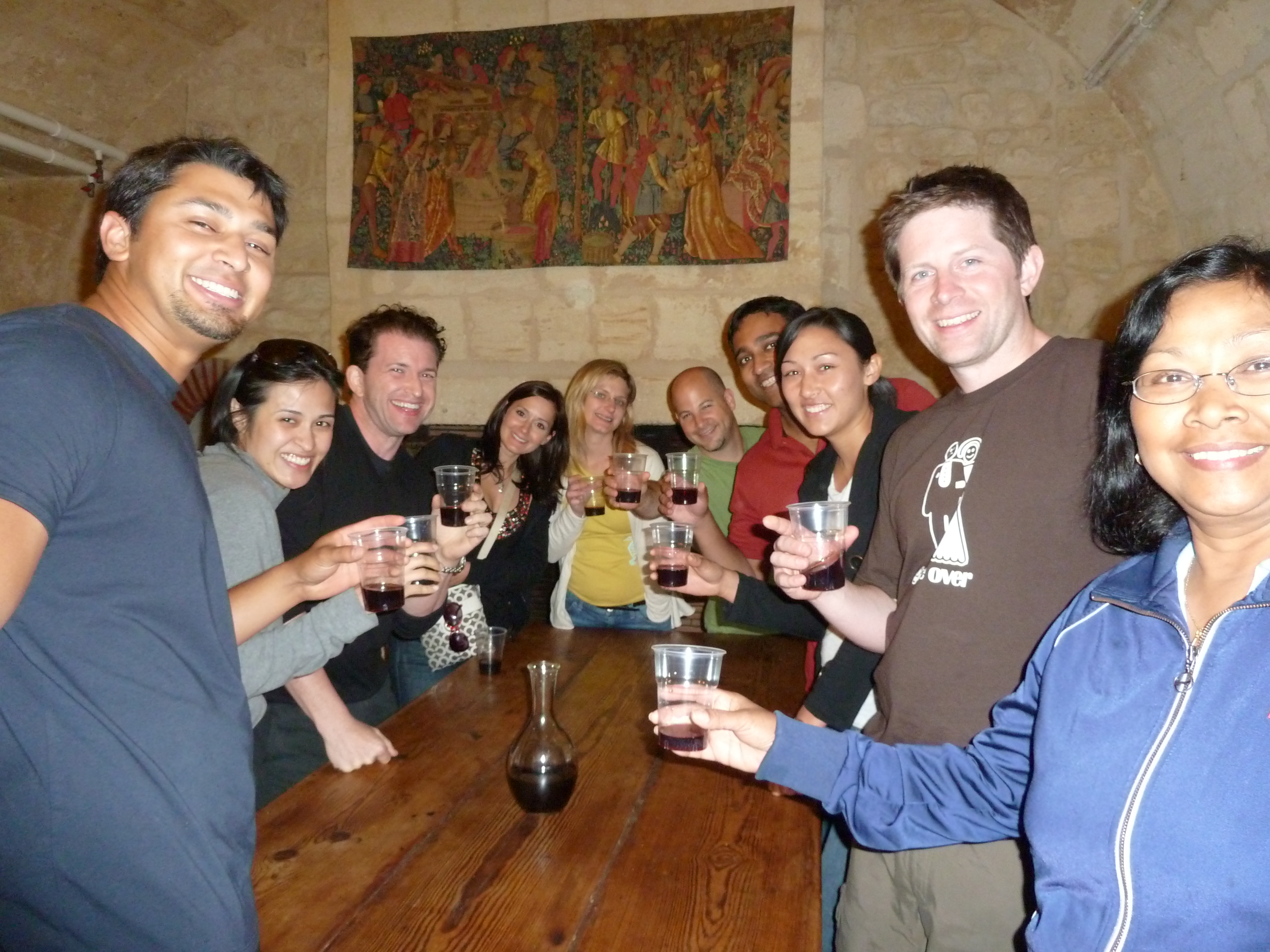 This was a very serious match.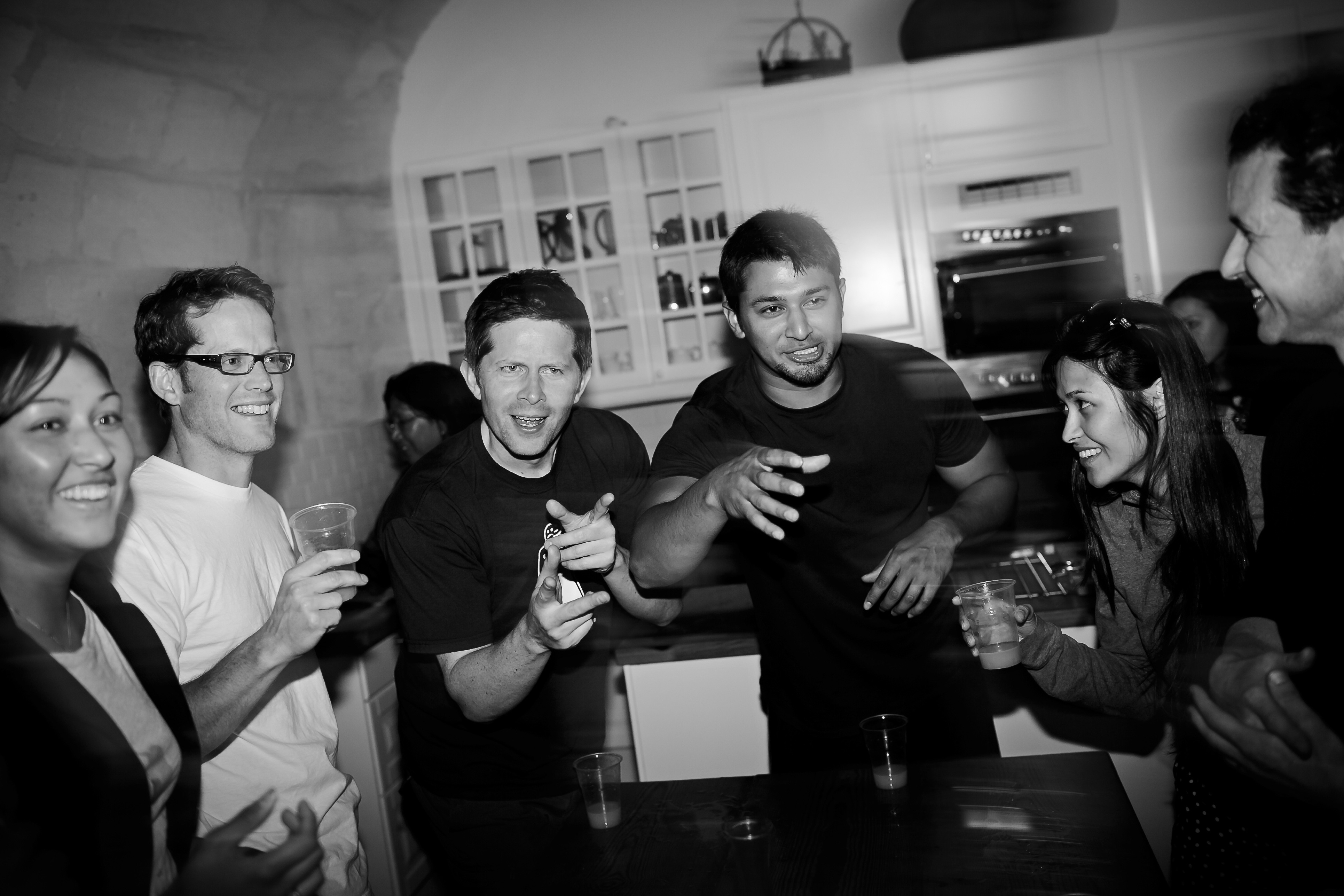 It got downright dirty, and very unbecoming of a bride.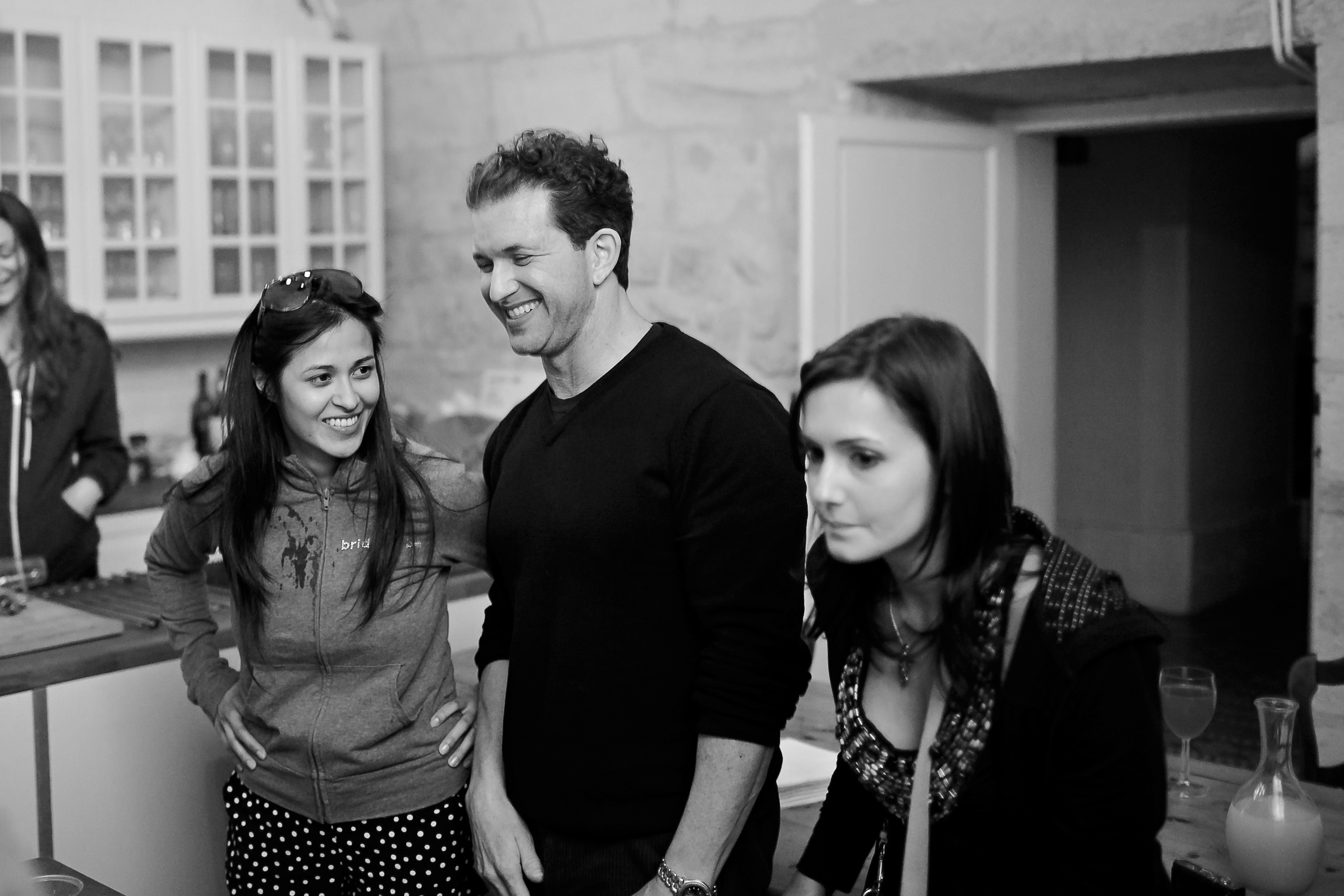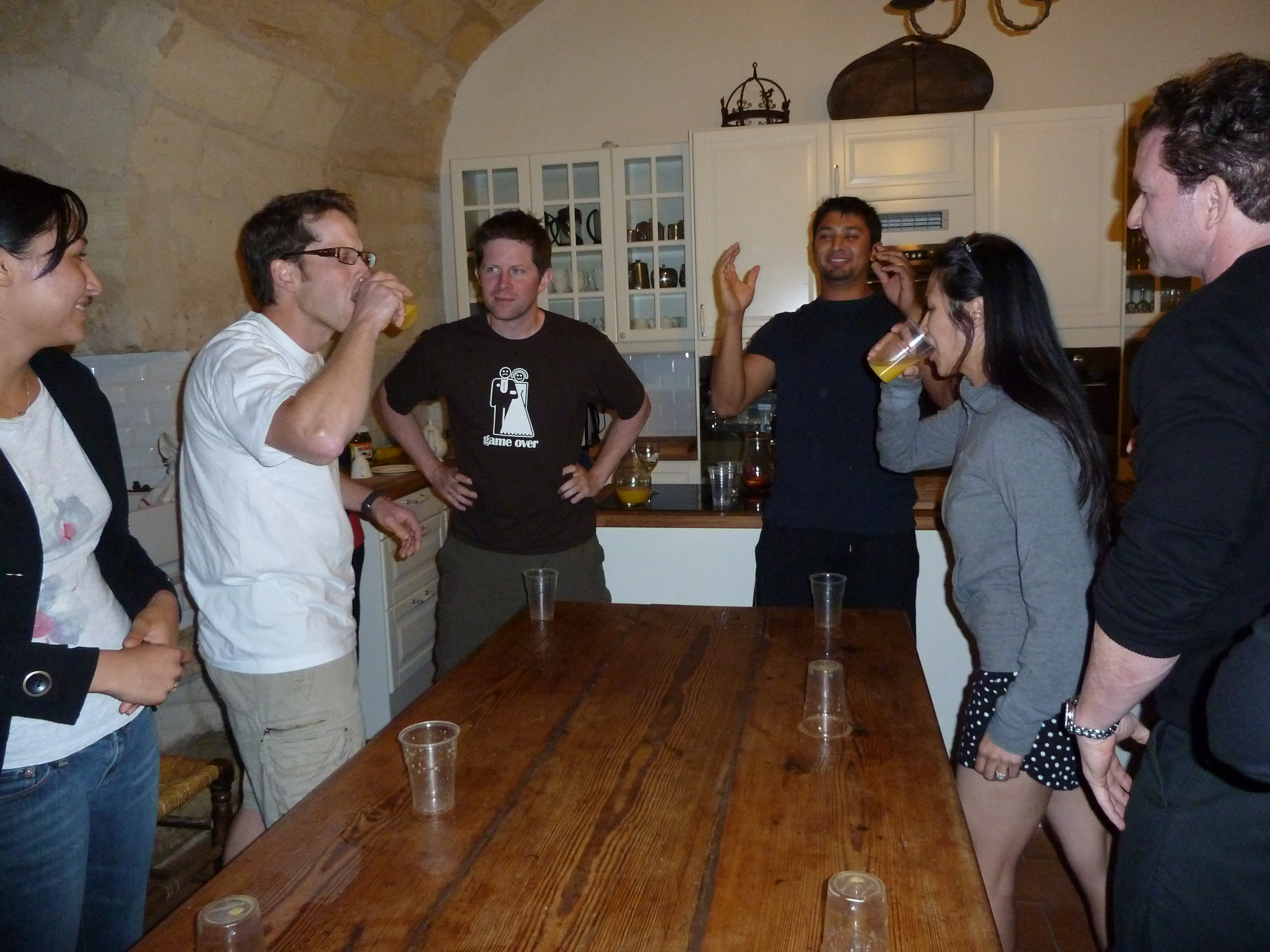 Luckily, I had a few days to sober up before the wedding.
xoxo
CBO
Please note: Pics are all copyrighted. Please do not use without written permission.