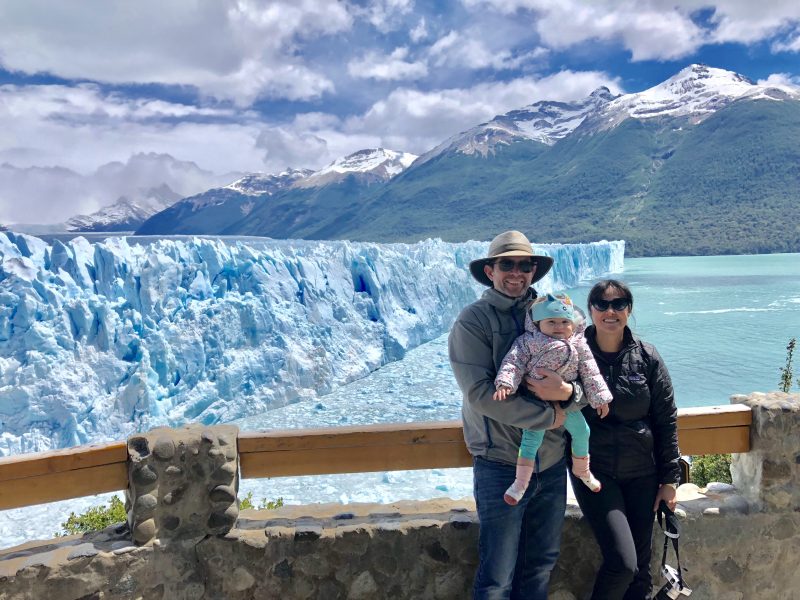 Like many couples, my husband and I kept postponing starting a family due to our love of traveling.  We'd done awesome international trips, a 3 month long US road trip…and were scared that having a baby would put an end to continued travels.
The time finally came, and now that she's here, we could NOT imagine our lives without our precious little girl.
But after the first couple months with a newborn at home, wanderlust set in again, and we took our 11 week old on a camping trip to West Texas. It went well.  Over the next year, she started to rack up stamps in her little passport.  We took her to Mexico, then Portugal, and then a week after her first birthday, we flew to the end of the world- to Patagonia.
I read an article from My Domaine that listed Patagonia as one of the best places to travel without kids.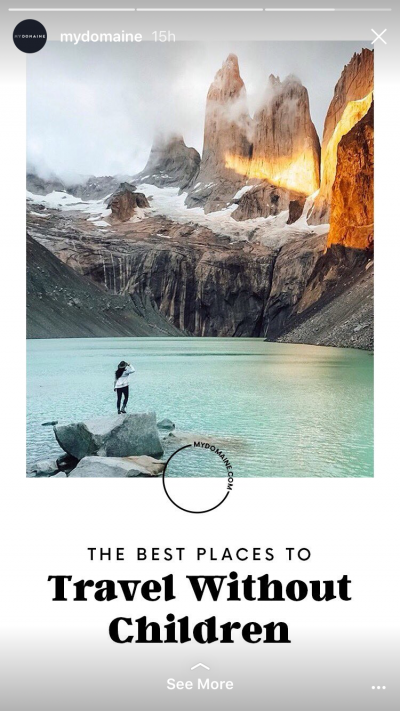 I beg to differ….yes, you can take a baby to Patagonia.
And it was AWESOME.
Now, I'm not saying all babies are as travel forward, but ours is pretty adaptable and resilient (and I think most babies are).  So, we made sure her vaccines were all up to date and took her to Argentina and Chile for three weeks.
Know that your trip to Patagonia with a baby is going to be different than the adventure trek without, but definitely more awesome in many ways. 
Getting to Patagonia-
We flew a red eye to Santiago, Chile and this worked well.  She slept most of the flight.  If your plane has them, and your baby is small enough, reserve the bulkhead seats with the bassinets.  Once she was awake, we entertained her with toys, and iPhone videos when all else failed.  For those moms that formula feed, we used the Playtex drop- in liner bottles.  The plastic liners are disposable, take up little space, and you only have to wash the nipples.  For three weeks, we only brought 2 bottles, but lots of nipples, rings, and liners.
Once in South America, regarding the daily schedule, we tried to plan our activities around her nap times, letting her get one good nap in the morning, before venturing out for the day. 
We did not bring a stroller to S. America.  We did bring and use this carrier daily.  It's the best we've found because it has a seat! So both you and the baby are more comfortable, and they can face in (for nap times during the daytime when we were on-the-go) or they can face out during excursions.
Getting around Patagonia-
There are not big stores in Patagonia so bring everything! We brought her diapers/ wipes.  We brought her squeezable pouches.  We brought her sleep sack and noise machine.  We did not bring a pack-n-play, but made sure all our accommodations would provide one.  It is cold there, even in the summer, so bring hats, gloves, jackets, etc.  There are really no stores that you can easily buy baby provisions, so I would bring more than you think you'll need.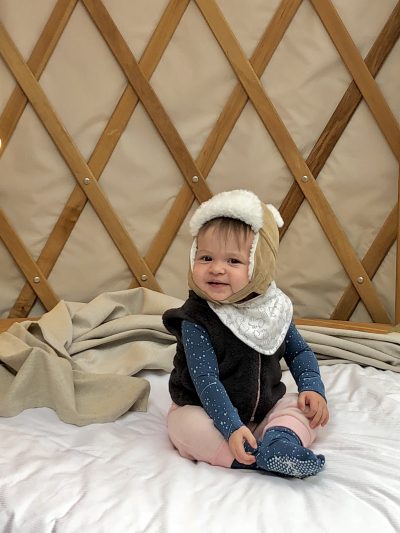 Hiking in Patagonia-
This is where you'll need to temper your reality.  You probably won't get to do all the hikes, but there are certainly some easy trails that are amenable to taking a baby.  You aren't going to be breaking any records and will need to take breaks to feed.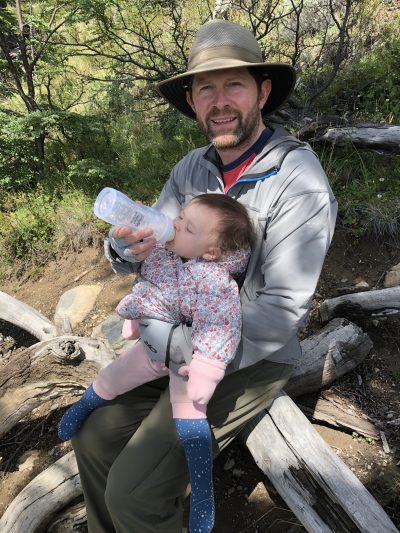 In Las Glaciares National Park, we hiked the Laguna Capri trail to the base of Mount Fitz Roy and that was very doable with a baby. The Rio Salto trail was also very pretty and a great trail with a baby, and rewards you with a great view of El Chaltén.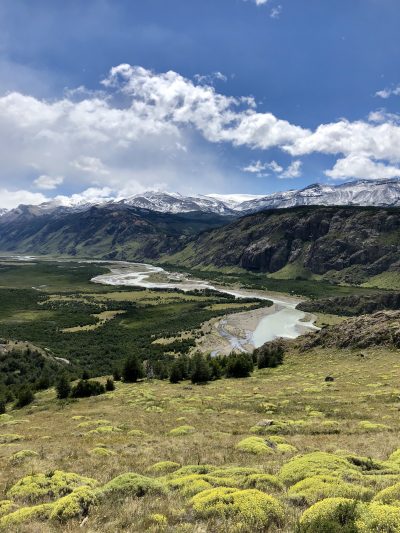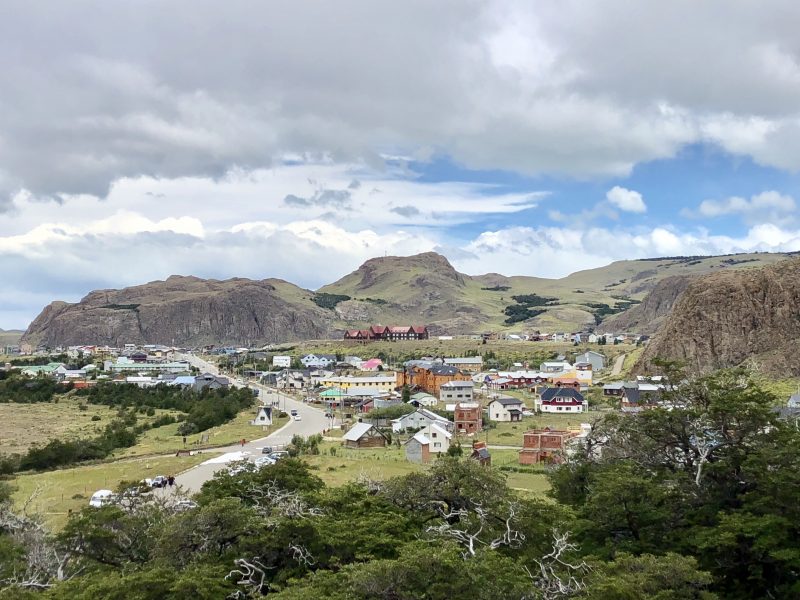 If you can, book a hotel that has babysitting available.  We stayed at the amazing Patagonia Camp and were able to venture out to do the famed Base Las Torres Hike to Mirador Las Torres due to the availability of babysitting at the hotel.  She was loved and entertained all day while we were gone.
Highlights of Patagonia-
There is Chilean Patagonia and Argentinean Patagonia.  We flew first to Santiago, Chile then down to Punta Arenas, Chile and started our trip in Torres del Paine National Park, staying at Patagonia Camp.  If you are able to splurge, stay here in these beautiful lakeside yurts.  We got a Family Yurt that had 2 bedrooms, a bathroom, and private hot tub.  Not exactly roughing it.  They put a pack-n-play in our bedroom for her.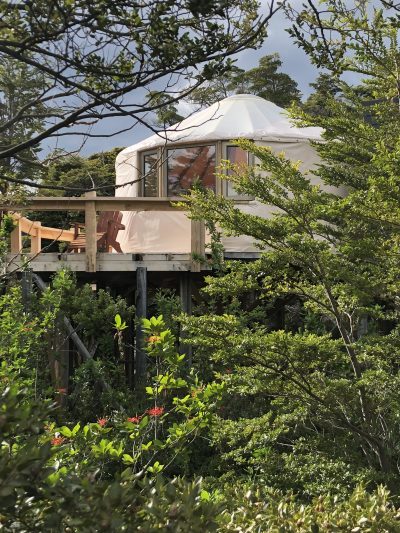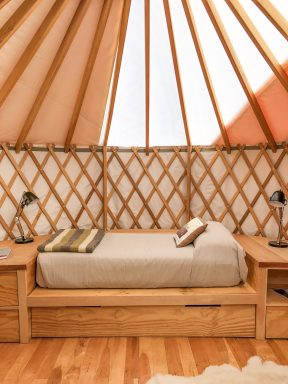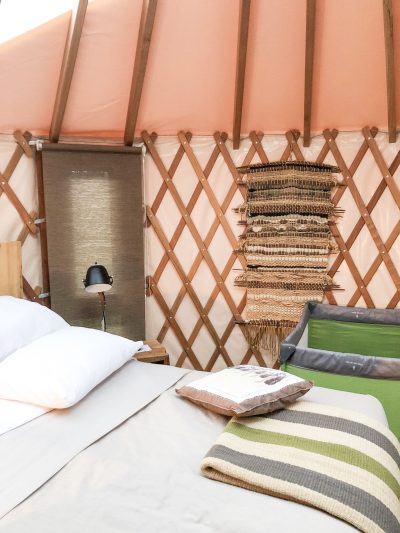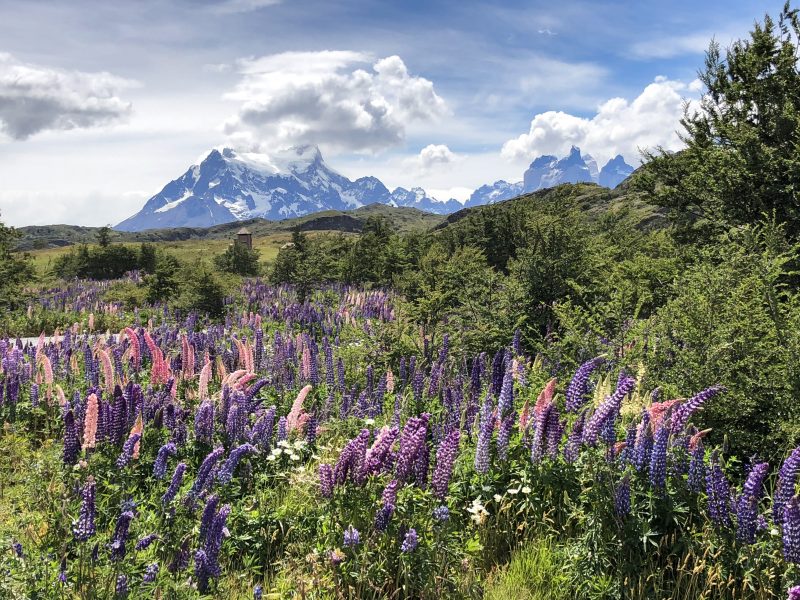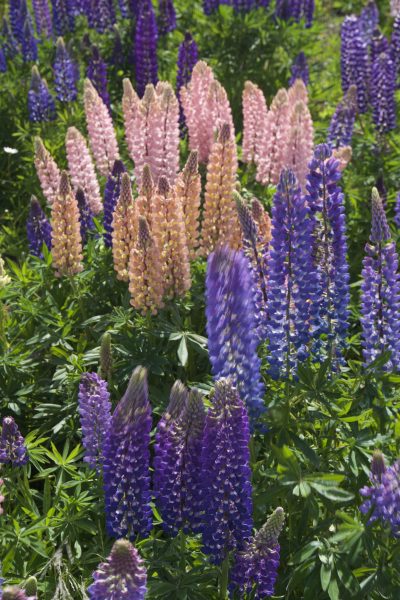 There is a series of hikes that make a "W" within the Park- the W trek.  Adventure types camp and hike these in succession.  Of these, the most famous hike is the Mirador Torres Hike.  It was the most difficult hike (11.2 miles with 3000ft of elevation gain) that I've ever done, but the most amazing.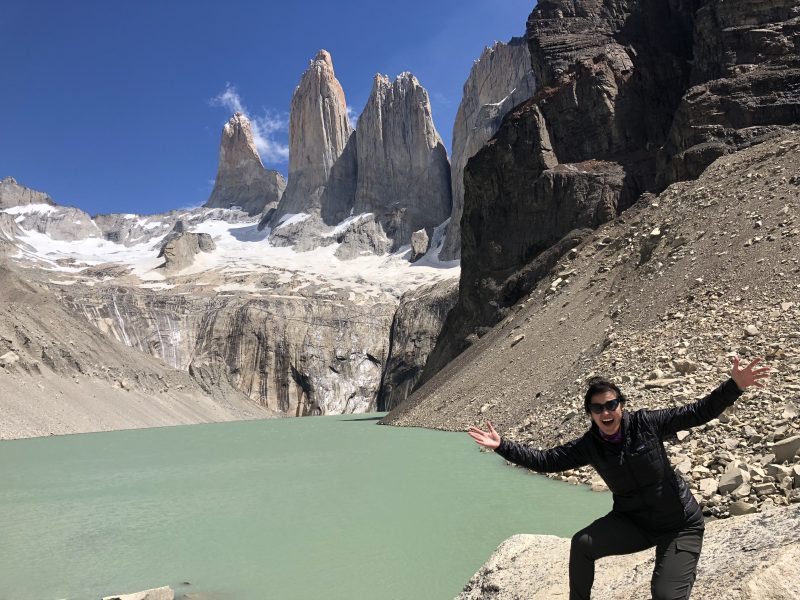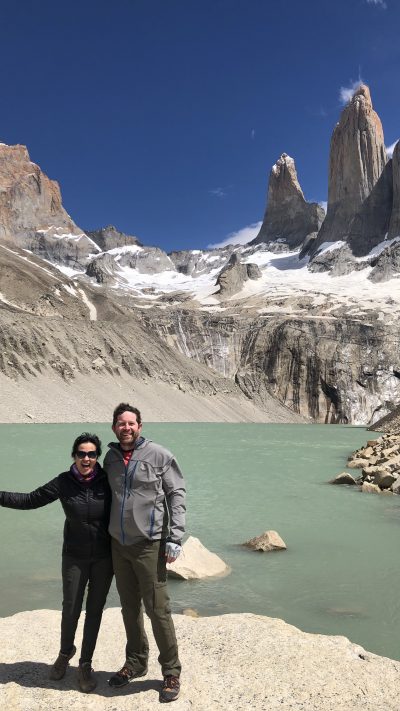 After Torres del Paine, we traveled to Puerto Natales, and then to El Chaltén, Argentina to visit Mount Fitzroy in Las Glaciares National Park.  (Fun fact- Mount Fitzroy is the silhouette of the Patagonia brand logo) This is where we did the Laguna Capri Hike.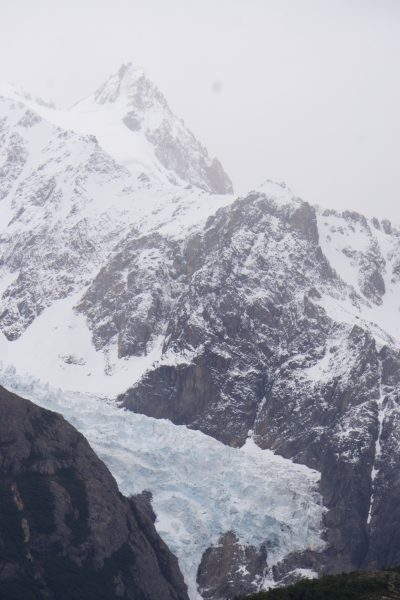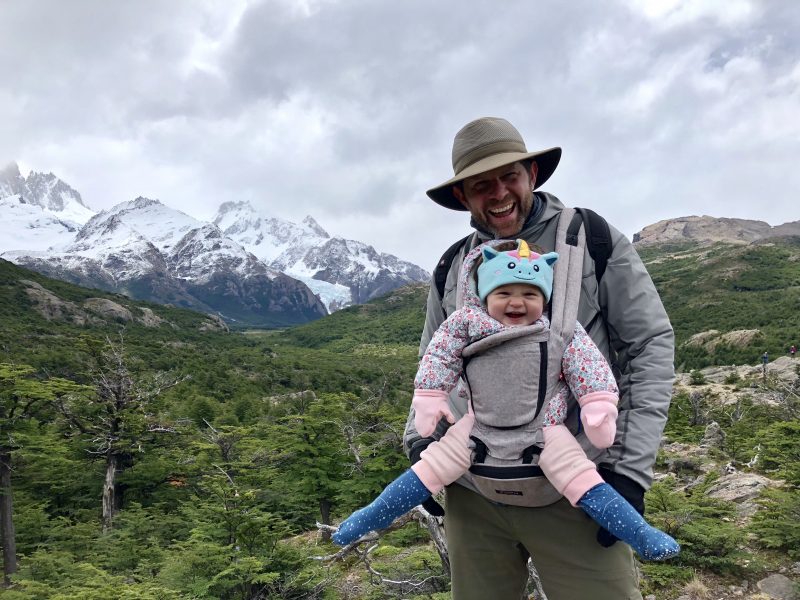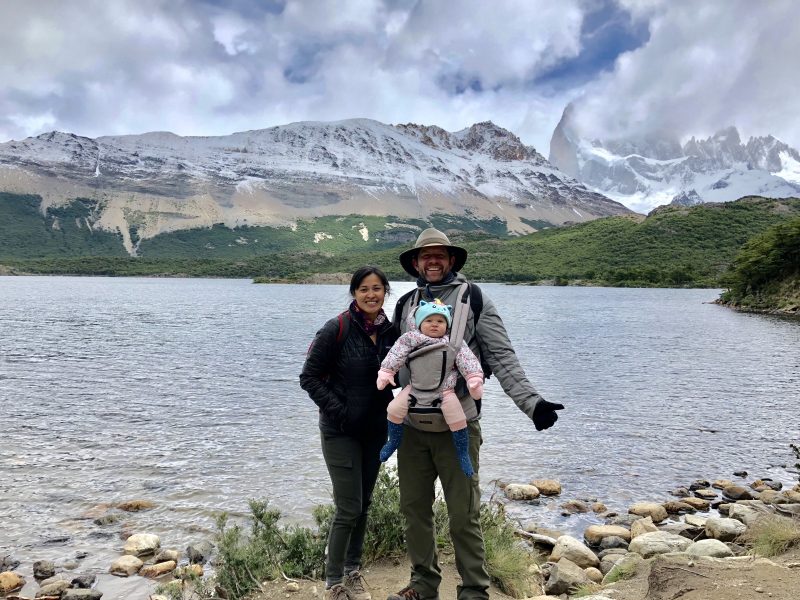 El Chaltén is a quaint town  (really 2 streets) but it has a couple great restaurants.  Definitely get the stew at Restaurante Ahonikenk Chaltén Fonda Patagonia.  Everything at La Tapera is exceptional; this is the best restaurant in this town. There is also La Wafleria which makes amazing waffles and crepes, which we'd reward ourselves with after a hike.  We stayed at Chalten Hotel Suites which was fantastic, but this would be an awesome splurge.
We also loved how low key this town (really all of Patagonia) is, and how no one blinks an eye when you take a baby to the bar to après hike.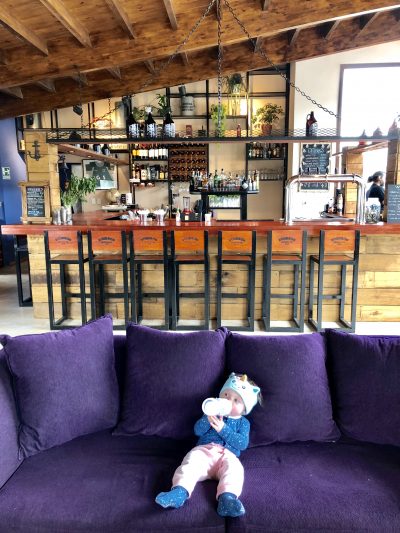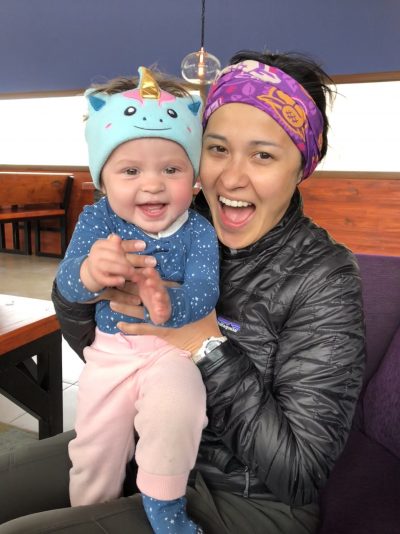 We then traveled to El Calafate to visit the Perito Moreno Glacier. This is the most easily visited destination with a baby.  The town is exceptionally cute and well- stocked (in case you forget something).  Definitely try a Calafate Sour, a cocktail made with the local Calafate berry.   We stayed at the Santa Monica Apartments- awesome because you have a kitchen and 2 bedrooms, so ideal with a baby, and it's well located and very walkable.  The Glacier is located a bit out of town and there are so many tour companies selling tours.  Though it's slightly more expensive, we booked a personal driver to take us out for the day.  With a baby, being able to set out on your own schedule, and leave when you're ready is priceless.  Visiting the Perito Moreno Glacier is easy as it's surrounded by easily navigable wood walkways.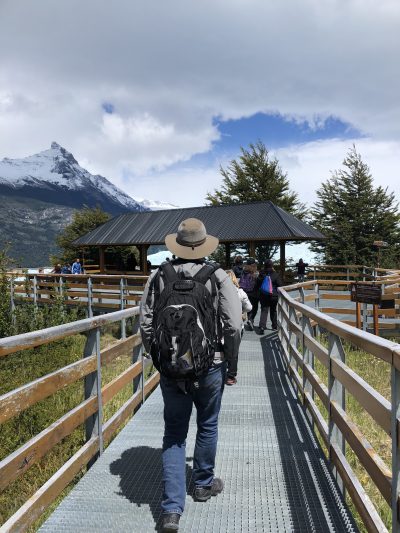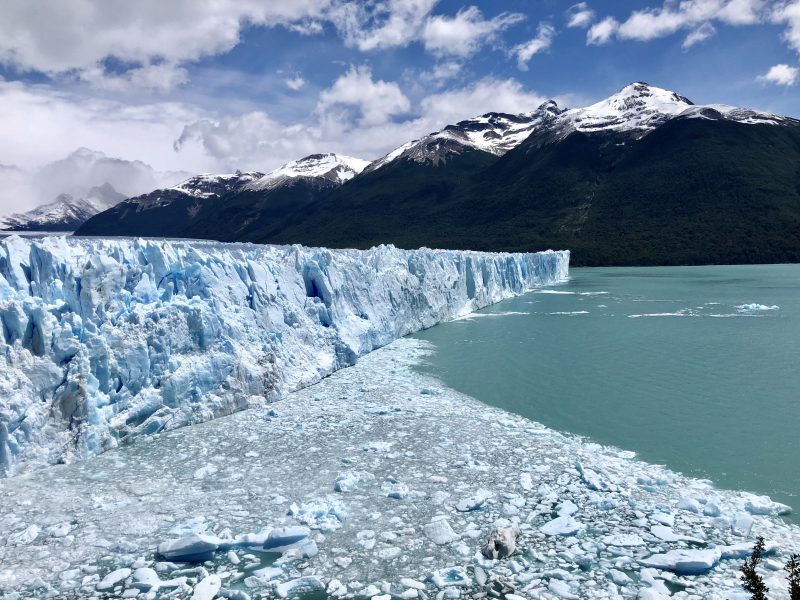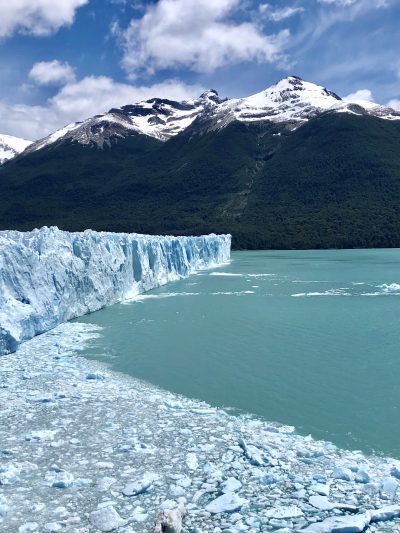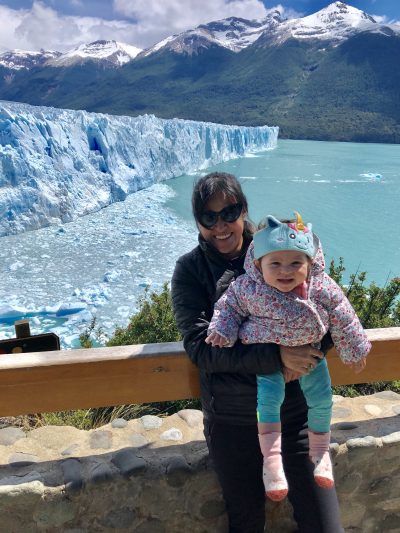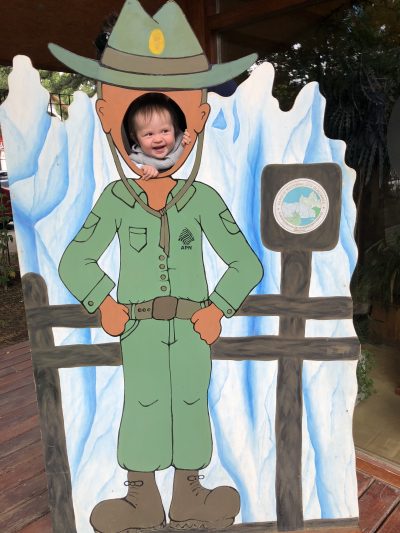 Lastly, South Americans LOVE babies.  There is even priority status for those traveling with babies; you get to go through the crew/ dignitary line at airports.  At border crossings, you are generally waved to the front of the line.  Even the stoic customs agents can't help but smile at a baby; there are so few in Patagonia!  We got used to having the only (and thus cutest) baby around for 2 weeks, and enjoyed it!  😉 
Patagonia is breathtaking and though most commonly thought of as an adventure destination, it can be enjoyed by adrenaline junkies and families, alike!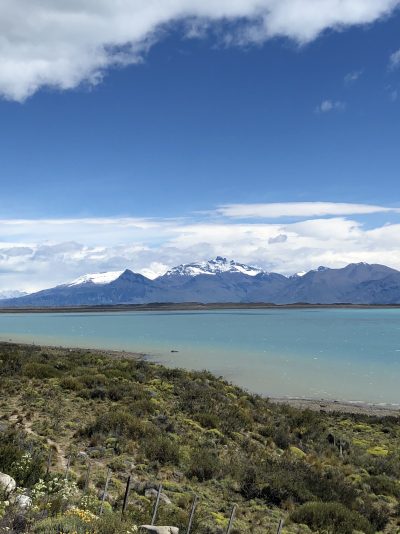 Happy Trails!
Celine