Ahhhhhh!!! I am such a dork, but want to share this interview I did with Kelly LaPlante of Trove Marketplace in which I share thoughts on lots of my favorite things.
Trove is a new digital platform that is like Craigslist but better. More curated, better pictures, and no sketch factor. You browse your local offerings off a super easy to use app; it's genius really.
Please check it out here!
Here's the interview:
---
Pro File: Celine Ord of Aquahaus Talks Adventures & Awareness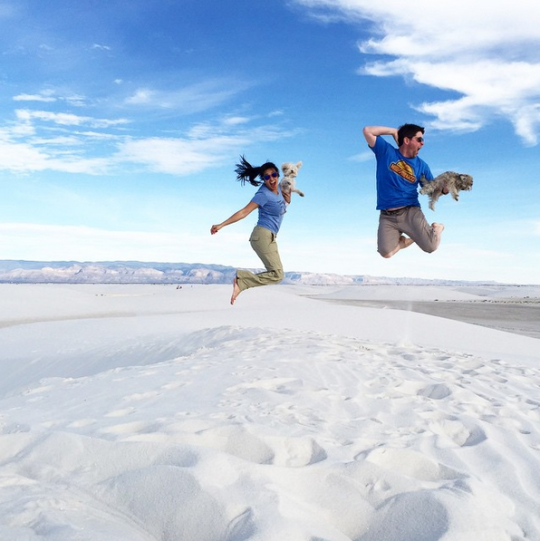 Celine Ord and her husband, Justin with Archie and Minnie at White Sands National Monument.
by Kelly LaPlante
Once upon a time, in true digital-age style, I met an amazing girl on Instagram. Celine is one part Oncologist (her day job) and one part design-loving blogger (her part time passion). When I finally got to meet her IRL, at the birthday party of another Instagram friend, I was thrilled to learn that she was as dynamic in person as I had ever hoped she would be—and I immediately made it my mission to befriend her.
The busy doc has just returned from one of her greatest adventures, to date, and I had the pleasure of catching up with her at the tail end of Breast Cancer Awareness Month!
KLP: First of all, we must discuss the amazing adventure you just completed, which was essentially a national tour in a gorgeous Airstream as you made your way from Austin to your new home in Phoenix. Three months, two people, two dogs… how did this all come together?
CO: It came together very quickly, yet organically. A great new job opportunity came up and afforded us the opportunity to travel in the transition. Though it was hard to leave Austin, we couldn't say no.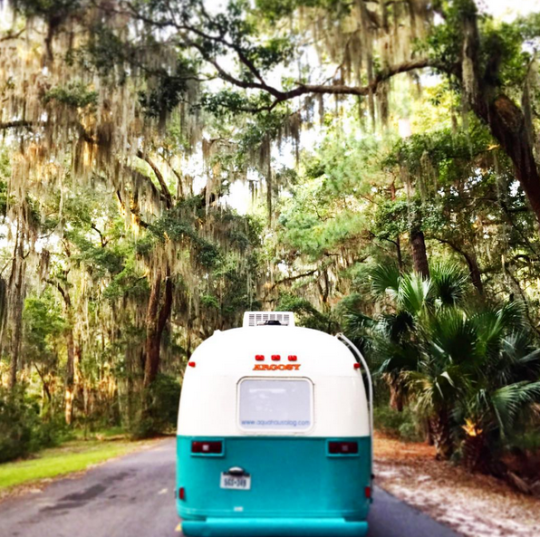 KLP: What did you do to get that amazing Airstream ready for the trip (I know for sure you didn't buy it like that!)
CO: The Airstream was totally gutted, re-designed, and re-built. We spent lots of time planning, making lists of what we wanted to bring, and editing out our possessions. It's amazing how little space you need, and how few things you need to own to be happy.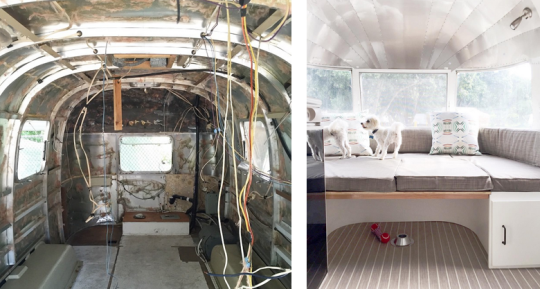 CO (cont.): Having fewer choices in many ways makes life so much easier. Design-wise, we had to configure the space in the trailer to make things efficient and more easily accessible. You have to account for everything— like where you're going to store paper towels and each of your dishes. It's so interesting, and a good exercise in restraint. Speaking of restraint, I initially had a crazy bohemian theme all picked out, but at the end of a busy travel day, I thought it would make more sense to come home to a serene and neutral space. So, the trailer has a white/ black/ gray palette, and is a great place to return to after a busy day on the road.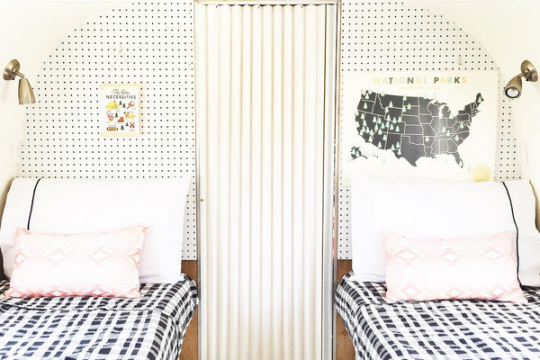 KLP: What were the most wonderful experiences you had on the trip?
CO: The road trip was mind-blowing, and it's hard to pinpoint my favorites. We tried to juxtapose the types of experiences we had, and it was amazing. We'd go from spending 4 days in a national park to wine tasting in Napa for 3 days. It kept things from getting stagnant, and was a great balance in decadence and sparseness.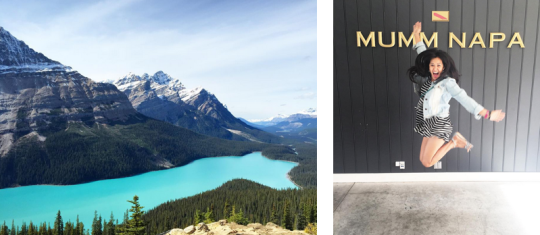 Glacier National Park, Banff + Celine Takes Mumm!
CO (cont.): Spending time in Glacier National Park, Banff, and the coast of Michigan have been highlights. Washington DC was also an amazing time for me. I'm fiercely patriotic so I loved being in the center of America. The Alvord Desert in rural SE Oregon is mind-blowing. No matter where we were, you realize how tiny you are and how vast and amazing the world is. Lastly, being able to spend 24 hours a day with my dogs has been such a luxury. I don't know how I (and they) will adjust back to a normal schedule.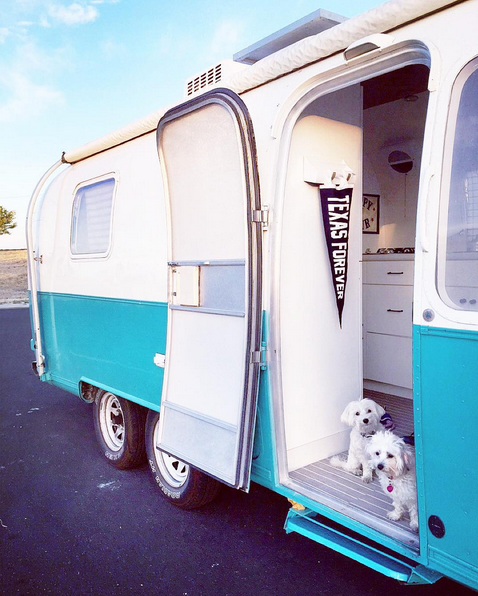 KLP: You're an oncologist by trade but you also have an amazing eye and a serious passion for design. Your blog, Aquahaus, which started as a pass time, really took off! Did that surprise you? Tell us about some of the adventures you've had and people you've met as a result of diving into the world of design.
CO: Well, I don't know that it has taken off, but it's a great outlet for me. It is invaluable for me to have an artistic outlet and have a way to connect with creatives, given what I do for my day job. Blogging has introduced me to so many amazing people, like you, Kelly! I met so many talented, kind and generous women in Austin—and it's a fantastically supportive community. Elizabeth Mollen of Stone Textile and Erin Williamson of Design Crisis were design icons to me, and blogging brought us together as friends. The interweb also connected me with my besties– Kirsten Stoddard of Triple Max Tons, Michelle Pimm of the I Was Just Saying That podcast, and Kaleigh Wiese of Meldeen. I'm so appreciative that even though we're in very different fields and would never have had the opportunity to meet otherwise, the internet and blogging brought us together. The other awesome thing about blogging and social media is that I made awesome "internet" friends around the country, many of whom I was able to meet during this cross- country road trip. So now, they are my friends IRL (in real life). Ha!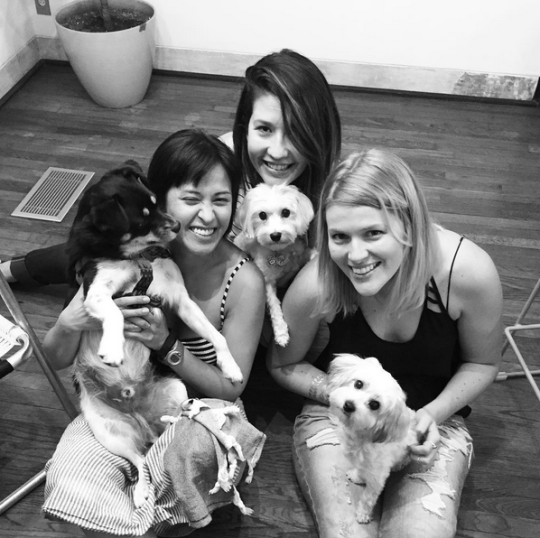 Celine with Michelle Pimm (center) and Kirsten Stoddard
KLP: Discovering vintage and unique furnishings is definitely something that gets your heart pounding, isn't it!? Can you tell us about your most exciting find, thus far?
CO: Hmmm….yes. Treasure hunting at Round Top and around Austin haunts was super fun. My favorite items were probably my hanging rattan chairs, one of which I used in my pool cabana, and the wood/ chrome/ blue upholstered occasional chairs. Such sexy lines, and yet so comfortable.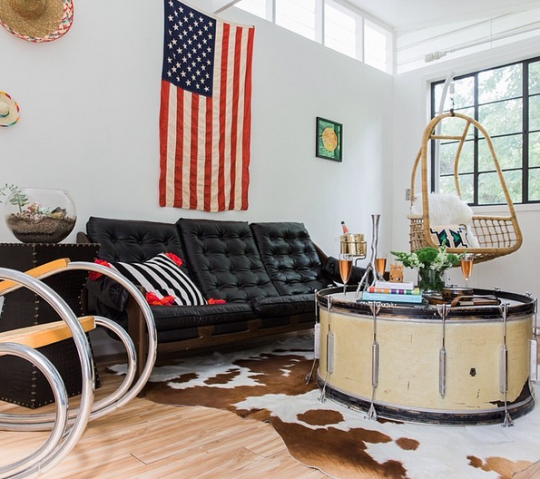 A hanging rattan chair, one of Celine's favorite vintage finds, holds court in the pool cabana.
KLP: What piece have you spent the most time and effort revitalizing or updating?
CO: As far as revitalizing, I would definitely say my penny bar, and that was really building it from scratch. I bought the cabinet bases from Home Depot, stained them with India Ink, and hand glued the pennies to an MDF counter top. Pouring the epoxy was nerve-racking, but the whole thing turned out pretty well. I sold it with the house, though.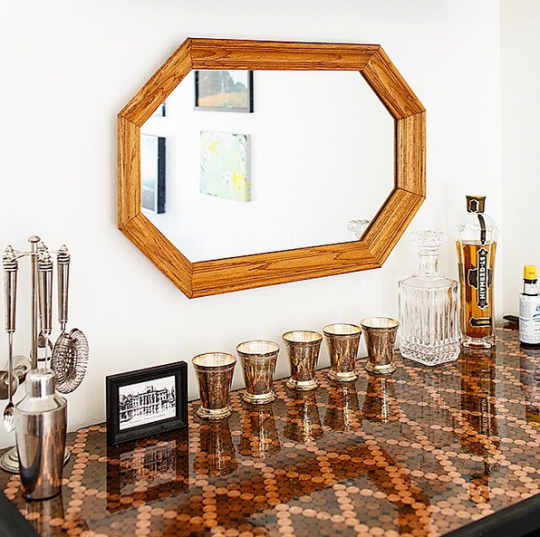 Celine's penny bar, which she built from scratch.
KLP: You've managed to find a way to combine your work and your passion by doing a series on your blog to promote breast cancer awareness, featuring some of your favorite designers and work that they've done in the color pink, as well as their own experiences with breast cancer. Can you tell us about some of the most inspirational things that have come out of that? As a cancer doc, what one piece of wisdom or piece of advice would you hope that everyone take to heart?
CO: I love the Pretty in Pink series! I'm obviously super behind for this year (road tripping will do that), but I'm excited about continuing on with the series that I started last October. What amazed me was how far-reaching breast cancer is. Some of the women had a personal scare; others experienced it alongside a loved one. A favorite share was from Austin designer Killy Scheer who shared her father's experience of breast cancer. Men comprise such a small subgroup of breast cancer and through sharing that experience, I felt like the mission of this series, to increase awareness, was accomplished.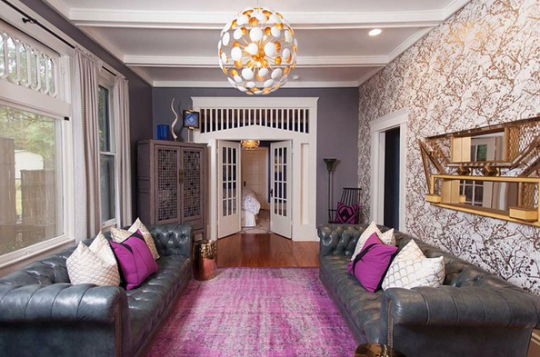 An interior designed by Kim West of Well Dressed Space, featured in Celine's Pretty in Pink blog series.
CO (cont.): Awareness means being informed and proactive. Awareness of breast cancer means knowing that men can get breast cancer too, and that early detection is extremely important.
One piece of advice I would share, though it sounds obvious is: Don't Ignore "It"!
"It" can be anything—a lump, overall malaise, fatigue, weight loss, a 6th sense that something isn't right. Too often, and I can understand this, one might think that if I ignore it, it will go away. It won't, and it can take you out of the window of curability. I can't tell you how many heartbreaking cases I've seen like this. Though it can be scary, the fear of the unknown is often the worst part.
KLP: What's next for you? You just completed your epic trip, landed in Phoenix, you're starting a new job…what are you most looking forward to?
CO: Yes, sadly, our trip has come to an end. We're starting over in Phoenix, I'll be starting my new job and I'm very excited about it! While we were on the road we (remotely!) bought a new house to renovate! I'm most looking forward to building a new community and friendships, discovering my new hometown, and using a full-sized bathroom!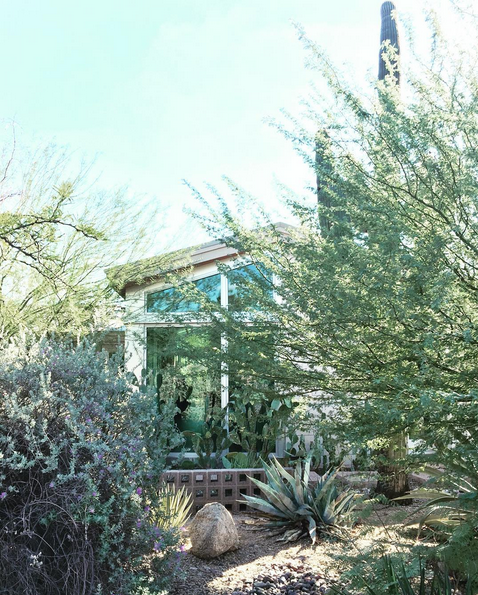 The aptly named "deserthaus", Celine's next adventure.