Hello blogosphere friends!!! Happy Thursday!!
Today's Pretty in Pink guest comes to us all the way from the East Coast- Maine to be exact.  I have to thank Instagram because somehow, I stumbled upon Tyler's account and have been a devout follower ever since.  Tyler of Tyler Karu Design + Interiors is an amazingly talented designer, who works her magic on bungalow remodels, restaurants interiors, and boutique inn properties alike.  I especially love her work because it is fun, fresh, but doesn't try too hard.  She doesn't subscribe willy nilly to trends, but stays very true to the locale and it is so so good.
She's so cute too…you can catch her on numerous HGTV episodes and she is a contributor to marthastewart.com…so yeah, the secret out- she is verrrryyyyyy talented.
On a personal note, I love her joie de vivre, the fact that she is dog lover, and perhaps most importantly- I can discuss The Bachelor and Bachelor in Paradise with her!  LOL!
She also has GREAT hair!
I plan to head up to Maine very very soon for a LIT girls' weekend of champagne, lobster, and happy hours.
Without further ado, I will turn it over to Tyler!
---
Name: Tyler Karu
Occupation:  Interior designer/ real estate developer 
Location: Portland, Maine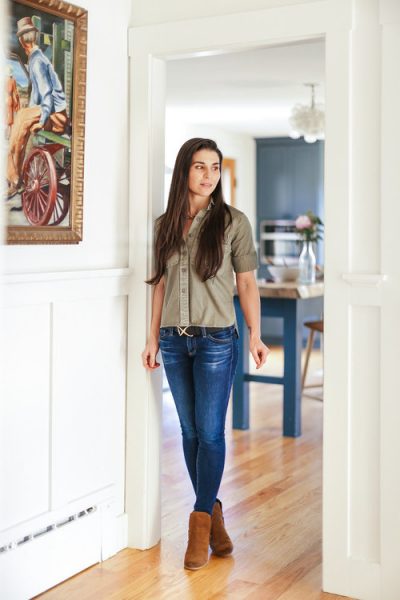 Do you have any personal experience with breast cancer, either yourself or friends/ family?
I know a bunch of incredible women who have had breast cancer and their strength and fortitude throughout their treatment and recovery made me realize how strong and resilient women are. I was in awe of them and and I still am. They have inspired so many other women, raised an incredible amount of money for breast cancer research and have a been a constant source of support for other women going through treatment. A dear friend, who I have known since high school, was diagnosed at the age of 34. She is one of my personal heroes. I think of her almost daily when I fret over trivial things and I remember her grace and strength as she battled cancer and how she spent the entire experience giving back and helping others.
If so, what struck you most about this experience?
Young women are diagnosed with breast cancer with alarming regularity. I know far too many women in their 30's, whose lives are interrupted by cancer, and what strikes me most is their immediate instincts to help others. I keep this in mind every day, and am constantly inspired by their community and strength in one another.
Lastly, show us your space in which you've incorporated some pink!
First up is my dining room! The art is by my dear friend Justin Levesque. I wanted a modern, warm space that had an 80's vibe to it, so yes, neon art for the win.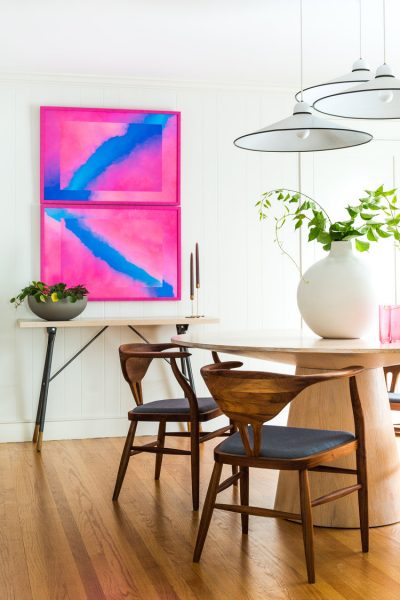 This next image is from a juice bar I designed in Portland, ME. Pink Christian Lacroix wallpaper with a lot of fruit on it was not a tough sell to my client, who is young, fun and creative. It's appropriate, from a theme perspective, for the business, but it's also sophisticated with the line drawing/artistic elements of  the paper.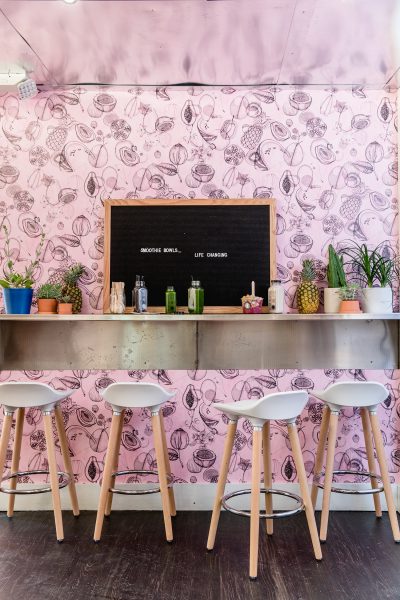 Lastly, this is a sitting area in a bedroom I designed. That sweet pink velvet Jonathan Adler chair really set the mood in here. I love that it feels feminine but not fussy. I love how the pattern on the roman shades plays off the sinuous lines of the chair.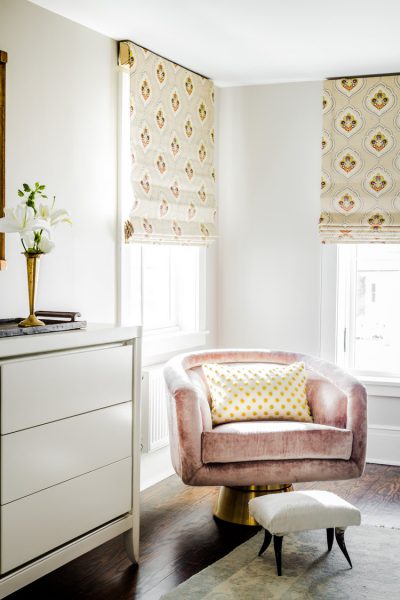 ---
Wow Tyler, I'm super obsessed with that neon art.  Thank you so much for taking the time to share your experiences and and beautiful work with us today! I am so in awe of your outlook in life, and your talent.
xo
Celine