How do you make a place feel like your own?
Comfort, organization, & aesthetics..and not necessarily in that order.
Today, let's talk aesthetics & comfort.
And sometimes, you gotta start from the ground up…literally.
I started my palette planning from the floor up.
Some people use wood flooring, some people use vinyl wood planks…
Marmoleum and cork are also options.
I died when I saw this genius option from Mandy of Vintage Revivals, using wood.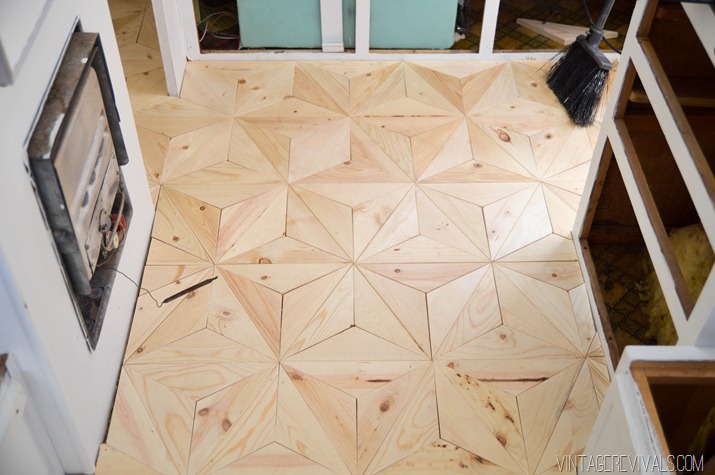 I love the geometric nature of it, but I kept searching for a lighter weight option.
I wanted something sleek and modern, yet practical and low- maintenance.  Don't we all?  And I thought it was just a pipe dream.
And then I found Infinity Fabrics.  Holy crap. I actually stumbled upon this amazing company on instagram.  I about died when I saw the amazing patterns, and was hooked when I learned more about the product.
This is a Luxury Woven Vinyl® (LWV), Certifiably Green® product with a patented heavy traffic backing which makes it perfect for both indoor and outdoor use.
What do all those words mean?
It means that this product is awesome.  It is very solid, easy to clean, fade resistant, and includes antimicrobial technology- everything you'd want in an RV.
I then found out that the Infinity Fabrics Luxury Woven Vinyl® comes in  8'6" and 10' widths, with two different cushion backing thicknesses offered.  This is the perfect option for an airstream, so that the material covers the entire width of the trailer, with no seams.  You can also order the exact length you need- so again, no seams.
It was a no brainer for me, especially with two dogs living in the RV, we needed to find a product that could stand up to them, yet still look effortlessly spotless.
There are 14 different collections…something for everyone.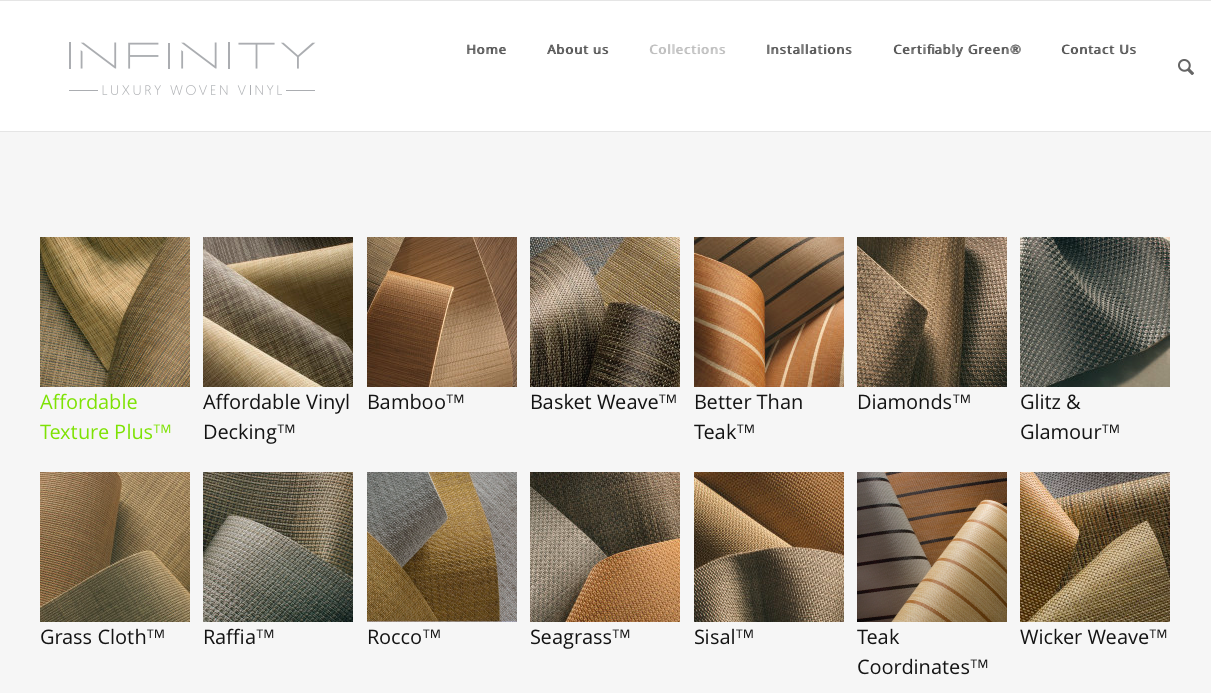 And even though I loved every one of them, there was a collection that stole my heart- the Better Than Teak ™ collection.  It emulates the classic teak seen on boats, but a more modern version with various colors, and certainly easier to care for.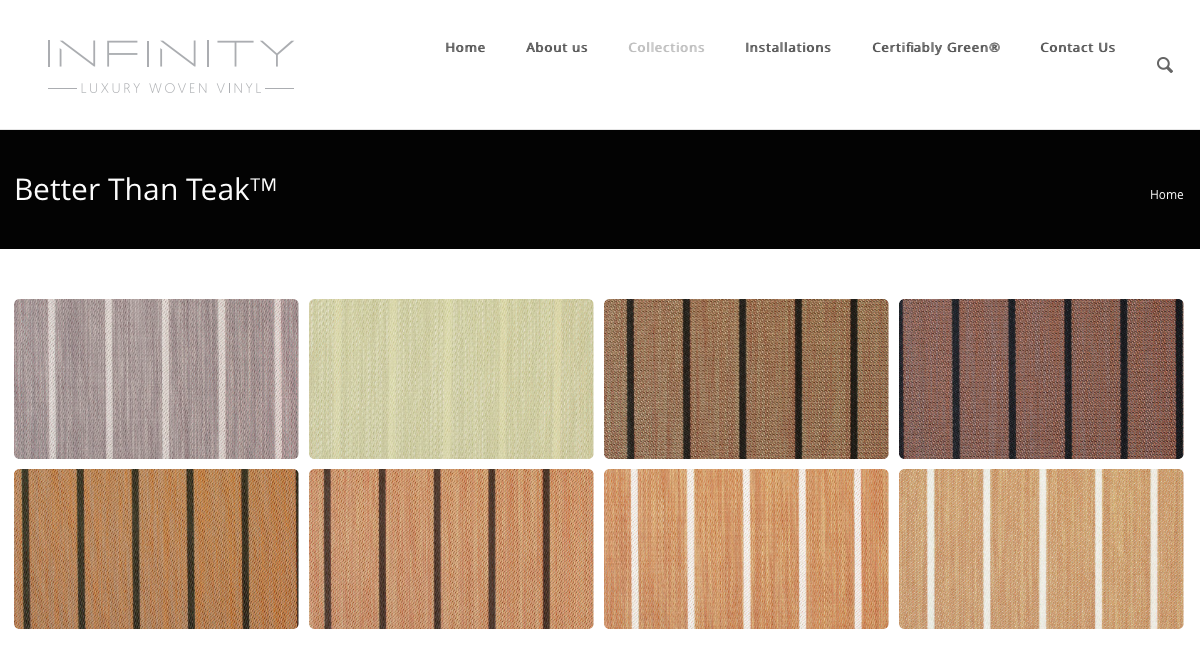 There are 17 color ways, but in the end, we  chose the top left color way- a light gray with white stripes.  I think it is the perfect classic, yet modern pattern.
It has been installed, and I don't want to give anything away, but I can't resist giving you a sneaky peekie!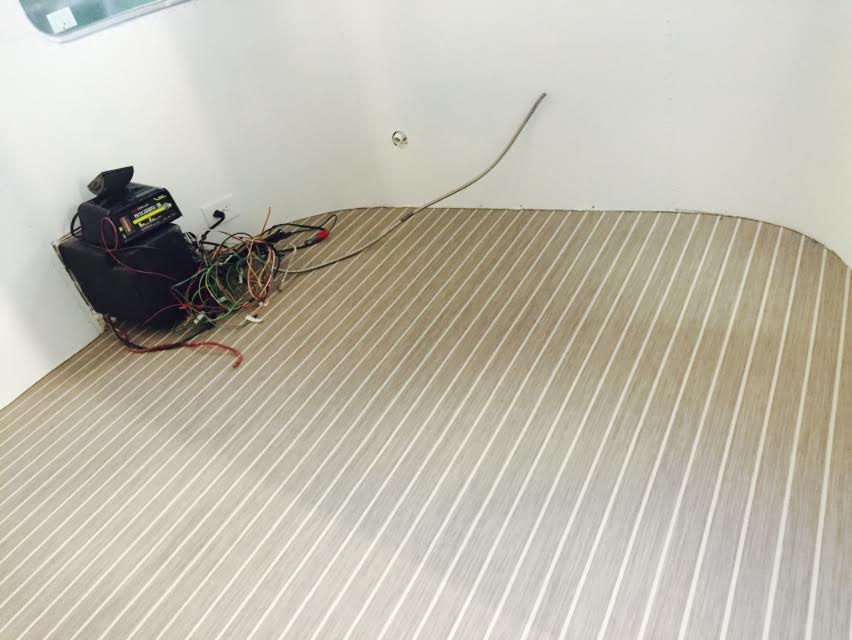 It is amazing, and the best part is that it feels amazing under your feet.  It's soft, cushy, and warm.
Next post- we will discuss more finishes.
xo
Celine