Hi GooGoo Trons!
The day is here! It's bittersweet that the One Room Challenge is over. Thanks Linda for creating such a wonderful, fun, and unifying experience for so many.
And a huge thank you to all those who followed along on the blog and on IG. Your encouraging, sweet, and funny comments kept me in the game.
Thanks to all the participants for doing this crazy thing so as to give me something to look forward to on Wed and Thurs. Your creativity and talent is astounding, overshadowed only by the kindness and love I've seen in this. It's awesome that we can establish such camaraderie and support each other so!
Did you see the amazing reveals yesterday?
Well, I am suffering from a serious inferiority complex, and I am feeling kinda shy to show my decks. But alas, here we are.
Well, my goal has been to make over my rooftop decks. We have two here at aquahaus, and they had long been neglected, and were just barren wastelands of concrete and rust.
My goal was to create a fun, hip space to entertain and relax in. Maybe drink coffee… drink a drinkie…read a book…take a nap.
Did I succeed?
I don't know. You tell me.
2 important questions I've answered for myself:
1. From how many angles can you take a picture of the same thing?
ALOT
2. Can I write an entire blog post with hashtags?
Almost.
Get ready for some hashtags.
Here is a reminder of Deck A: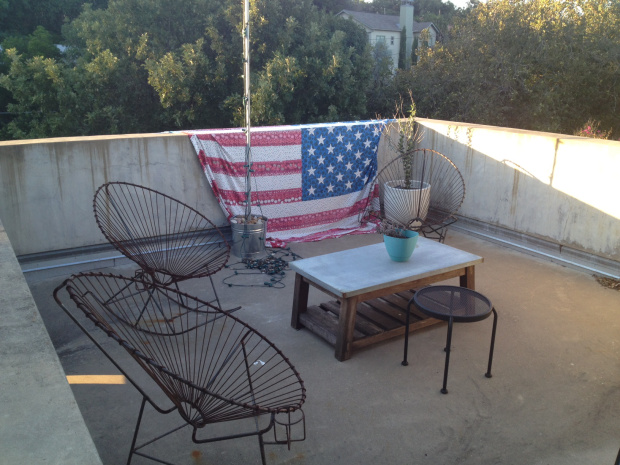 Boo cakes.
#ugly
While I had initially planned to use a sun shade, geometric pattern, planters…I essentially did none of that.
(So I'm glad I didn't invest time in making a fancy mood board).
Nope, I design by the seat of my pants.
Enter boxwood, kilim, a mid century bar, lighted hashtag sign, and gold spray paint…
and 6 weeks later, you have this: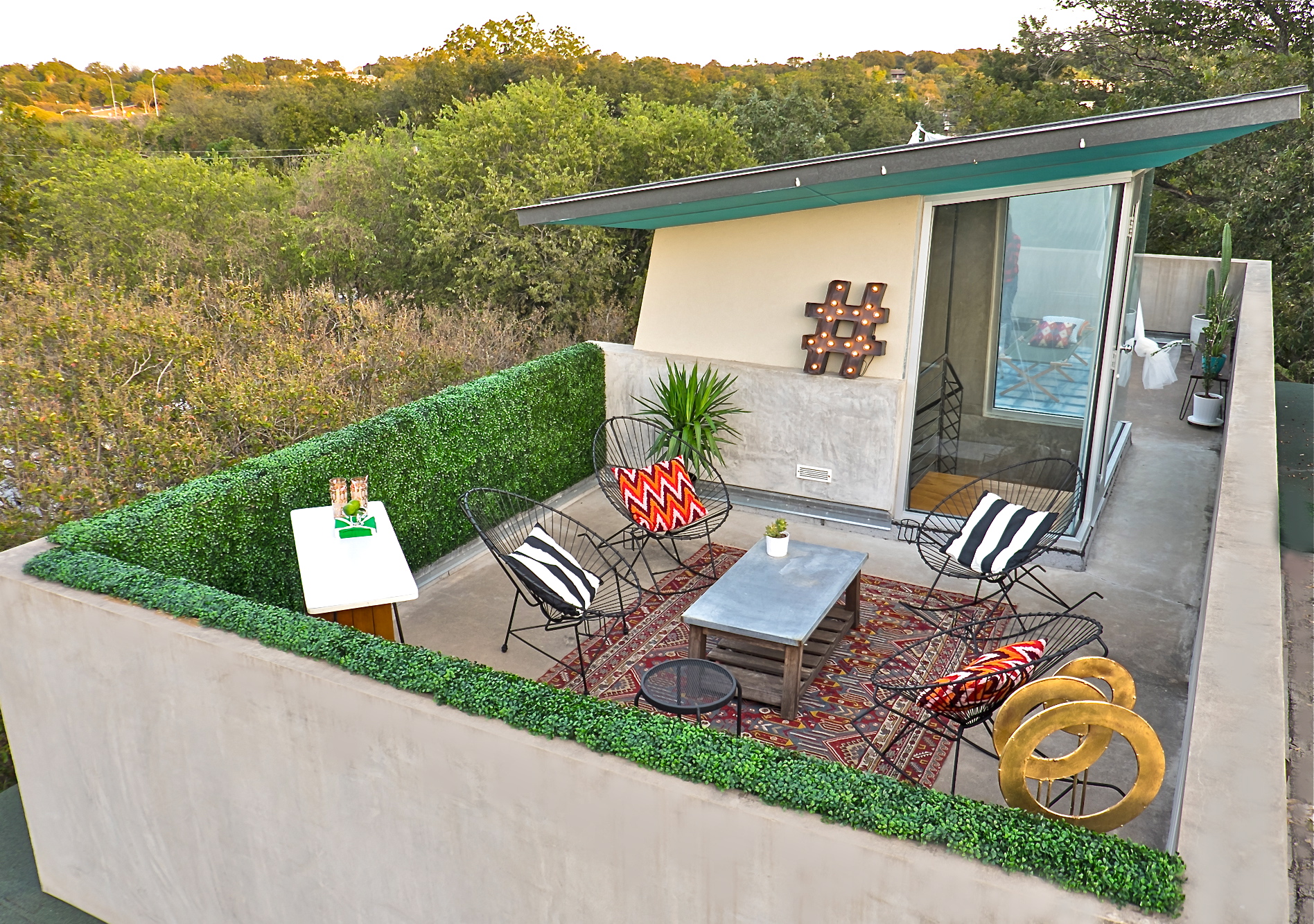 I call this #palmsspringsmeetsmarfa
There is the classic boxwood and black/white stripe of Palms Springs, and the boho acapulco chairs and kilim of Marfa.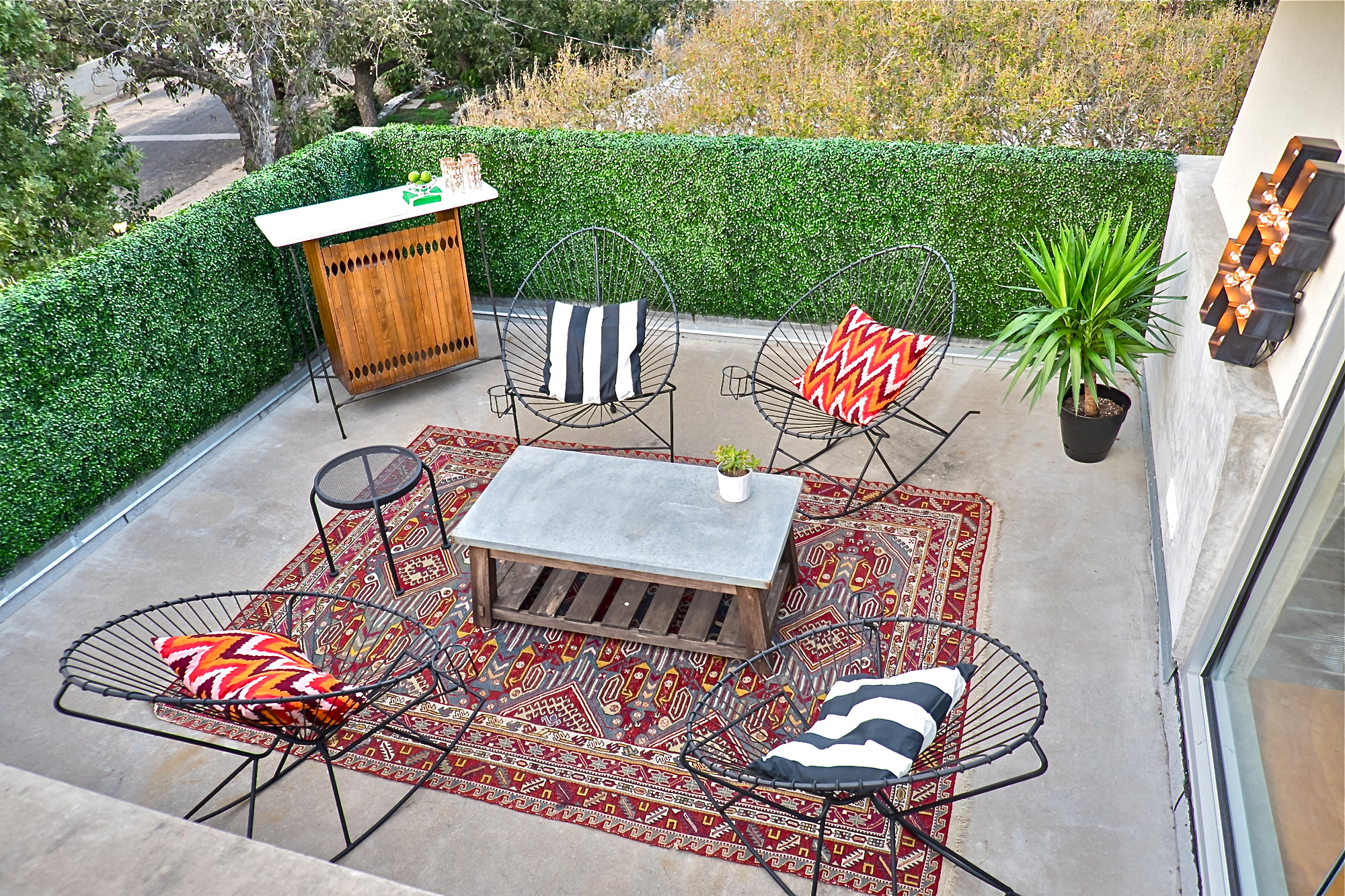 The boxwood did wonders to make the space more organic, and warm up that cold concrete. And I can't kill it! Woo hoo!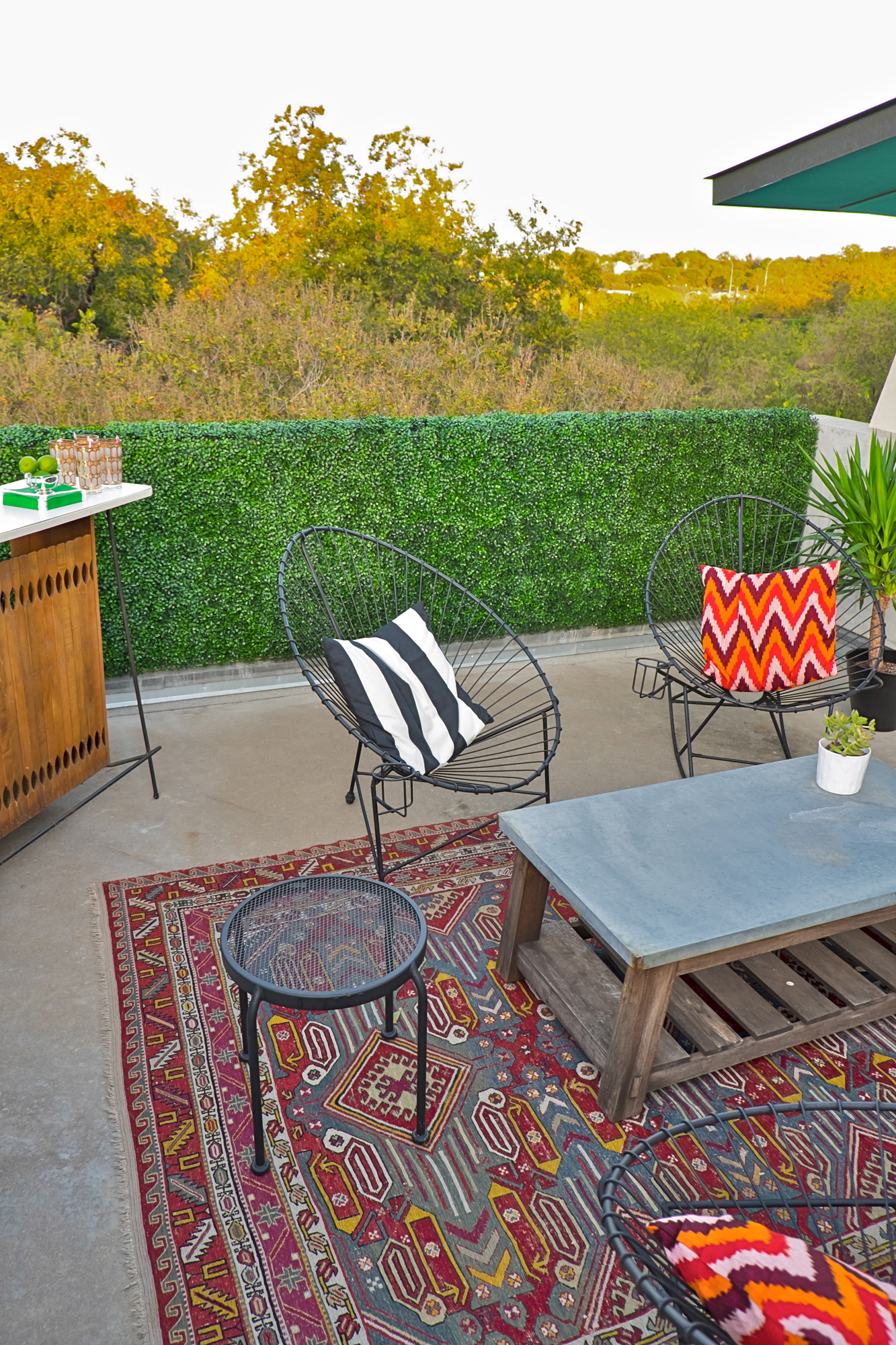 Here is my darling little mid century bar I got off of Craigslist. It's a delightful place to hold court and mix drinks.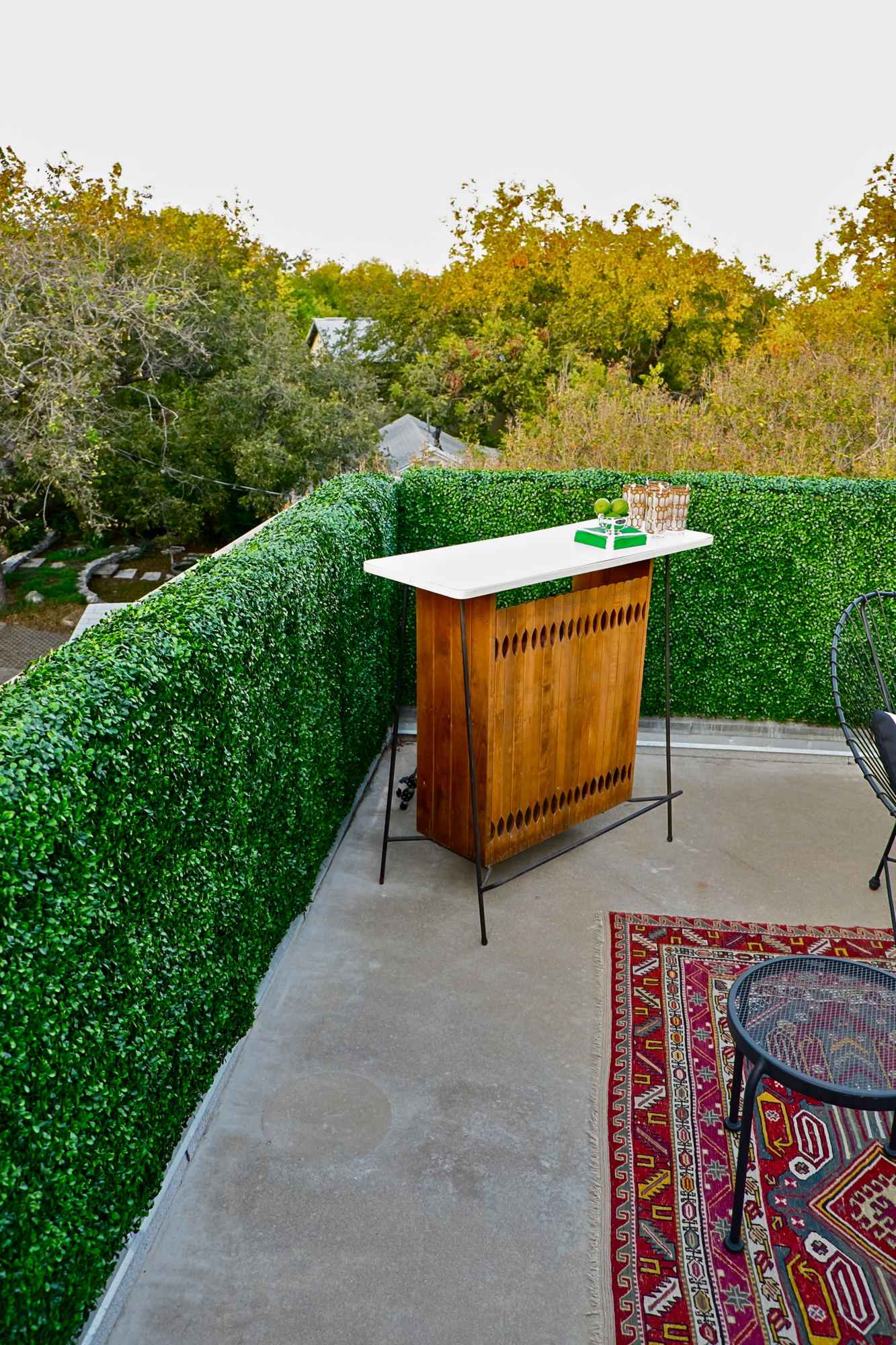 Oh I love you little hashtag sign. #hashtaglove
One day, will I look at this pic and date it to 2014? Maybe.
#sorryimnotsorry
p.s.- see the aqua eaves?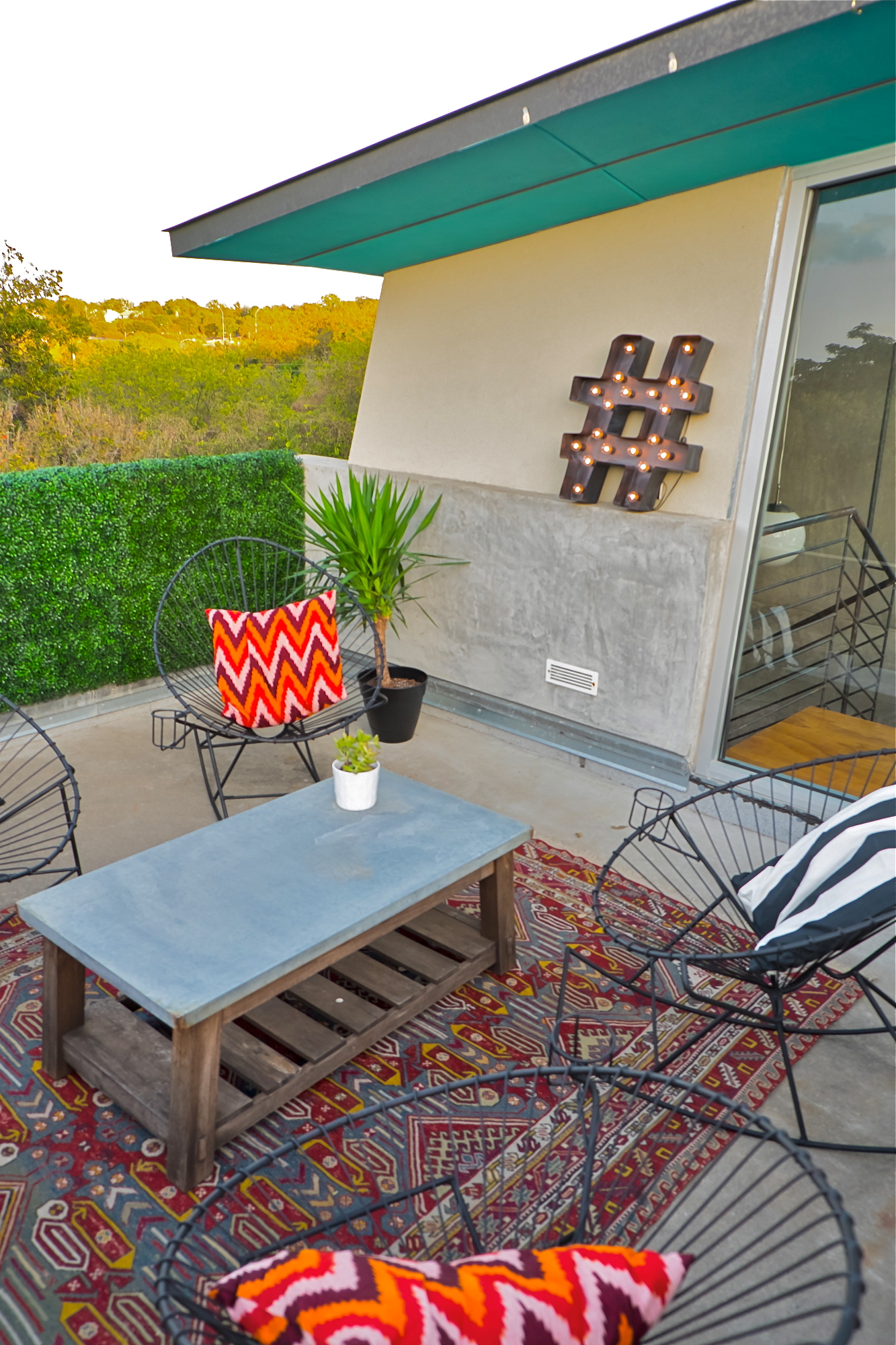 One of my most fave pieces…an Acapulco chair that rocks AND has a cupholder. #geniusfestival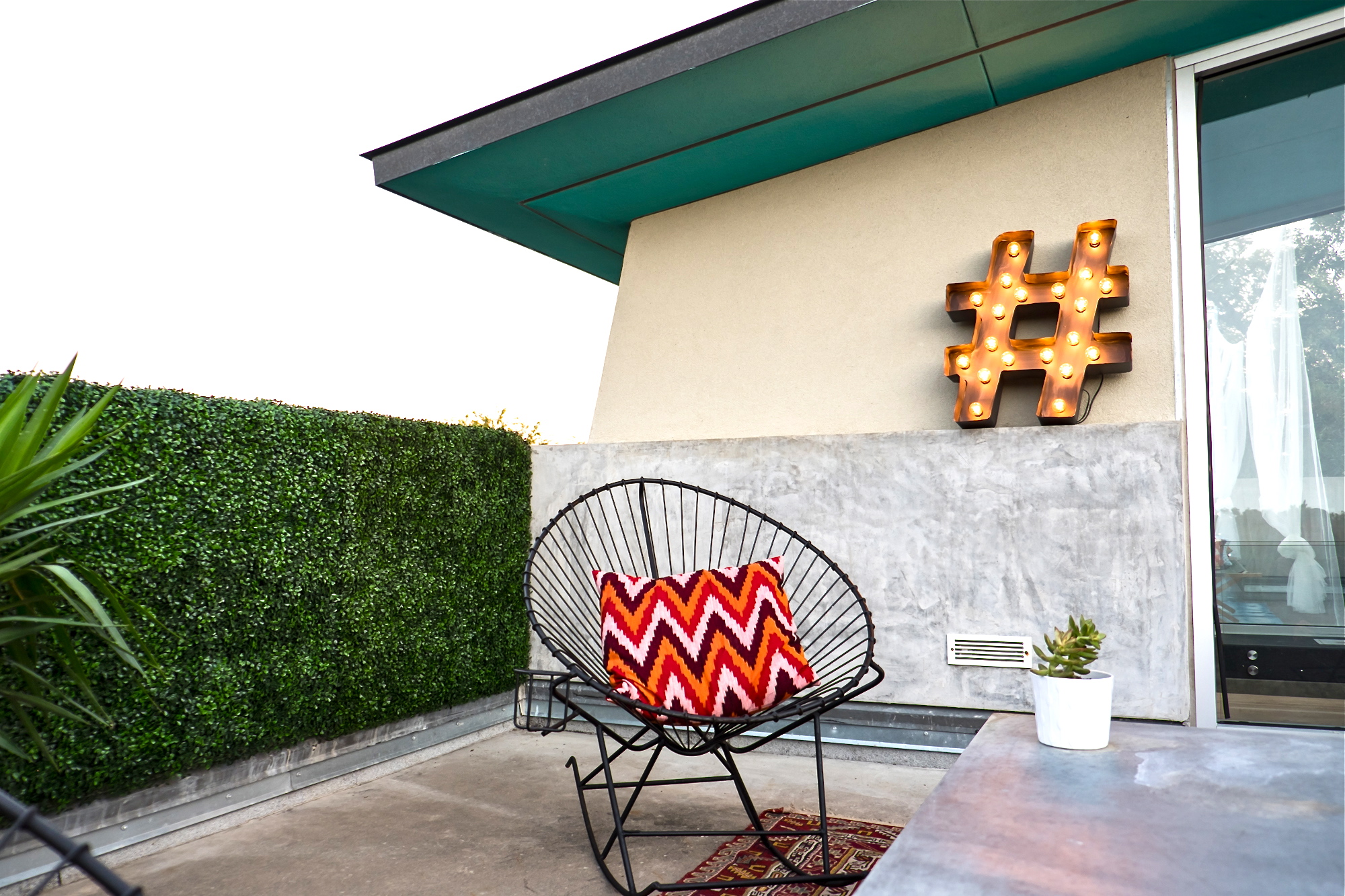 Detail shot of my zinc top coffee table and pretty kilim.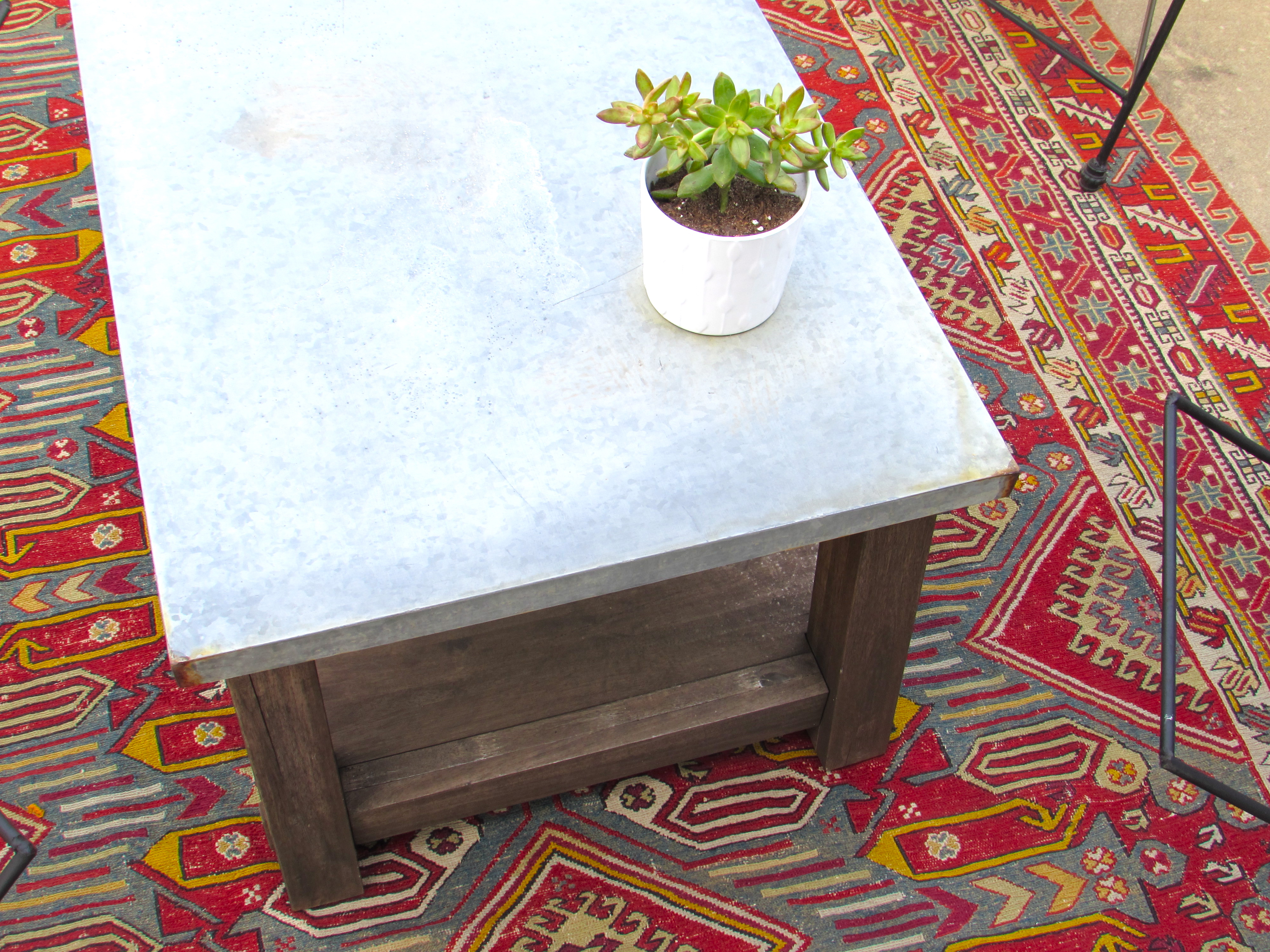 You may have noticed the lack of styled vignettes. Porque you say?
Porque it's an outdoor space, and I'm trying to keep it real! Vignettes don't matter so much outdoors. Only a seat and boozie!
#patternonpattern
#donthate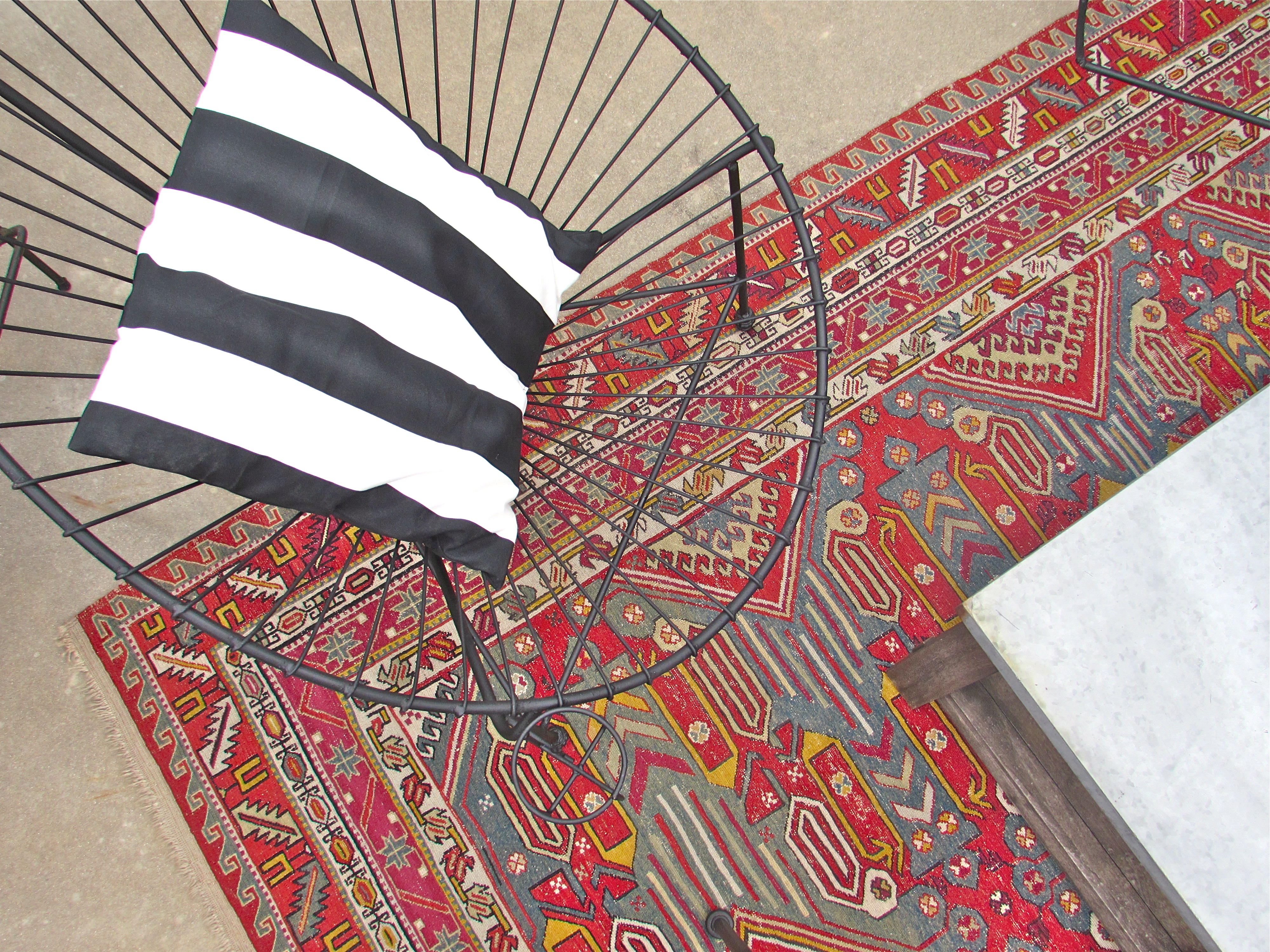 This is some kind of metal art and the circles swing when the wind blows hard enough. It was an ugly rust color. Gold spray paint fixes everything, just like Windex.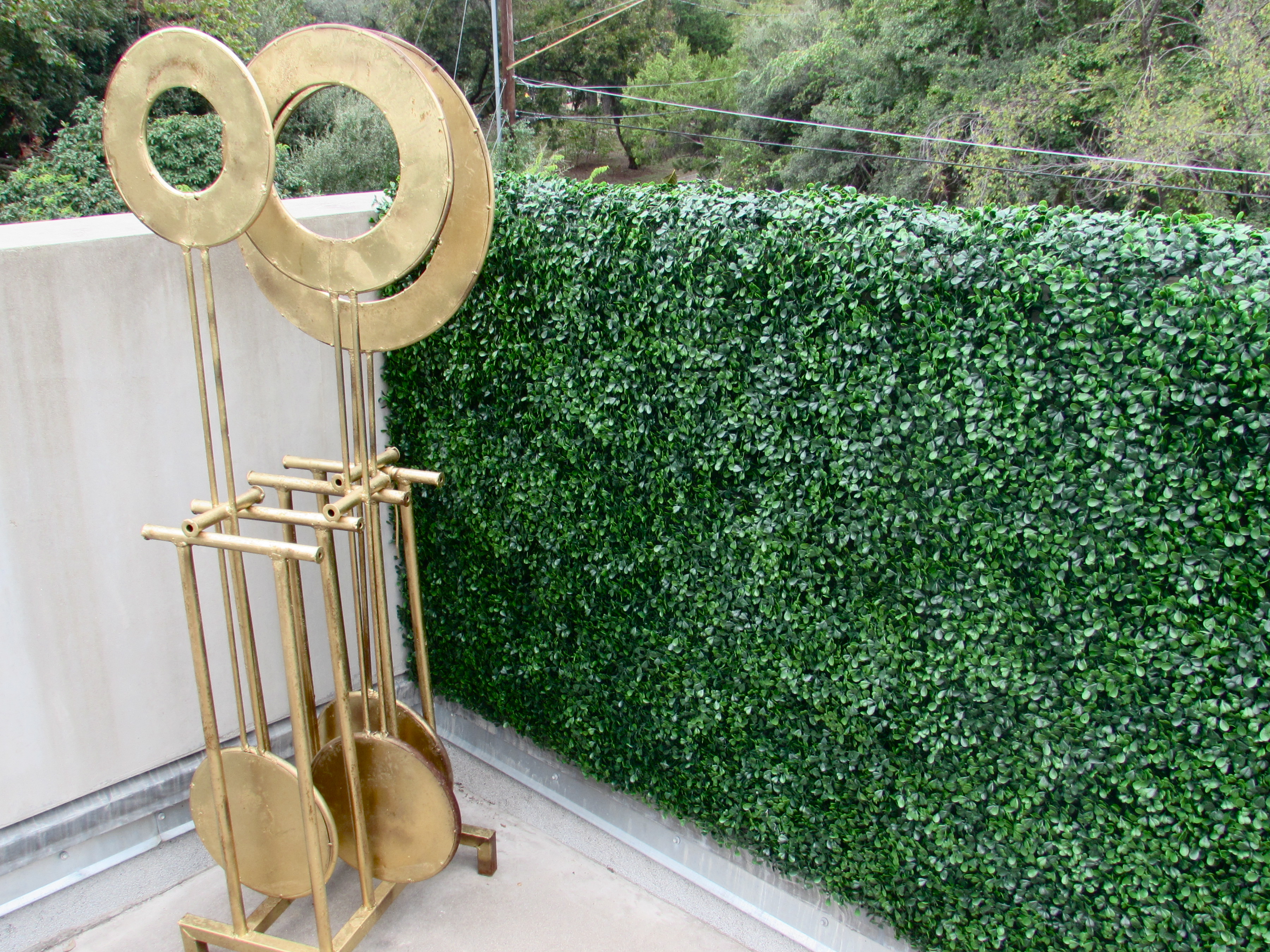 Party time. (Shout out to my SIL and my awesome neighbor)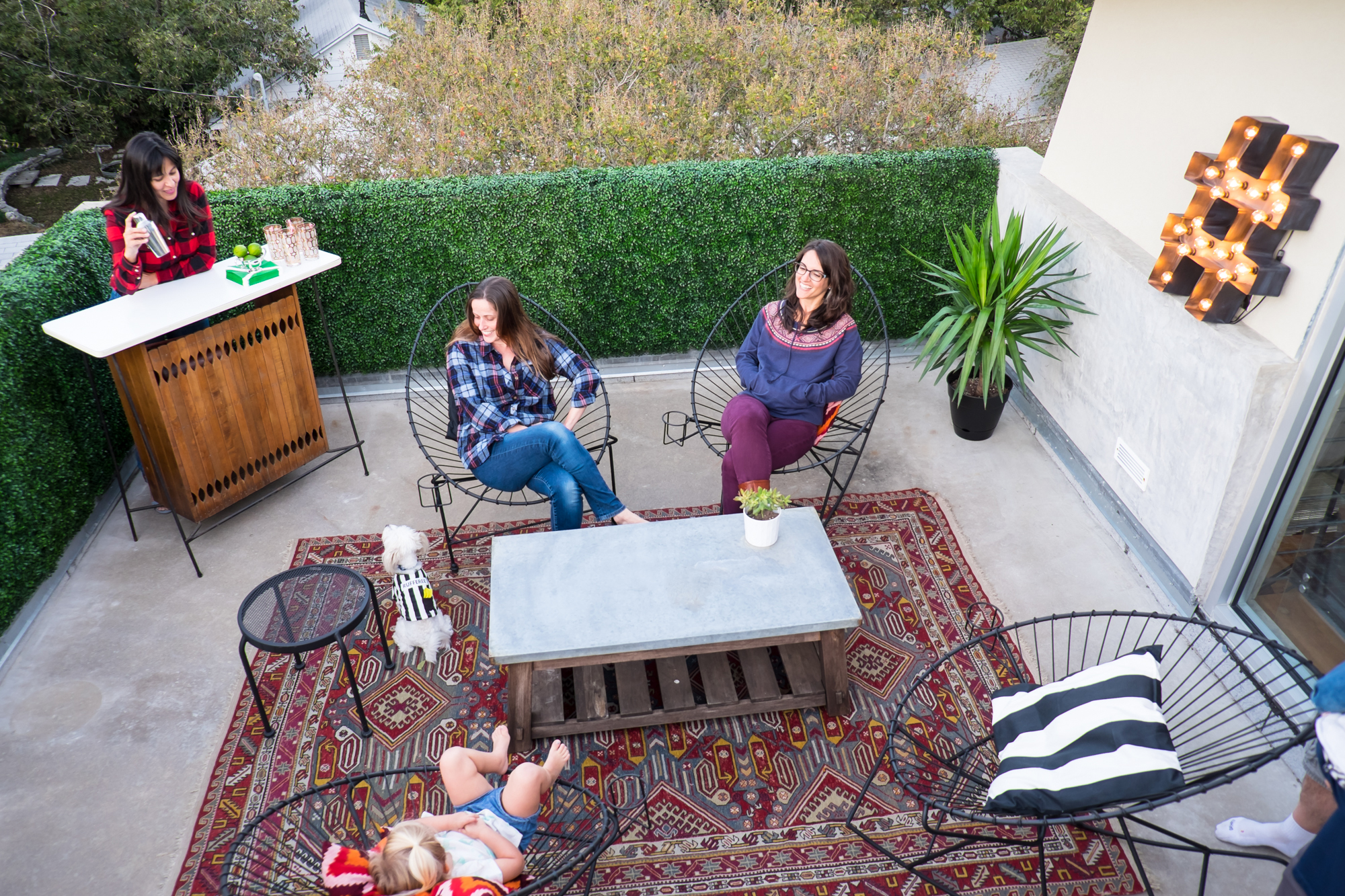 Let's ignore the fact that I'm mixing drinks for a dog and a baby. We don't card chez Aquahaus.
But a plaid dress code is very much recommended.
I think I get bonus points for Archie's t-shirt matching the black/white striped pillows. He is so a propos.
Okay…onto Deck B.
Here is the dreaded before: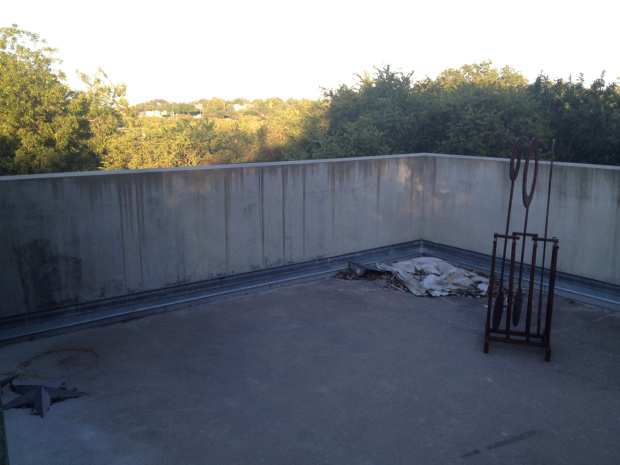 #yikes
And while I had grandiose plans of creating a vegetable garden, I know myself too well. Those poor guys would've died in 2 weeks.
So I had to stay true to myself and stick to what works for me: napping and low-maintenance cacti.
I just wanna feel like a boho princess in my gauzy, romantic castle.
I made the canopy system. It is airline cable rigged together with carabiners onto the roof line and metal poles. Not only does it take up very little visual space, it is portable; easy to take on/off.
#macgyver
(How many times can I use the term "visual space" in this post? #drinkinggame!)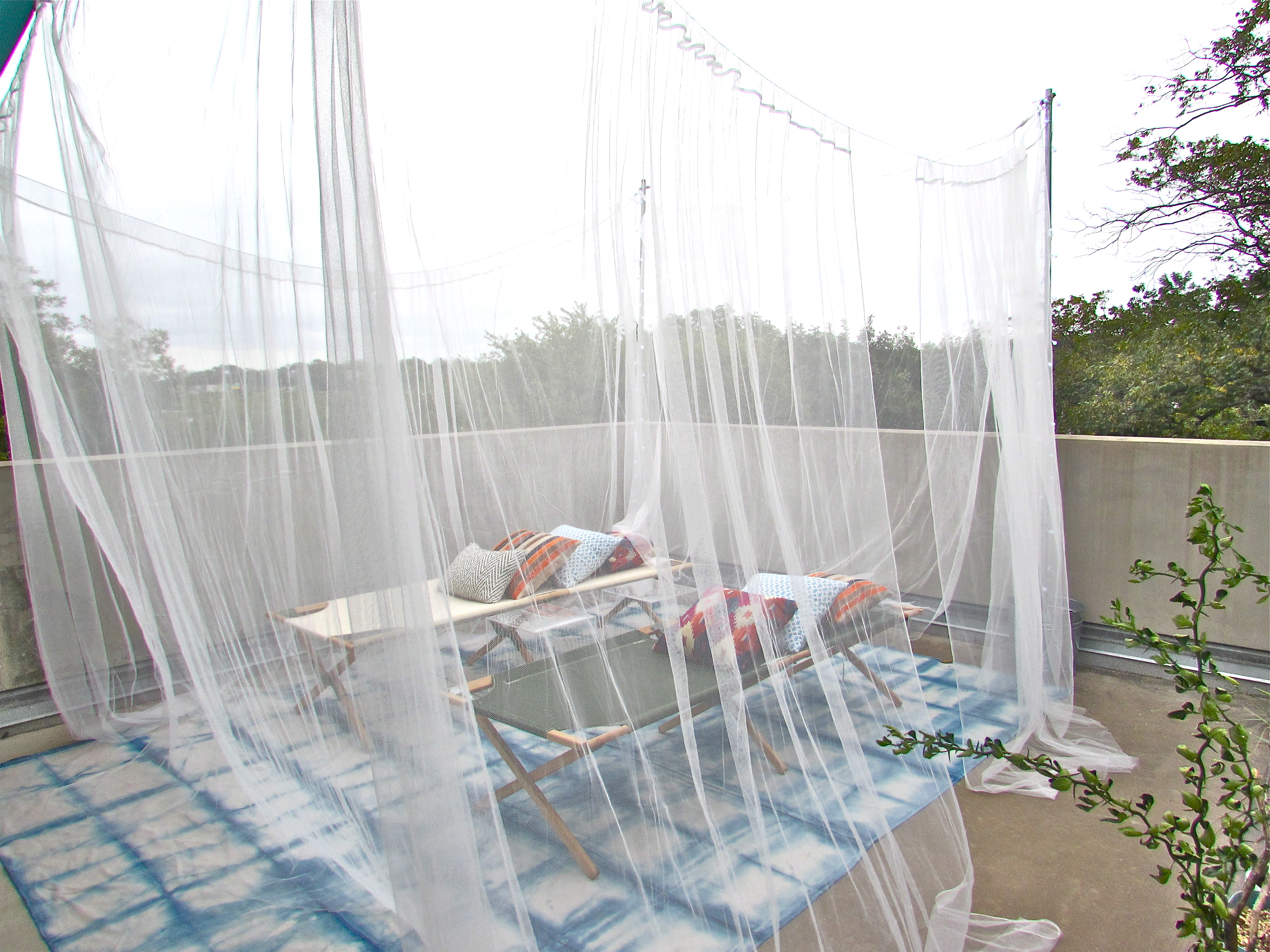 The military cots are legitimately comfortable and true to theme- also so easy to assemble/ disassemble. I have really grown to love the fact that they don't match.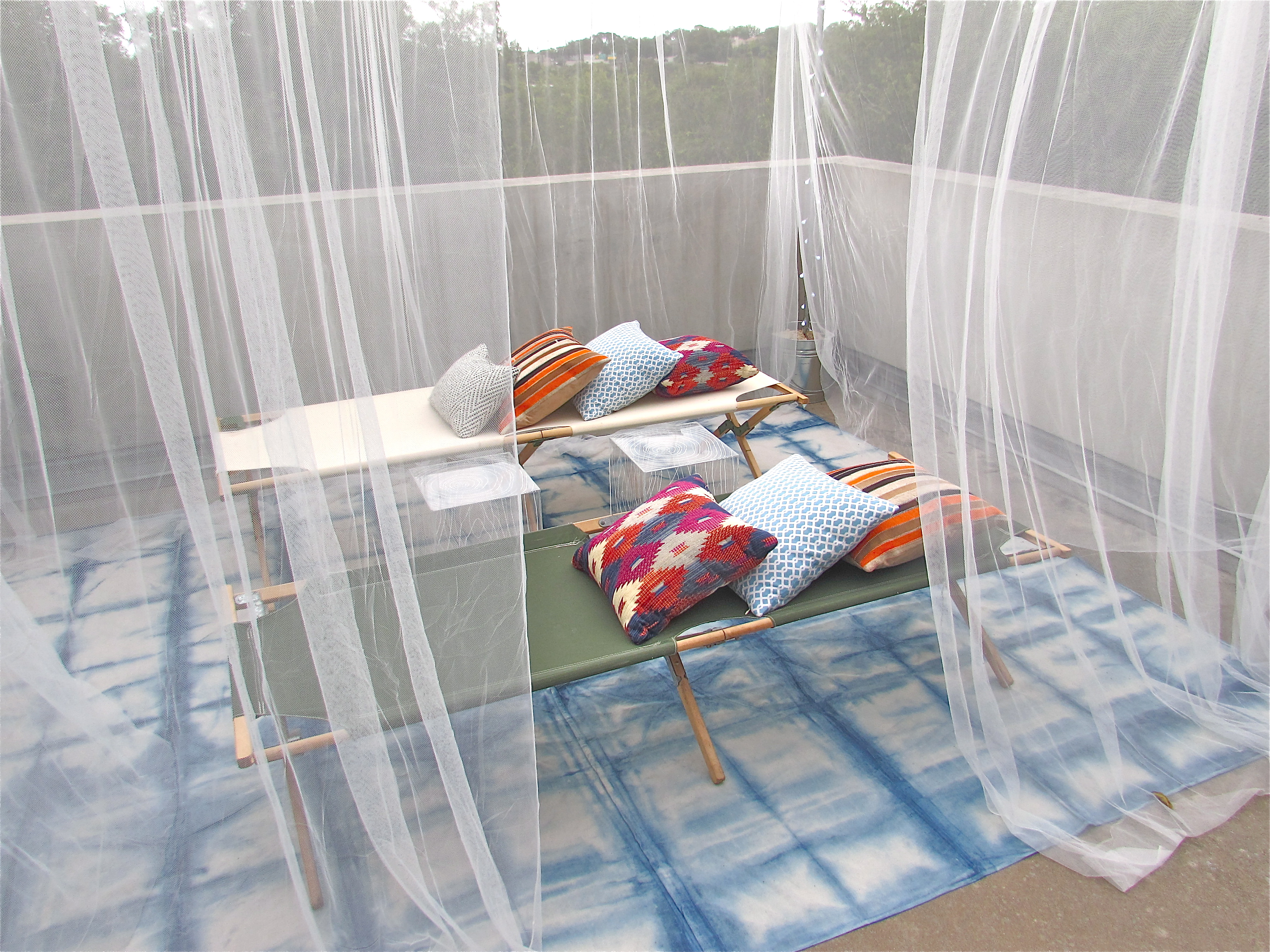 And look at those sexy wooden legs.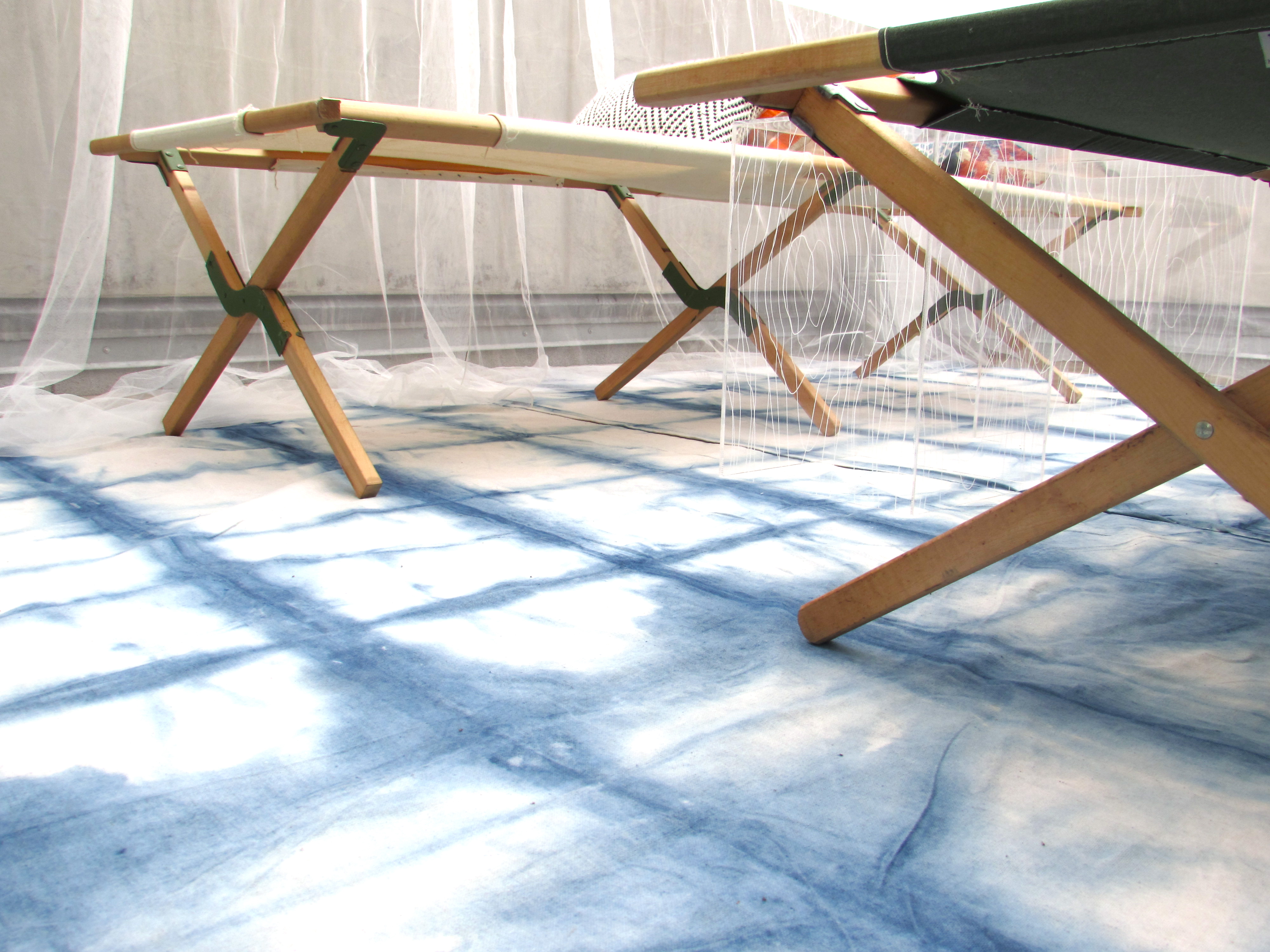 The shibori rug! I tried shibori for the first time last weekend and it worked. This was my last minute DIY since Serena and Lily very rudely oversold my rug. But this alternative worked pretty well.
It is a dyed canvas dropcloth from Home Depot. Who knew you could so easily dye these?
This is a huge drop cloth that cost $19. I am already planning to do this again and use the canvas for upholstery fabric. #eco$chic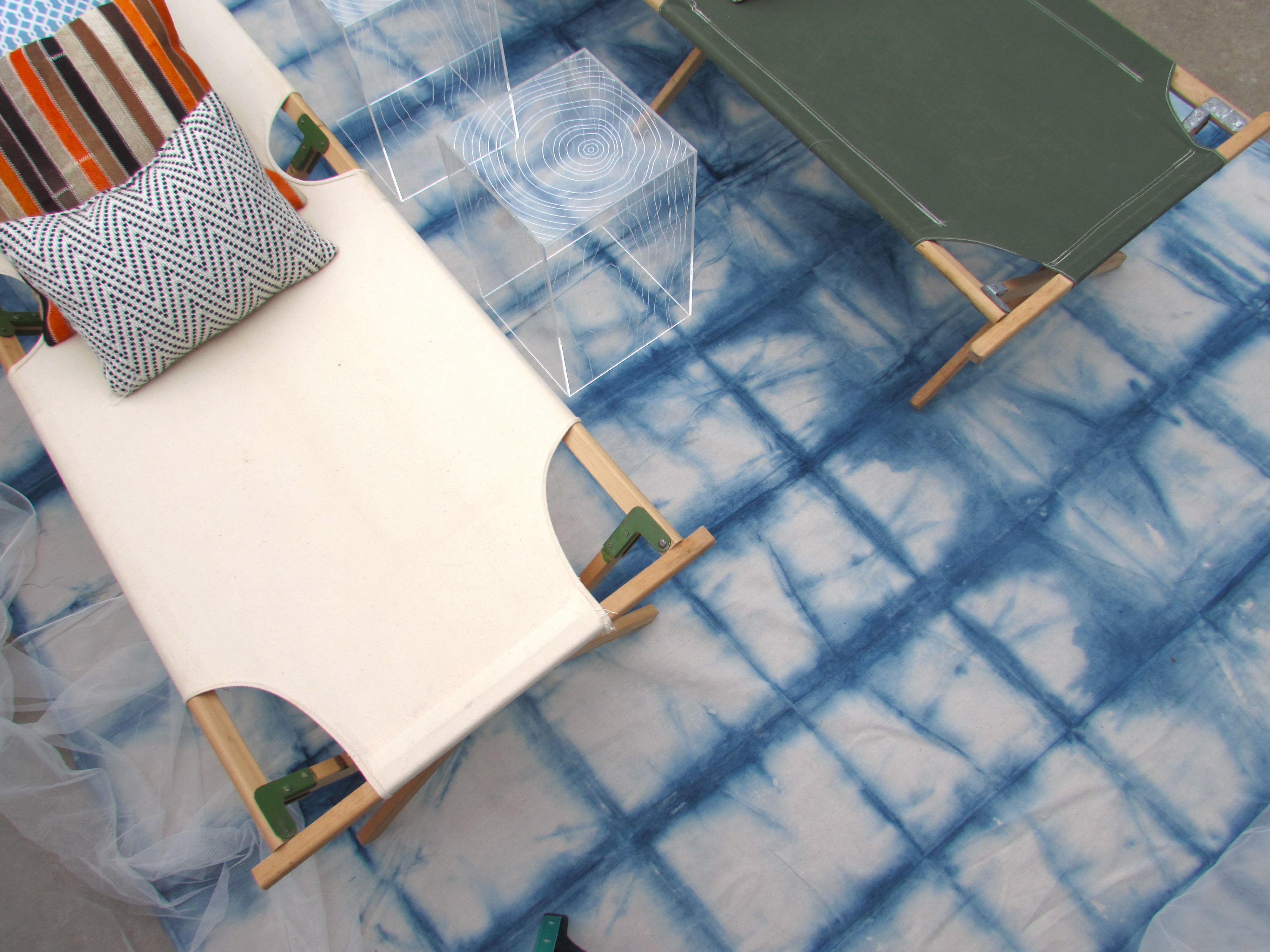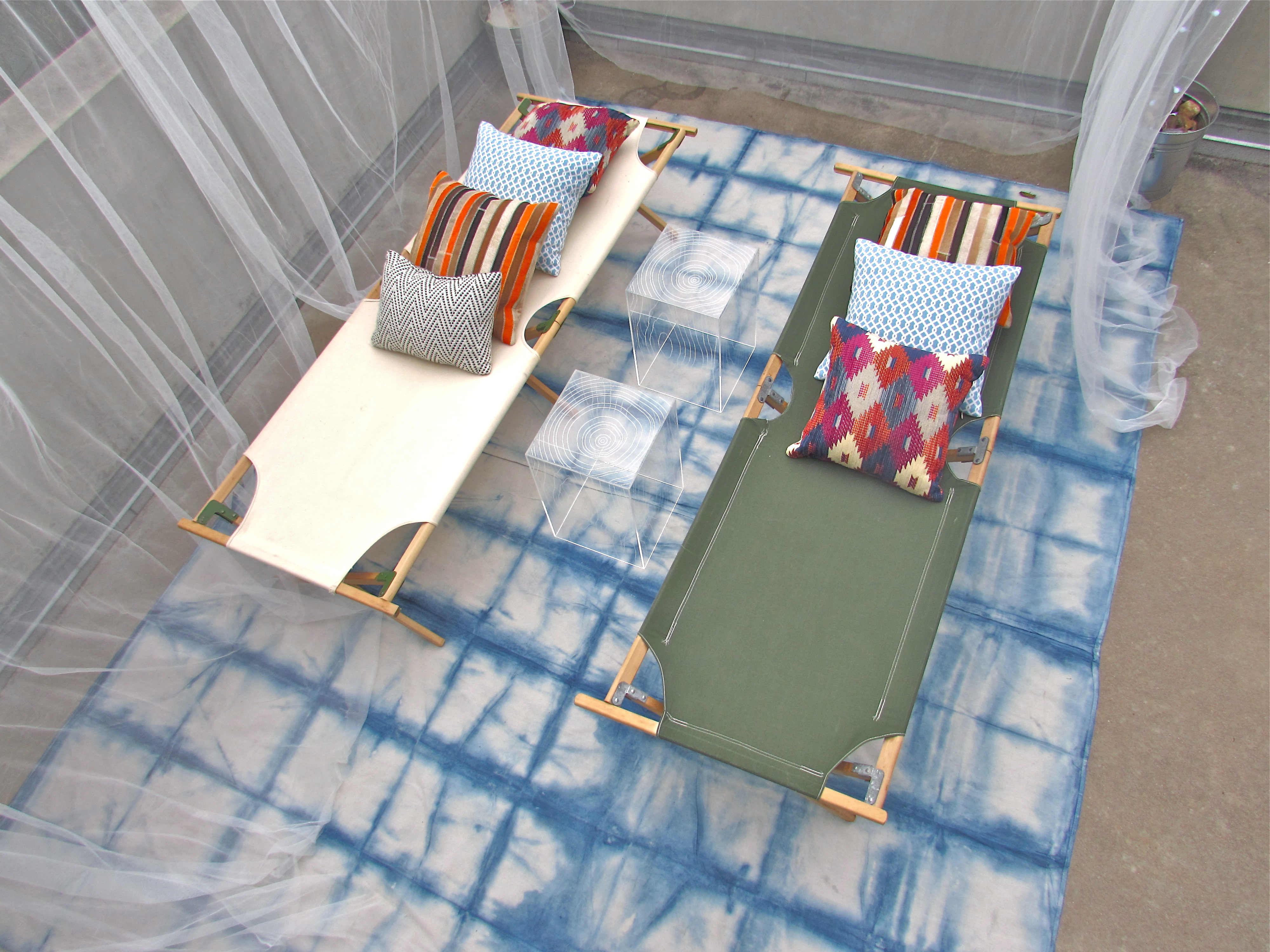 Can you really have too many pillows or too many colors? Not in Princess Boho's land. (see how I just gave myself a title?)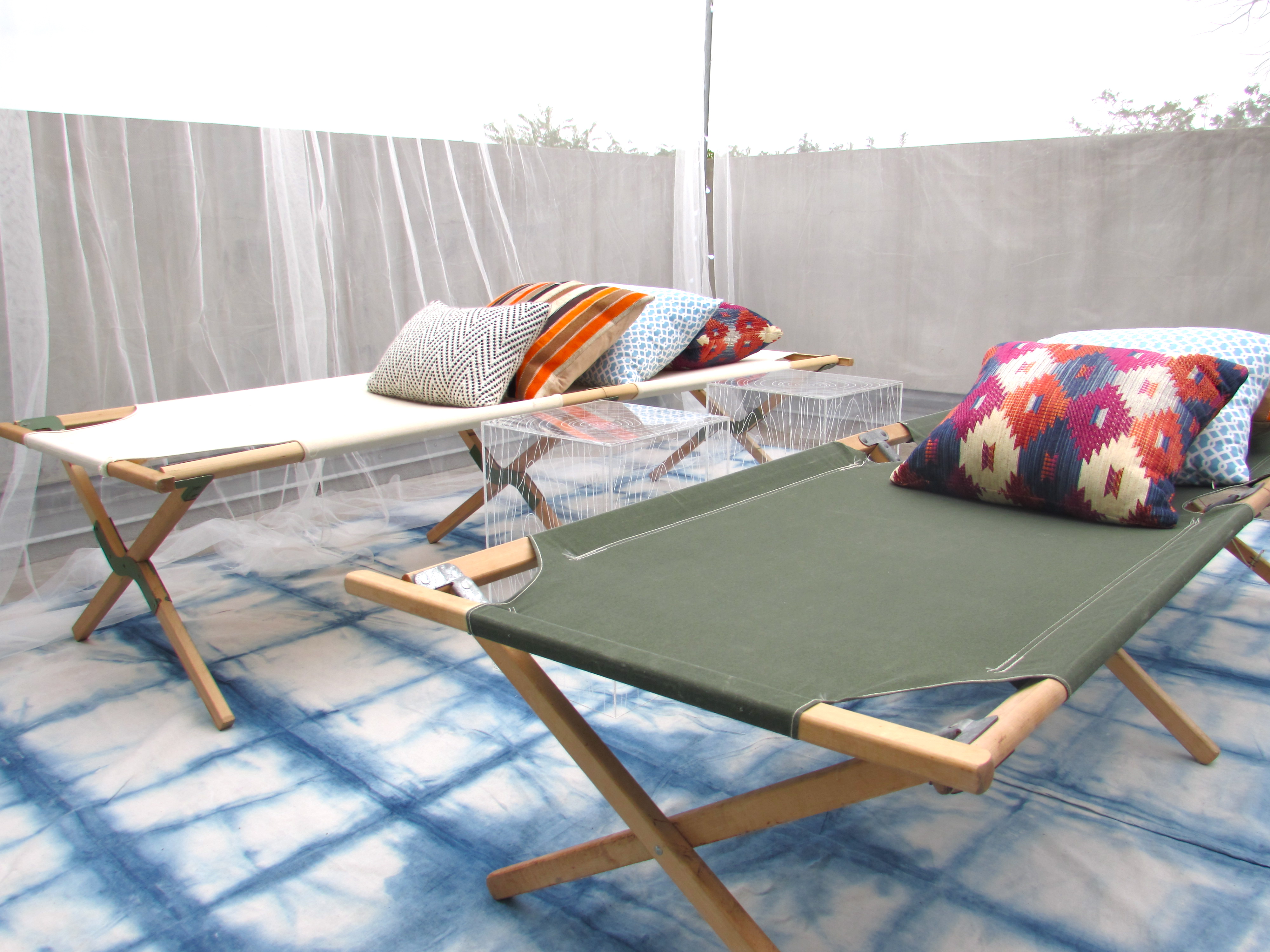 The small acrylic tree trunk patterned side tables are from Nest Modern in Austin. I like how they don't take up visual space. (Drink now)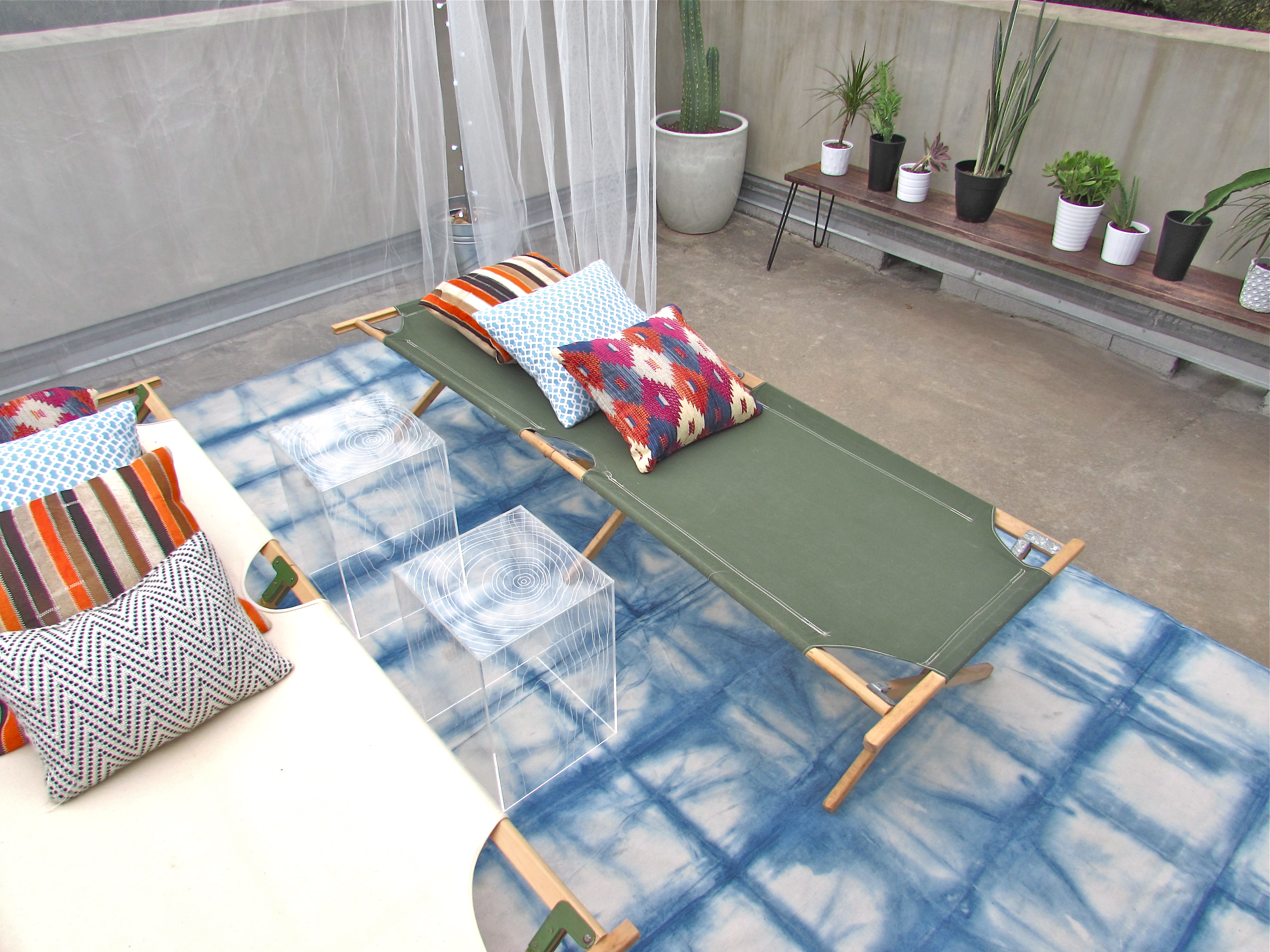 Peeking through the curtains to my cactus garden….
These are like walls, delineating the room, but the sheerness of them….you guessed it!
Very little visual space. (Drink now)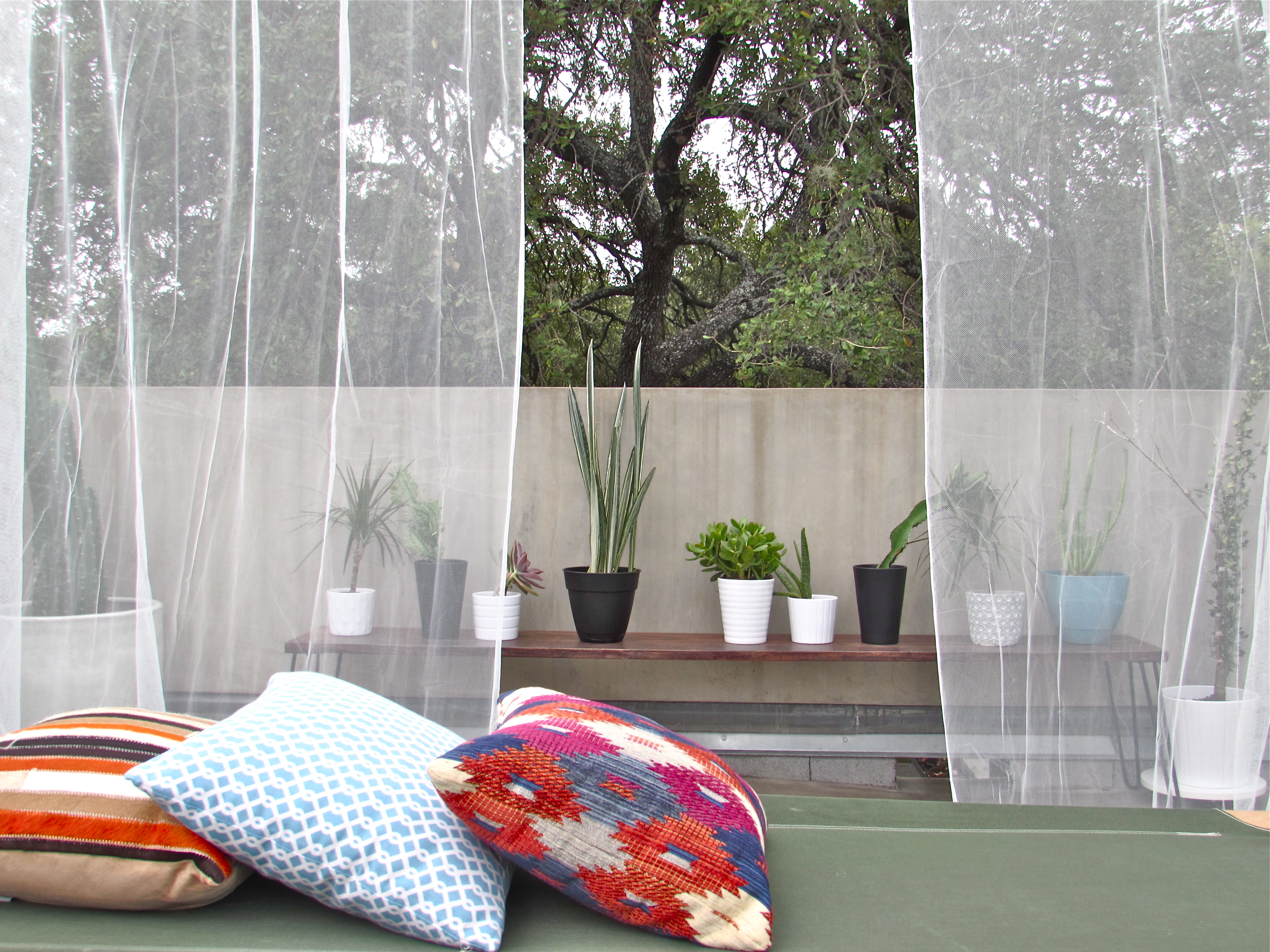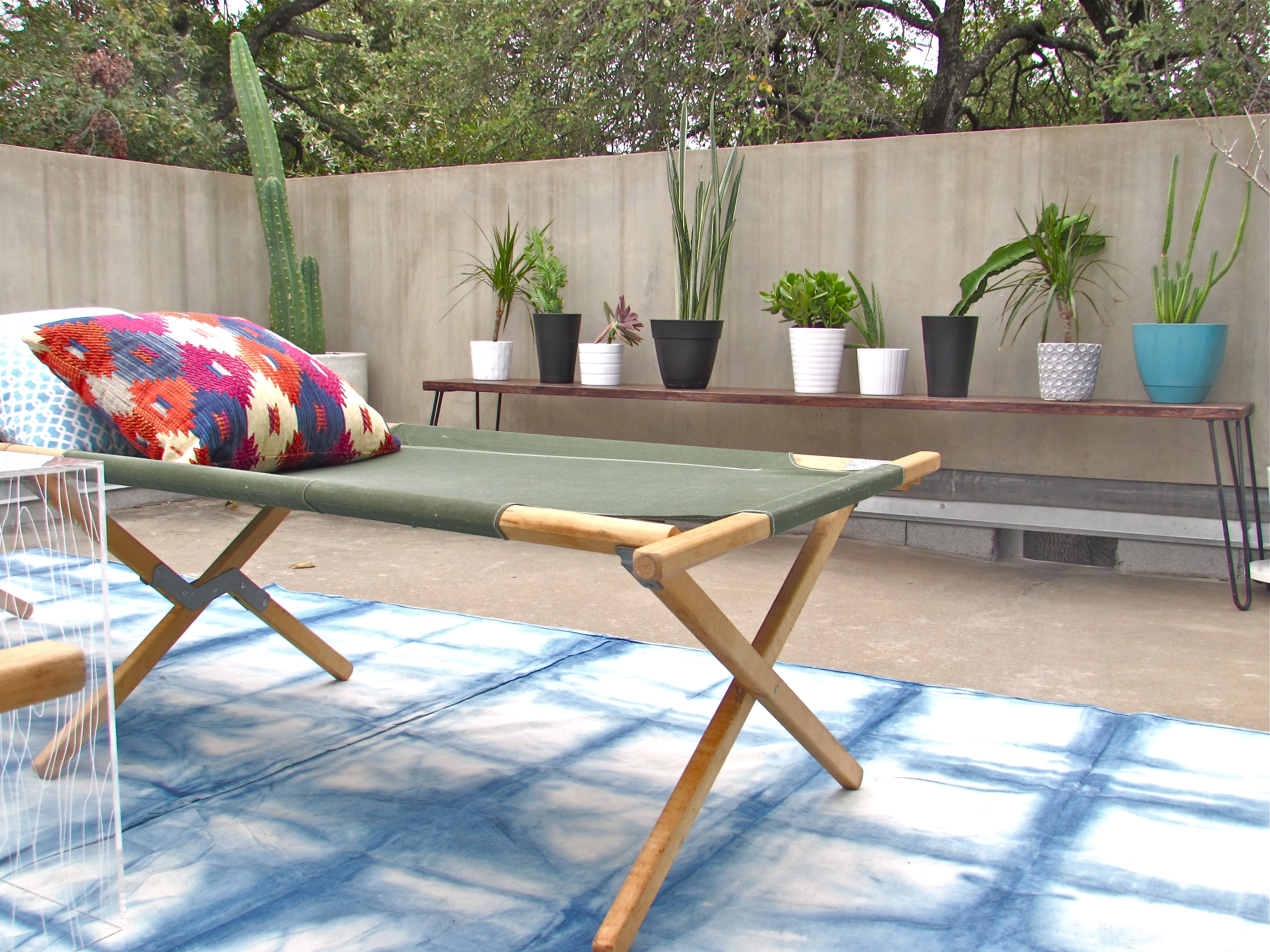 My cactus garden. I am really hoping they will survive my black thumb. I like the mixture of black/ white pots and one solo aqua pot. #represent
I also built that hairpin bench for them to rest on. My cactus garden pots don't rest on the ground! No way!
It is a solid slab of Padauk with 4 black powder-coated hairpin legs. I like those legs rather than big chunky legs because….
less visual space!
(Drink now)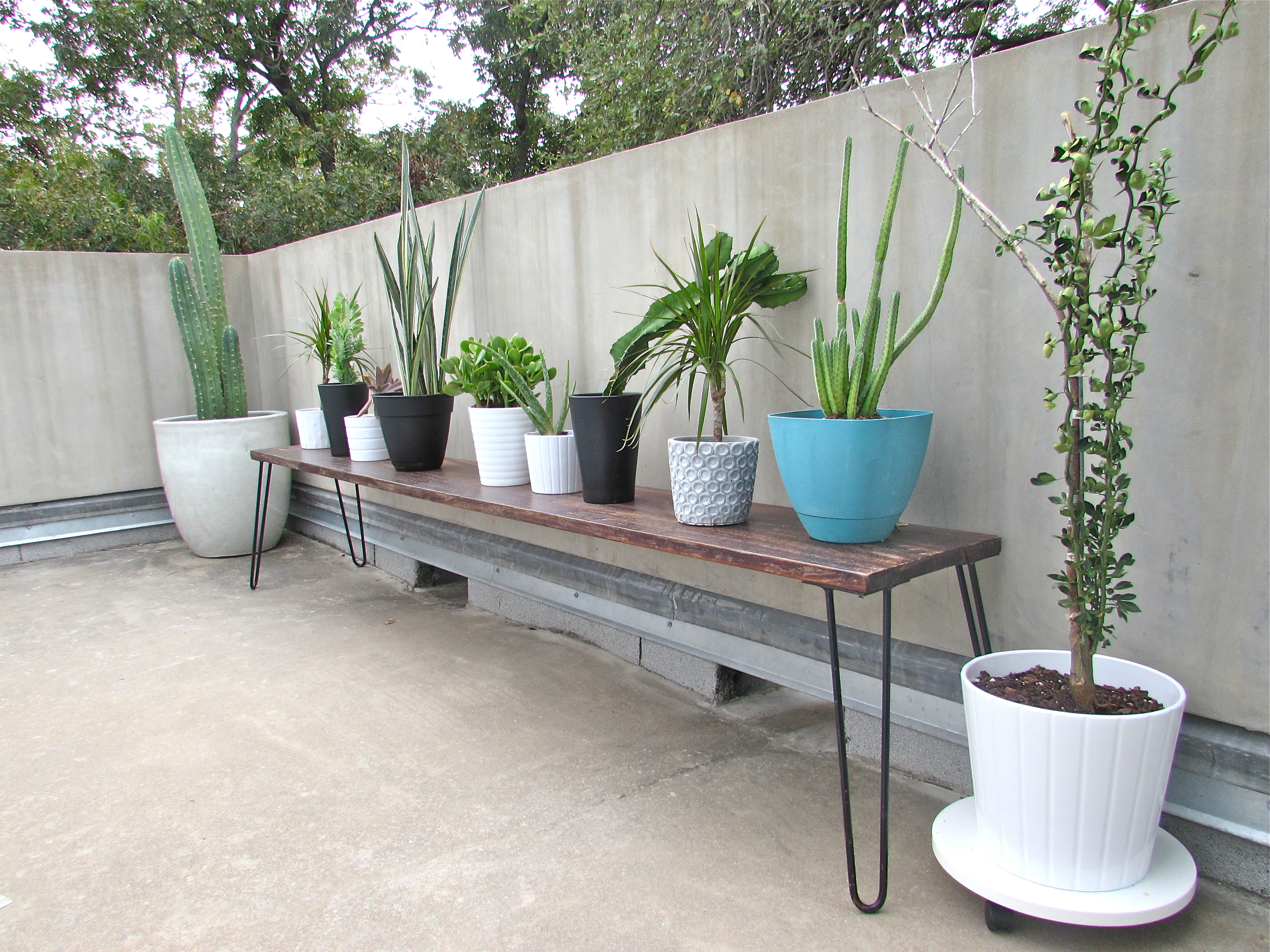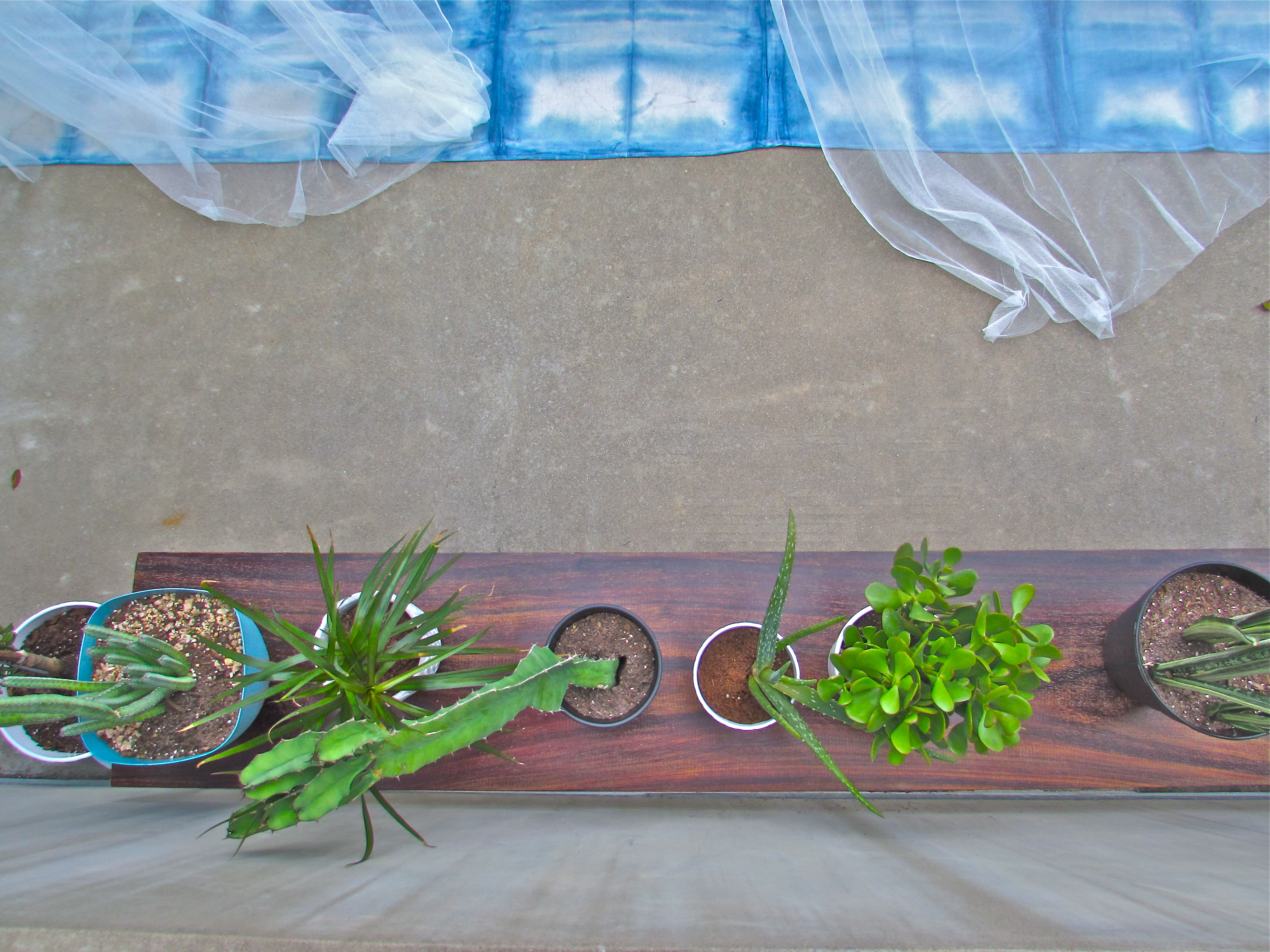 Well, those are the rooftop decks! Austin friends, please come over and hang while the weather is delightful. We can play other drinking games.
I'm sure these decks will continue to evolve, and you should watch the fun over on my Instagram! I'm @aquahaus.
Source List:
-Faux Boxwood from Amazon
-Mid century bar from Craigslist
-Acapulco chairs from Great Outdoors
-Kilim rug (vintage)
-Coffee table from Pottery Barn
-Hashtag sign from Marshall's
-Mosquito net curtains from Ikea
-Military cots (vintage)
-Acrylic side tables from Nest Modern
-Pillows (who knows)
-Shibori rug (DIY with canvas dropcloth from Home Depot)
-Hairpin bench (DIY)
-Succulents and cacti from East Austin Succulents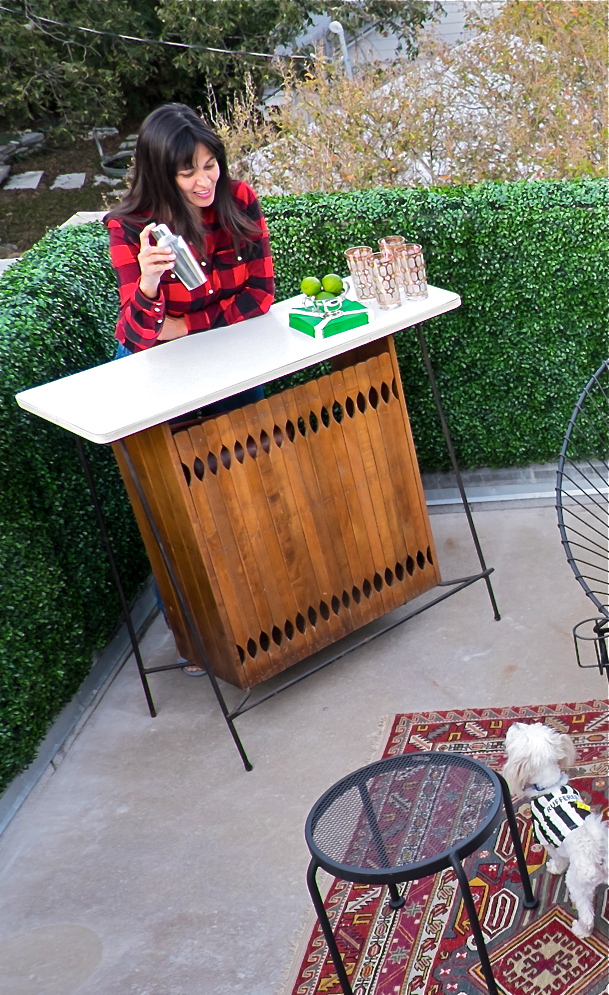 Now, I have to run because I have drinks to mix for canines.
Me: "What's that Archie?"
Archie: "Woof Woof"
Me: "Oh, okay. I'll make it a double."
Now, that's some funny stuff.
Clearly, I've reached the end of this post, so toodles and see you in May!
But don't forget to check out the other awesome projects being revealed today!  Serious talent.
xo
Celine