Happy Wednesday! It's humpday and one day closer to the weekend.
Today, we are chatting with Trilby Nelson, an amazingly talented fiber artist in Austin.
Did you attend Blogshop Austin?
Whether you did or not, you did see her amazing wall hanging all over instagram.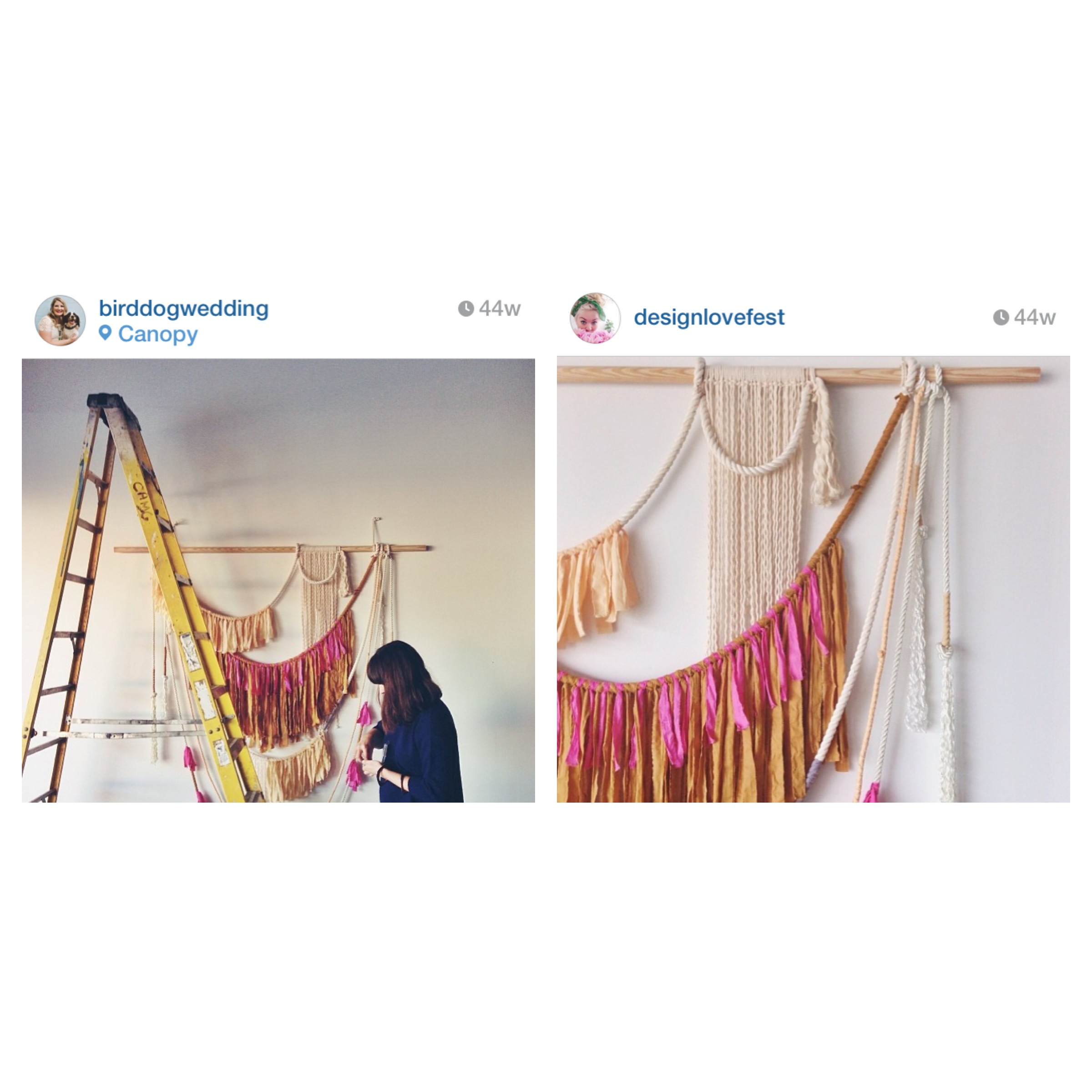 And by some fine twist of fate, I am the very fortunate owner of that beautiful wall hanging and it holds court in the front of my home.
Trilby has hosted wall hanging workshops in Austin, which I have luckily been able to attend, and it was phenomenal. Despite being so talented, she is so sweet and approachable.
How lucky for us Austinites that she will be teaching another workshop, and not only that, it is a Macrame Planter Hanger Workshop!!!!!!  Not only can you macrame a plant hanger, you will ALSO make a beautiful succulent arrangement.  I cannot think of anything more fun to do on a weekend. This is a great girl time activity!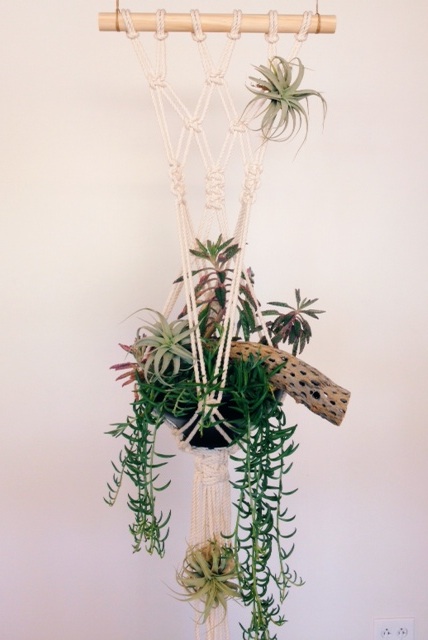 For fun, Trilby indulged me in a short Q& A session….
Name: Trilby Nelson
Occupation: Display Coordinator for Anthropologie and freelance designer.
1.  What is the origin of your name? 
It's from a book named "Trilby". Also, Trilby is the name of a men's hat in England!
2.  Where are you originally from?
Born in Los Angeles. Grew up in Fairfield, Iowa.
3.  What is your favorite place you've lived?
Thats a hard one. I've liked each place for different reasons. Iowa for living out in the country and family and old friends. LA for the mountains, desert, ocean, and city all at your finger tips. Portland for the food. Austin for the swimming holes.
4.  What brought you to Austin?
My boyfriend and I wanted to try a new city. We were tired of the rain in Portland at the time and so sunny and hot Austin sounded like a good fit.
5.  Did you always want to be an artist? 
Yes, in some way or another.
6.  How did you get into weaving as a medium?
I've always loved textiles and have used fiber in my work for a while. But, it wasn't until a few summers ago that I was making macrame displays for Free People that I really started making large scale fiber pieces.
7.  What is your favorite project you've ever completed?
It's not quite complete yet, but my sister Hilary and I have been working on a project that we'll be introducing in the next couple of weeks.
8.  What/who inspires you the most?
All the creative people that surround me.
9.  What is the hardest thing about your job?
As a display coordinator there's a lot on your plate, so I guess balancing the prep that goes into a project while keeping the big picture and a creative perspective in mind.
10.  You have friends coming to Austin, where do you take them to eat?
Well, even though I'm a vegetarian, I would have to say Smitty's BBQ in Lockhart. Going there feels like you've stepped back in time.
11.  If a friend had to describe you with a single adjective, what do you hope it would be?
I would hope there'd be more than one adjective.
Ha!  I had fun reading her responses.  #11 made me laugh out loud!
Now for the deets…

Brooke Howsley and Trilby Nelson are teaching a Macrame Plant Hanger Workshop!!
Learn how to macrame your own plant hanger and AND how to make a beautiful potted succulent arrangement.
Co-taught by floral designer Brooke Howsley of Pollen Floral and fiber artist Trilby Nelson.
Pollen Floral Art. Austin, TX. 
$150 (All materials included)
Go sign up now people!! Indulge those creative fibers (pun intended).
Thank you so much Trilby!!
xo
Celine