Hello hello! OMG. I did not think I would make it!
Welcome back to the One Room Challenge organized by Linda of Calling It Home, in which the participants had to make a space over in 6 weeks. (It's not as long as it sounds.) I have been linking along and it has been a grand ol' time. I have to say, I will miss the weekly updates, and I will miss having something to look forward to on Wednesdays and Thursdays. I have found so many new blogs and talented ladies…it has been divine.
Anyhow, less talk, more pics.
The last 6 weeks, I have been attempting to make over my backyard shed. Whereas it served previously to house unused garden tools and holiday lights, I had more grandiose visions- yes, a pool house to shade me from the sun, but in style- a rocker boho chic style.
I have to say, after the kickass reveals yesterday, I feel very trigger shy to show you what I've come up with, but I'll put on my big girl pants and go on.
Here is the exterior before: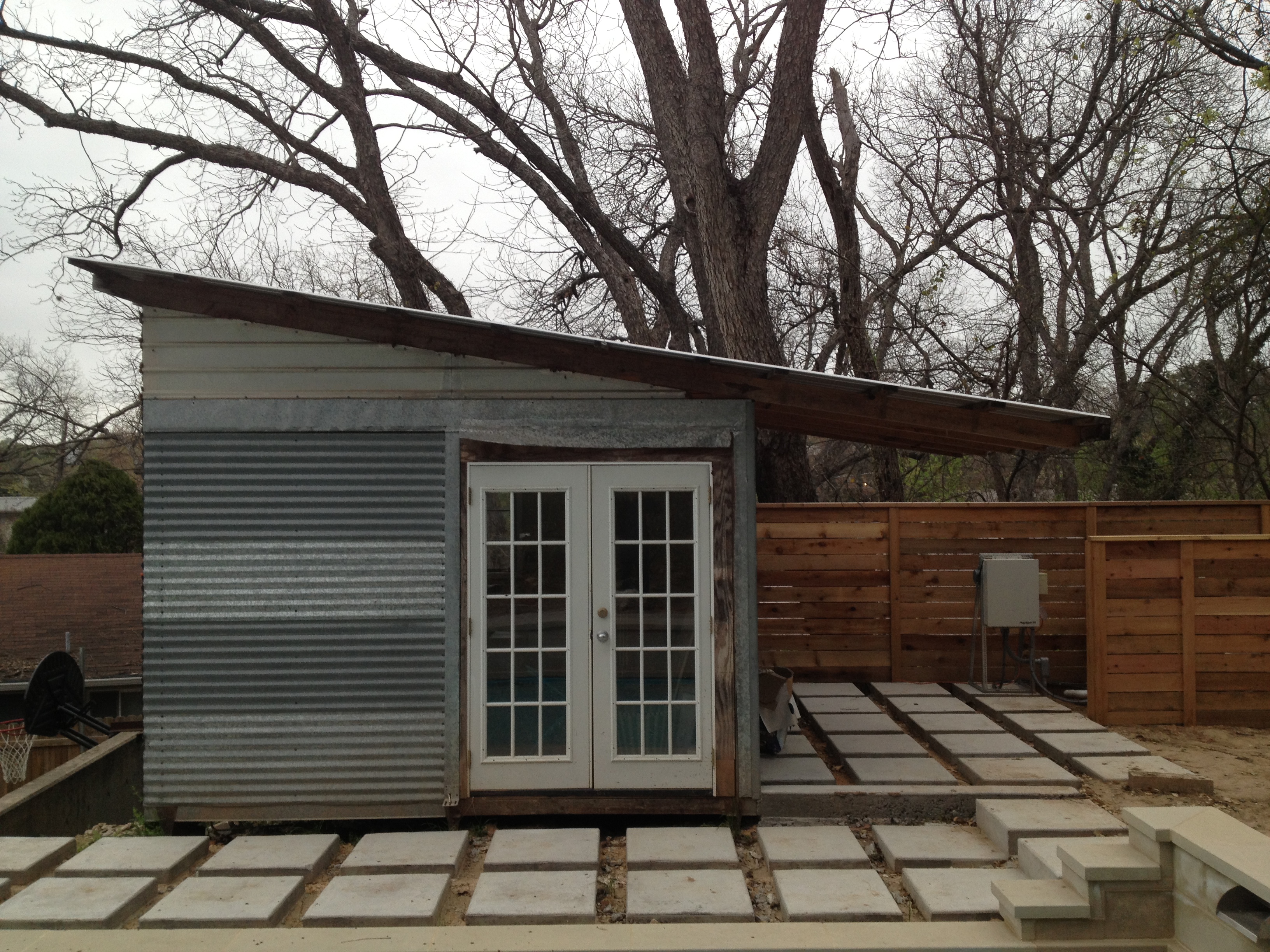 Not bad, but sterile.
And here is the after: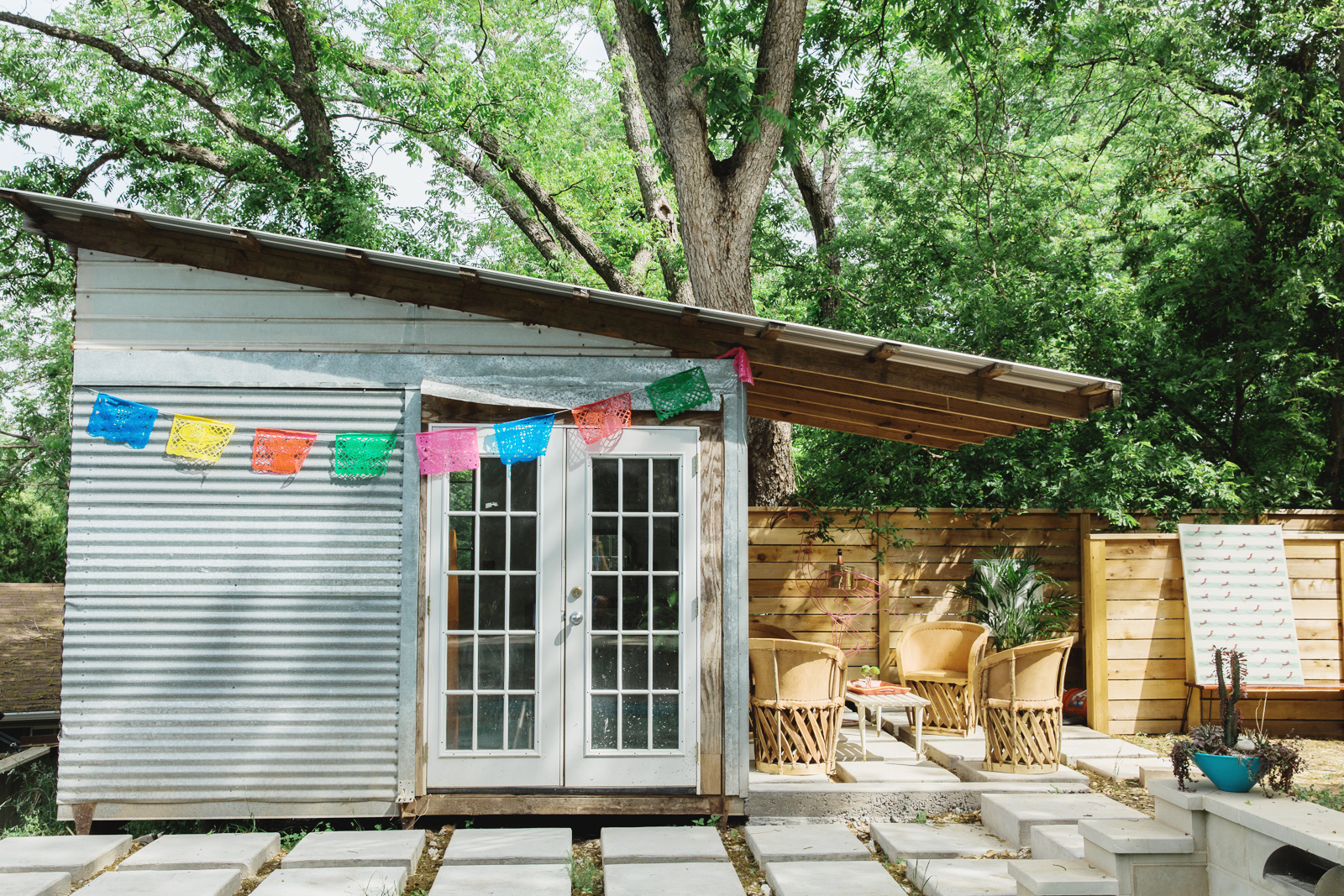 The equipale chairs make their debut…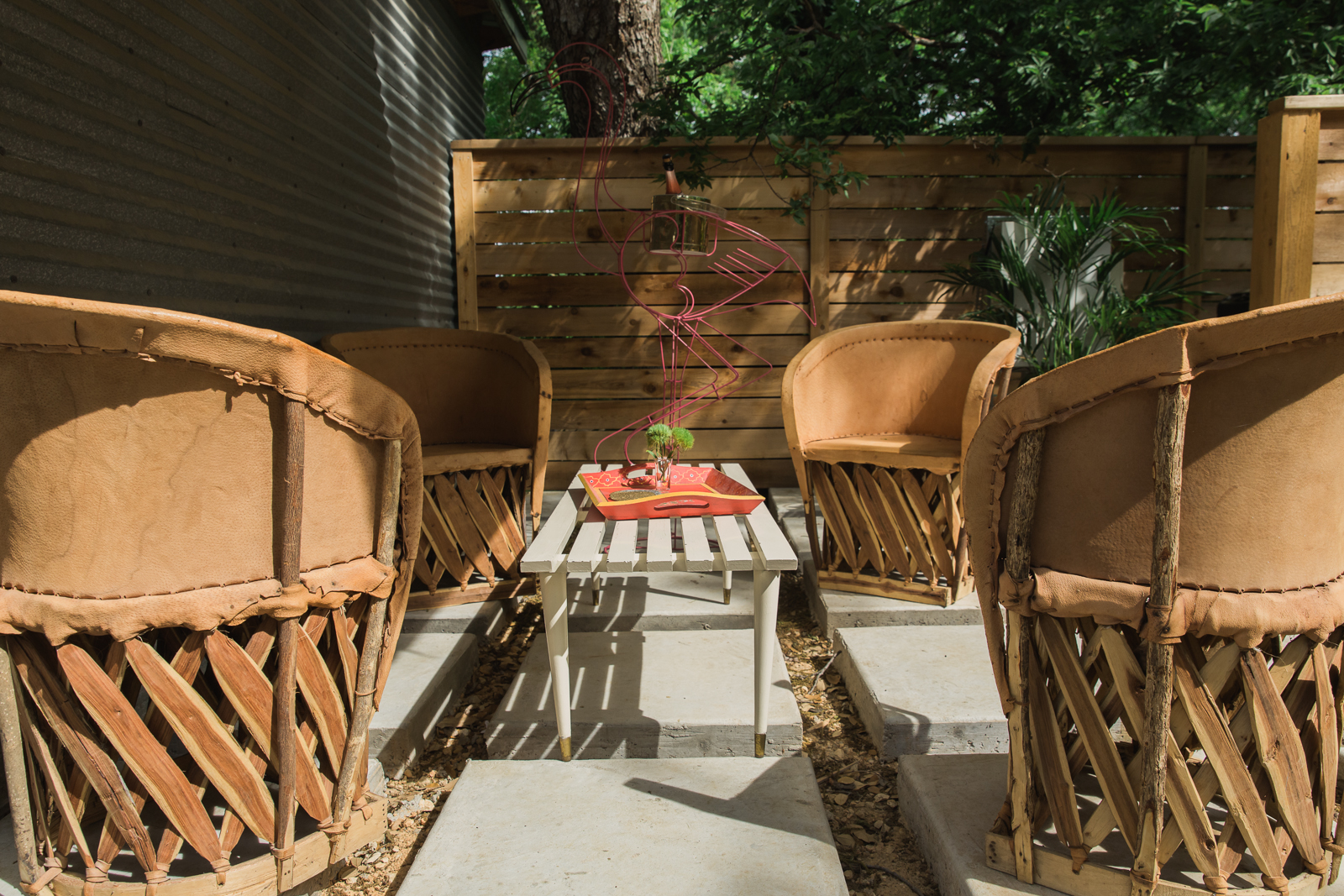 And the "bird-tender" is ready to serve you some bubbly.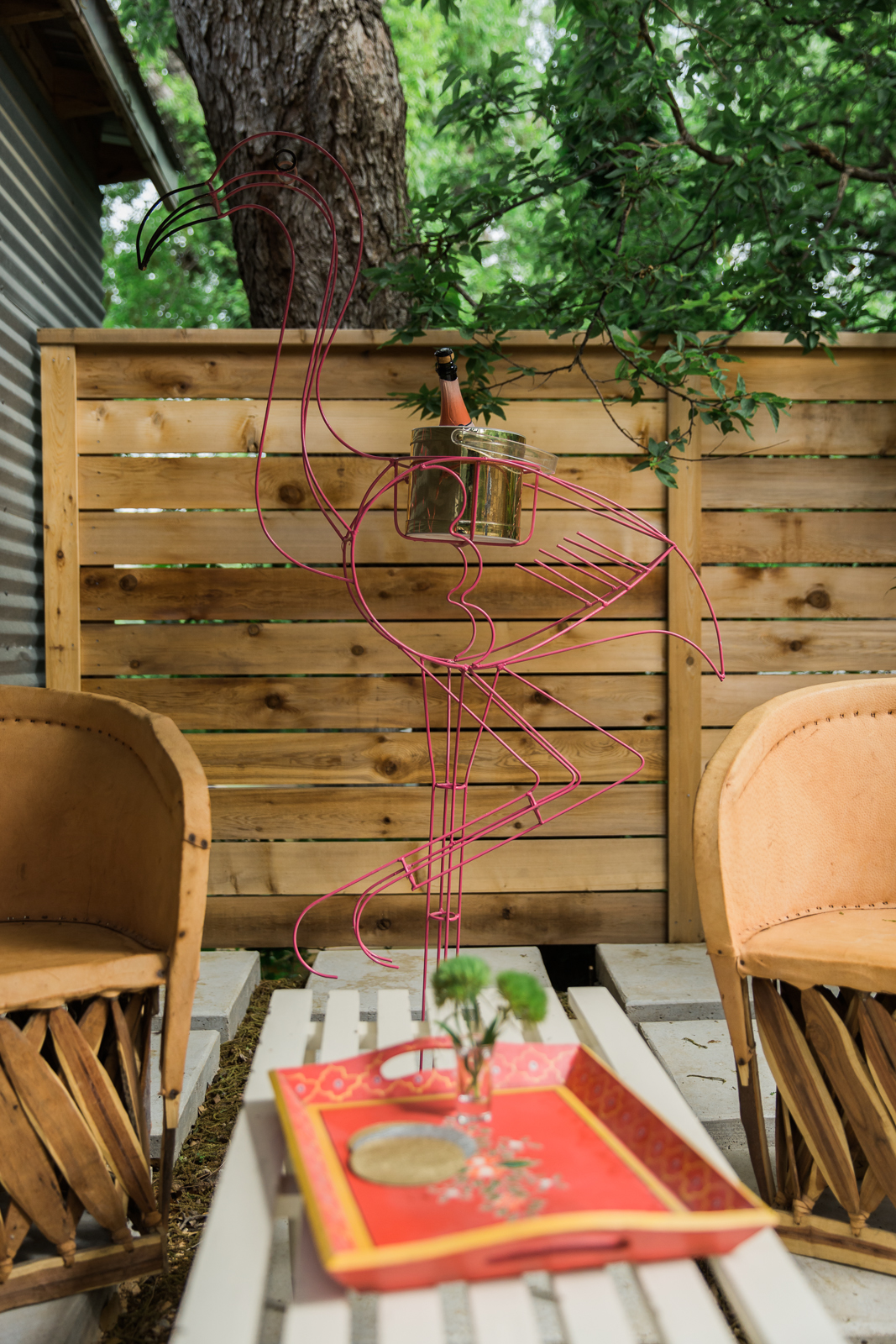 It's a fun place to hang out, have a cold one, and admire the pool.
When it's hot outside, and the shade from the room overhang isn't enough, don't fret..you can go inside the pool house.
Here is a refresher of the horrid interior before: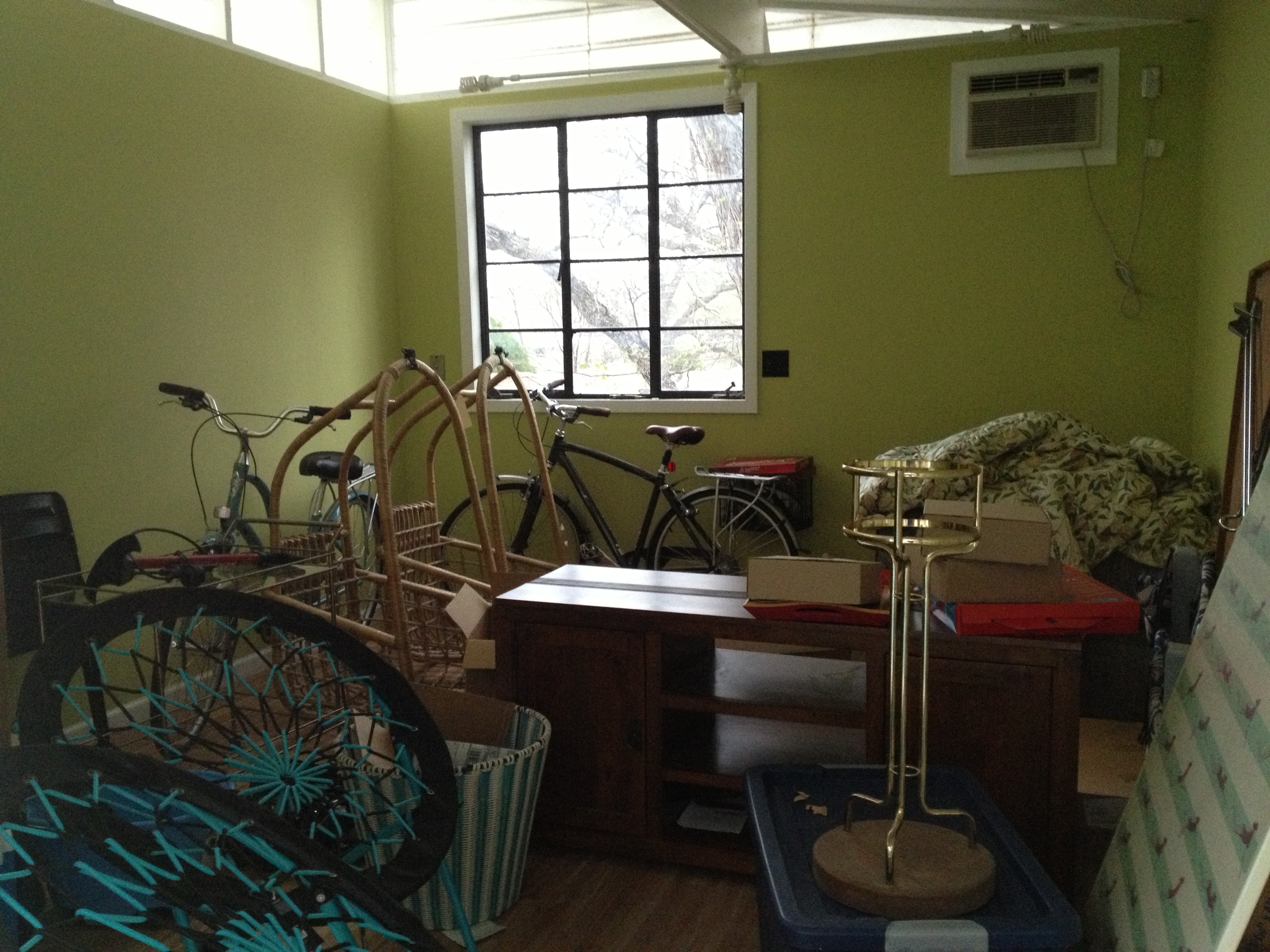 And drumroll….here is aquasita- a space to hang out, watch sports, and put down a few (or many).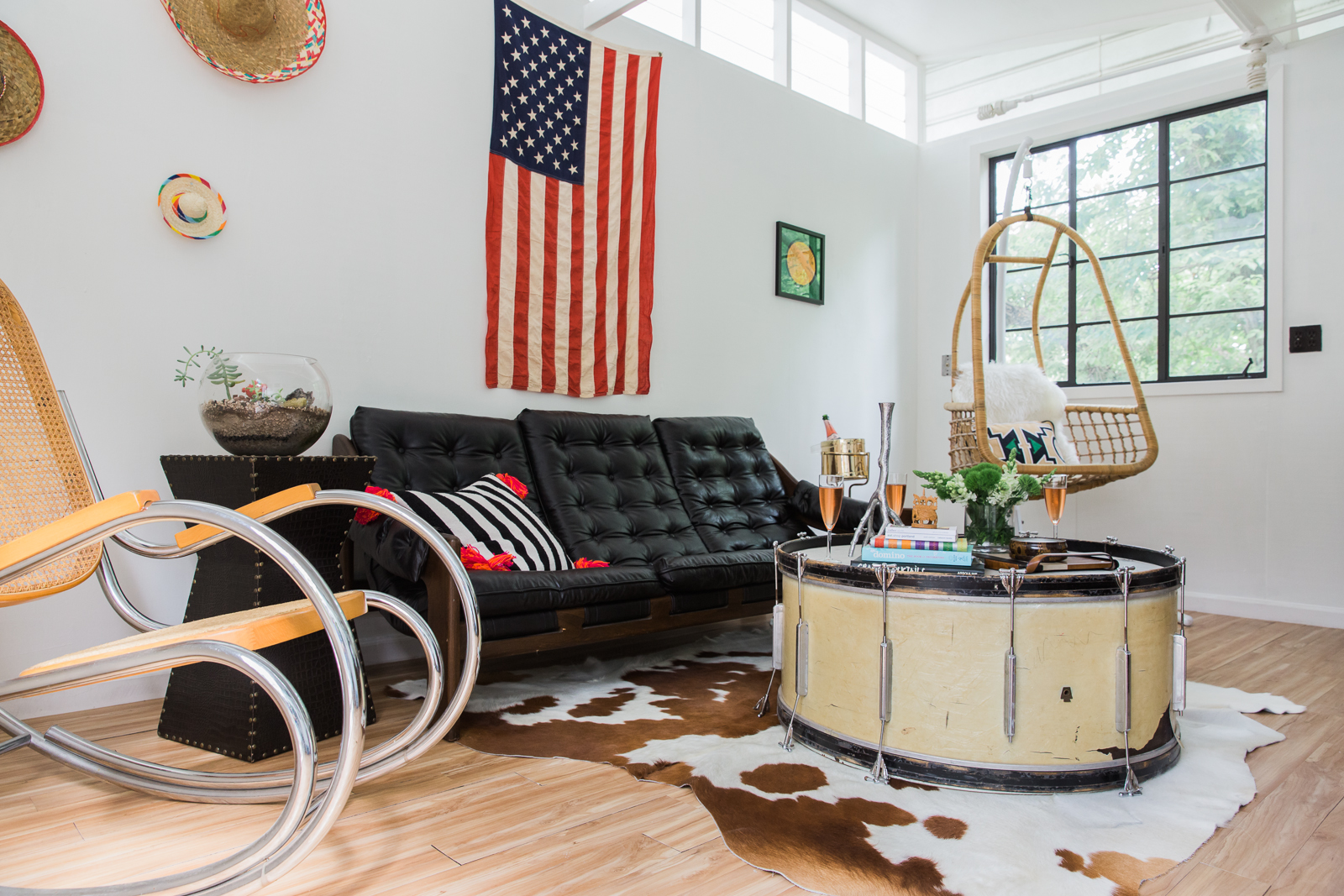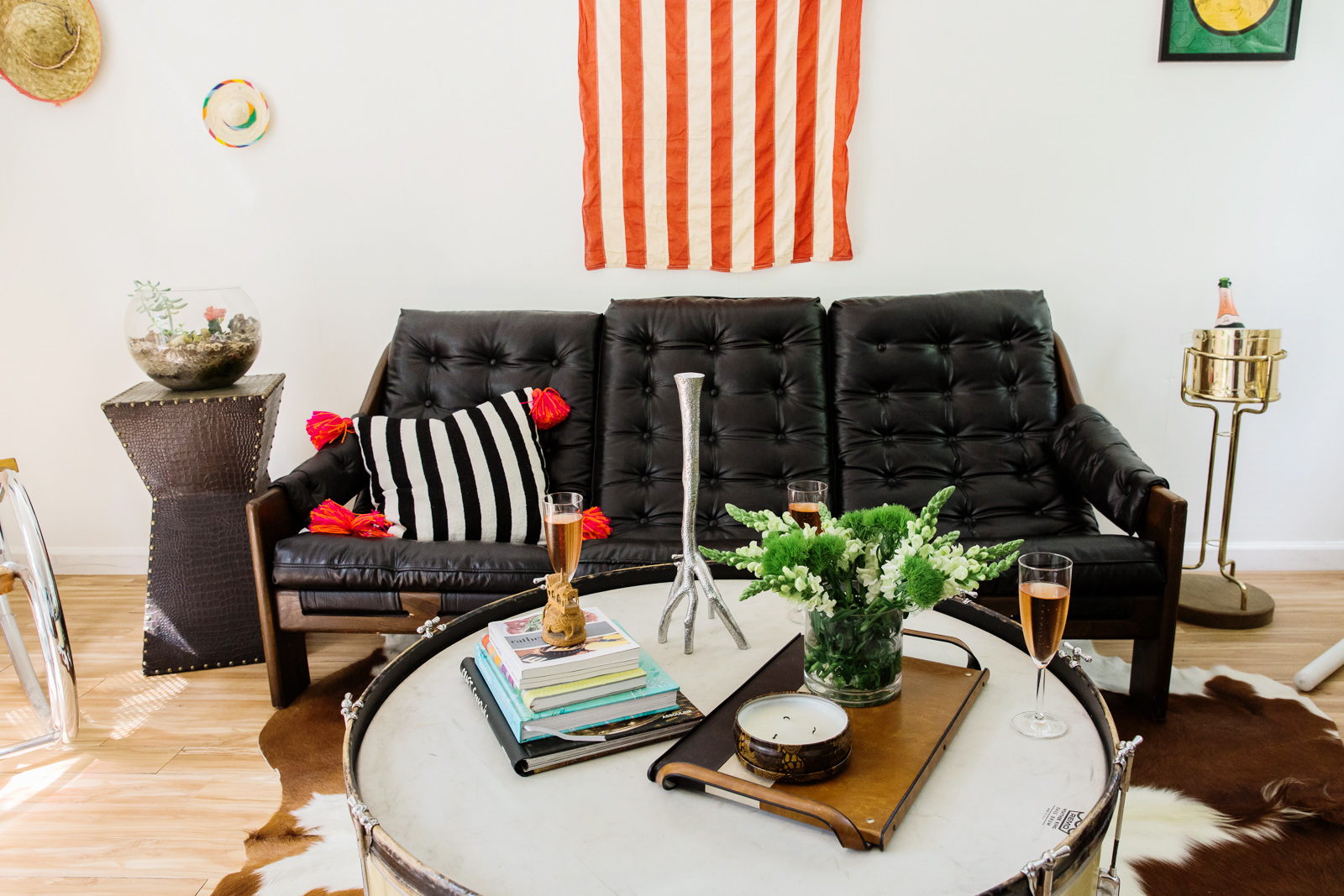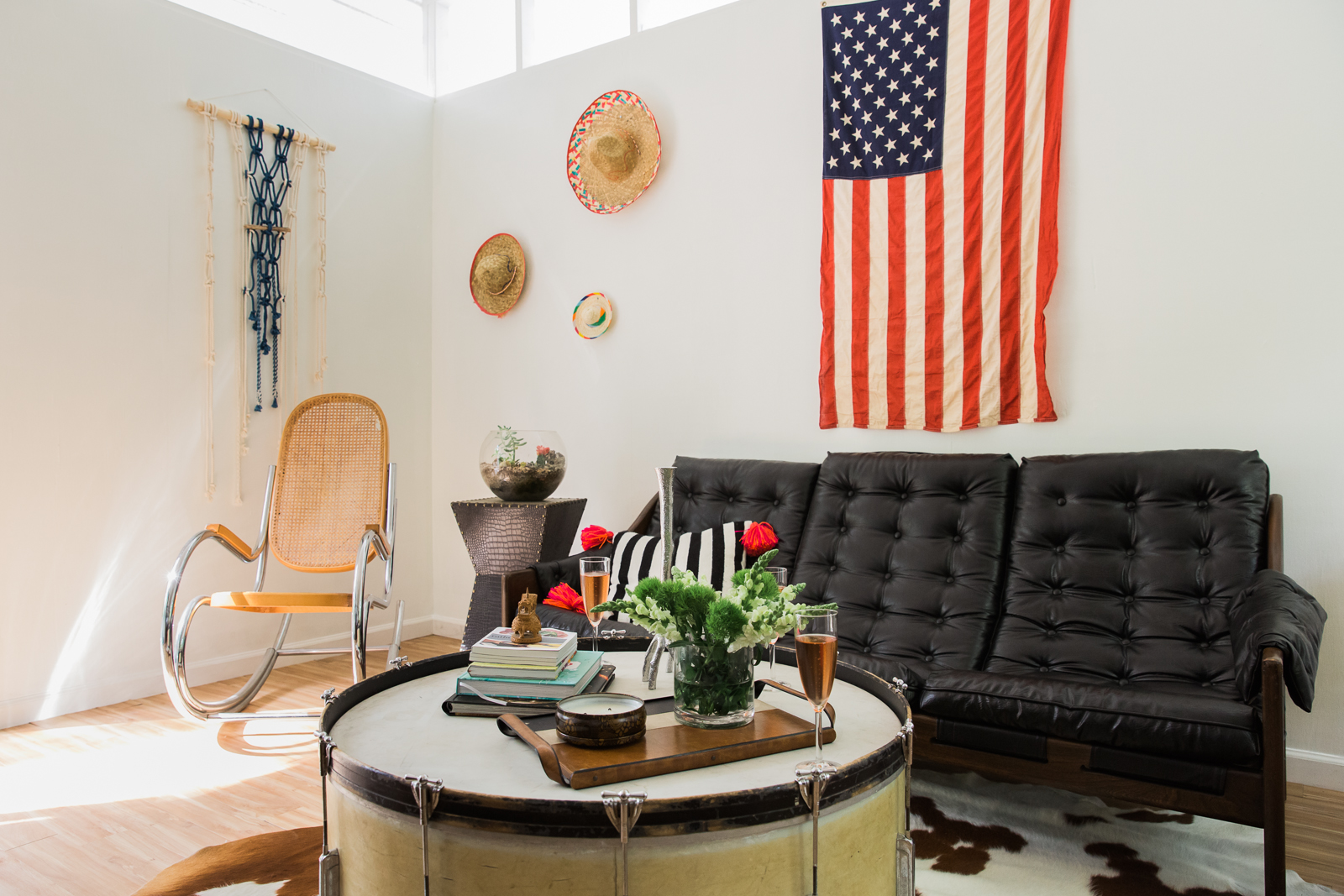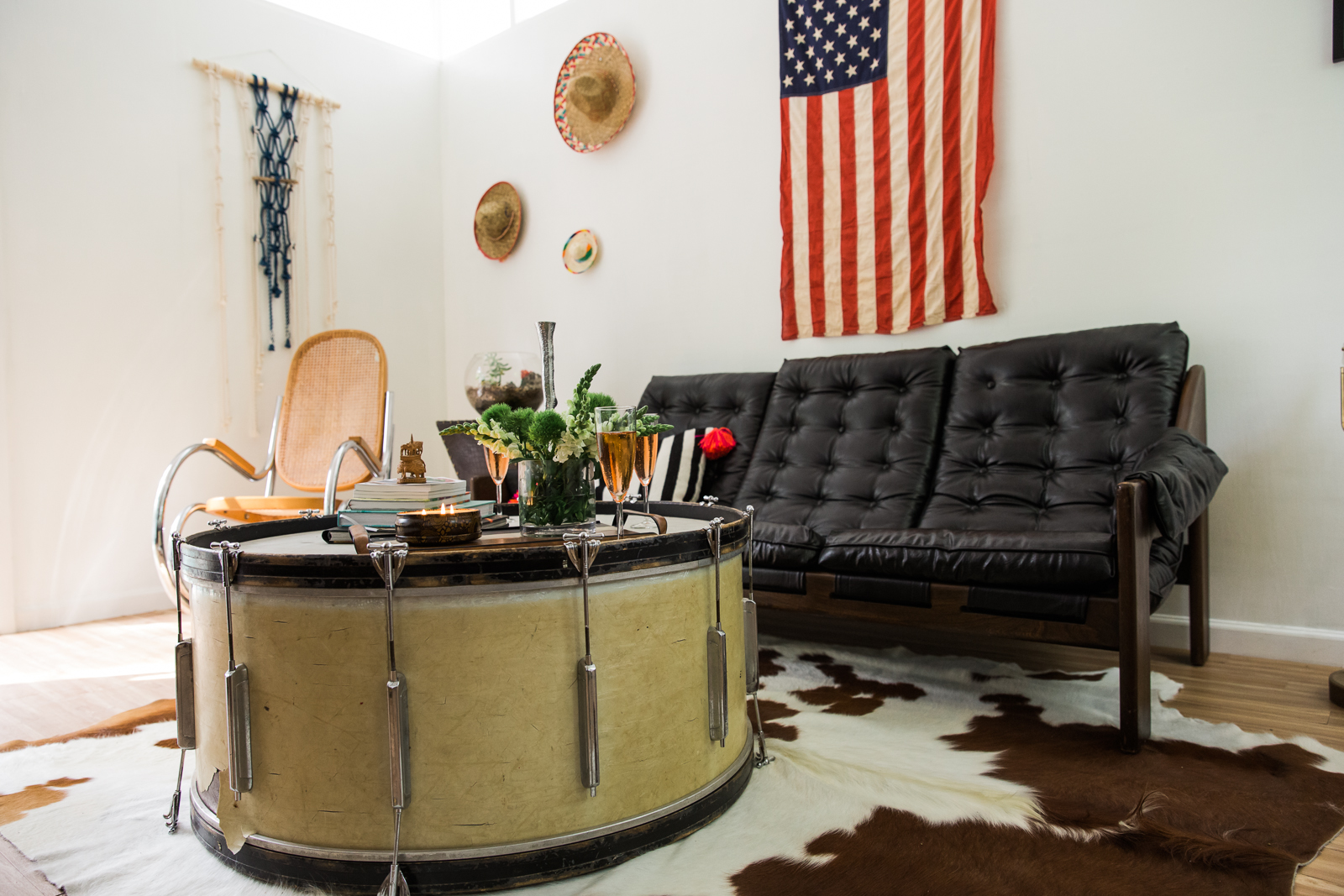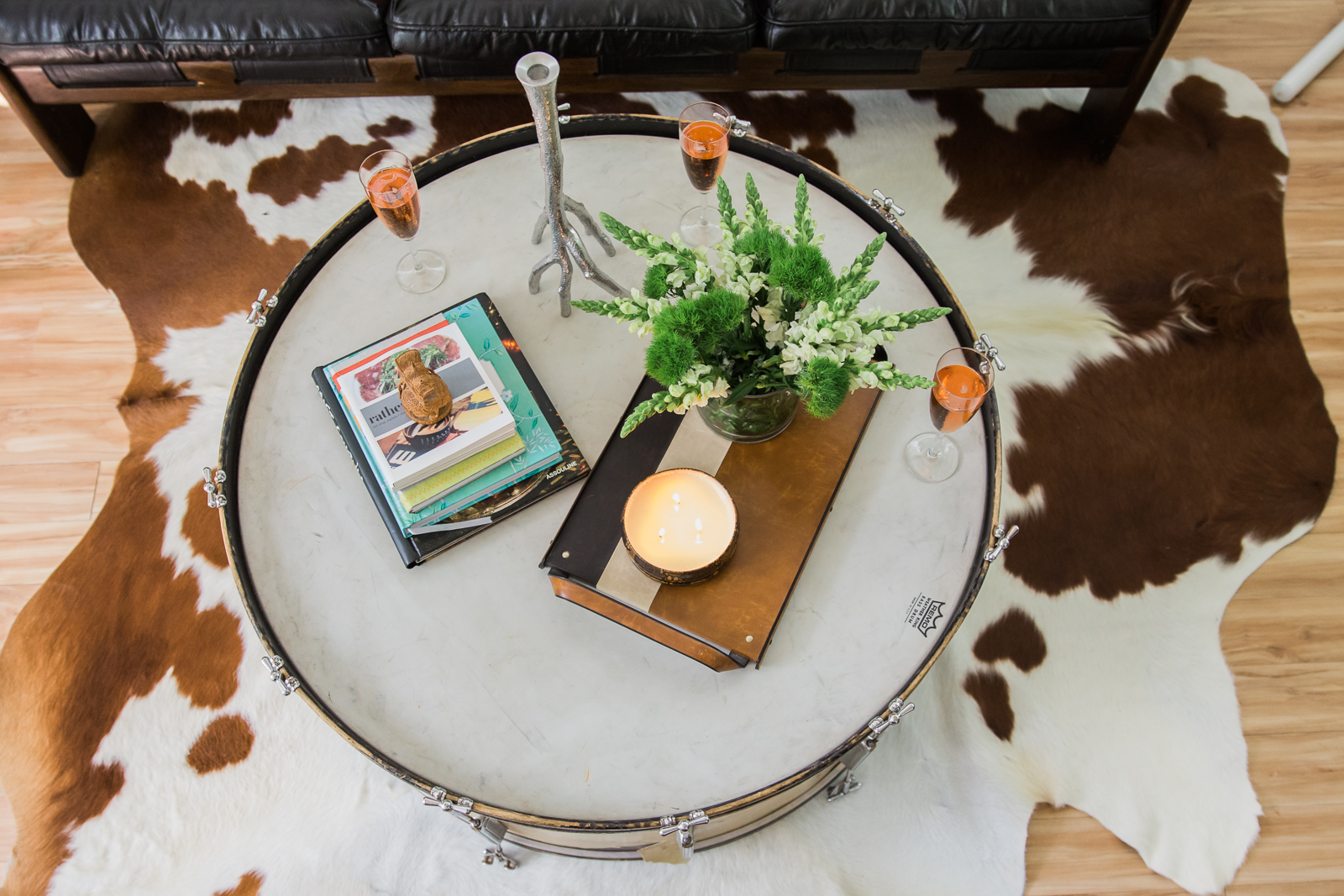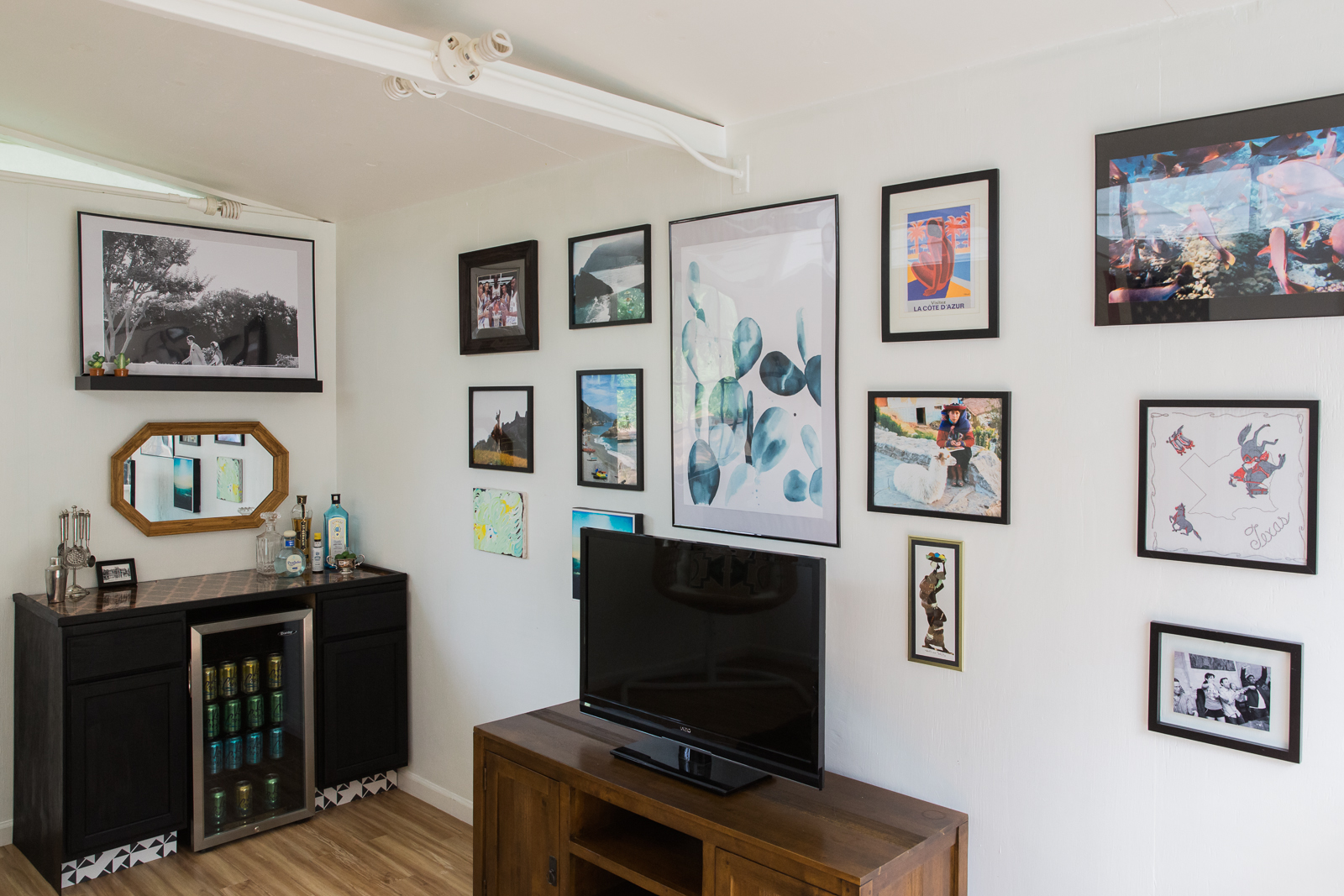 The sofa is a lounger for sure, and the lovely pillow is from The Shoppe. Jeez, God Bless America is all I can say when I look at that flag. Did you know that there is an etiquette to displaying the American flag when it is hung vertically? This formation seems counterintuitive to me, but I looked it up.
http://www.ushistory.org/betsy/more/displayonly.htm
Nerd alert.
Every pool house needs a bar, and aquasita is no exception. This bar was a labor of love, but I love her so. And check those toe kicks!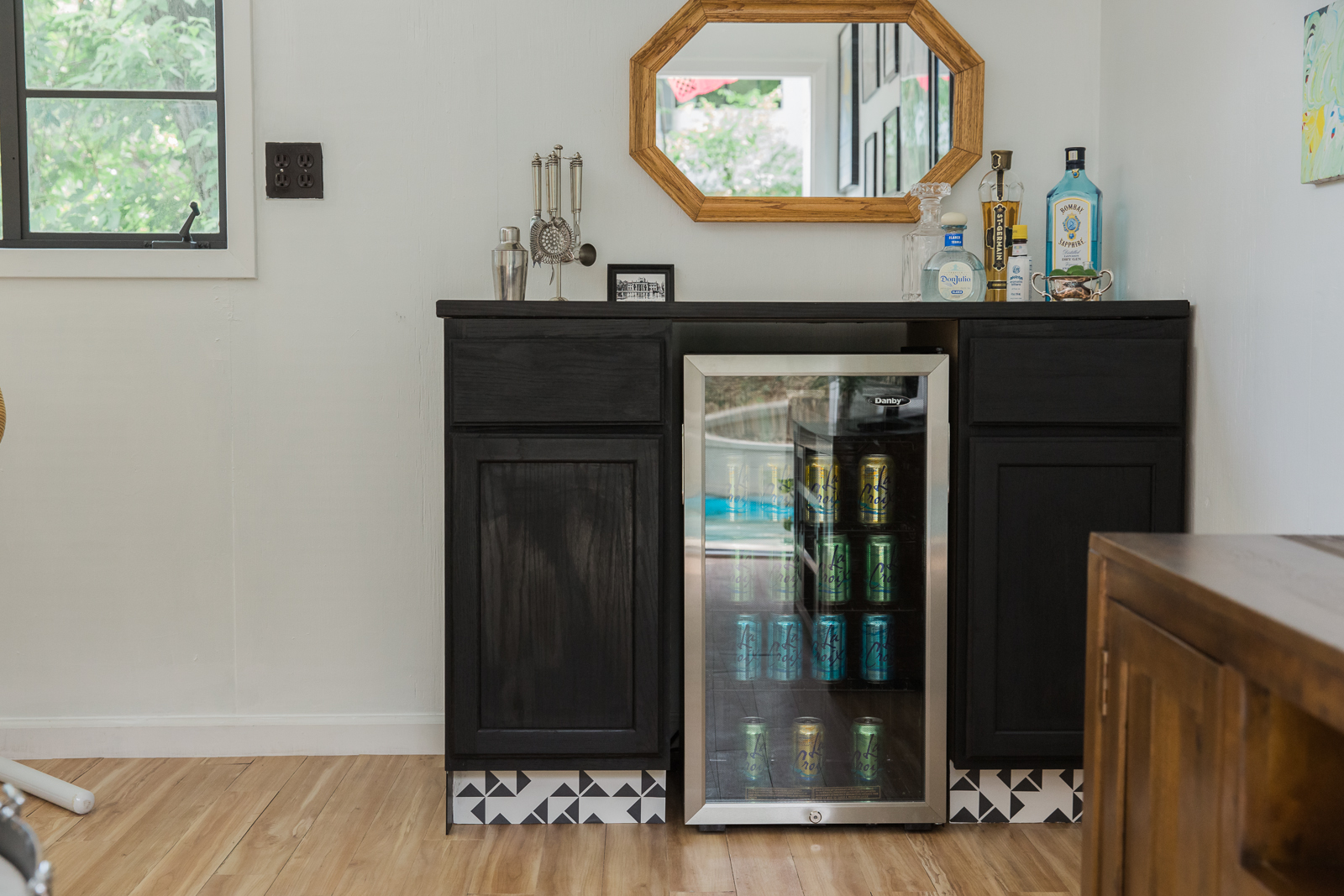 Look at those pennies in the shiny epoxy; they'll survive the Zombie apocalypse.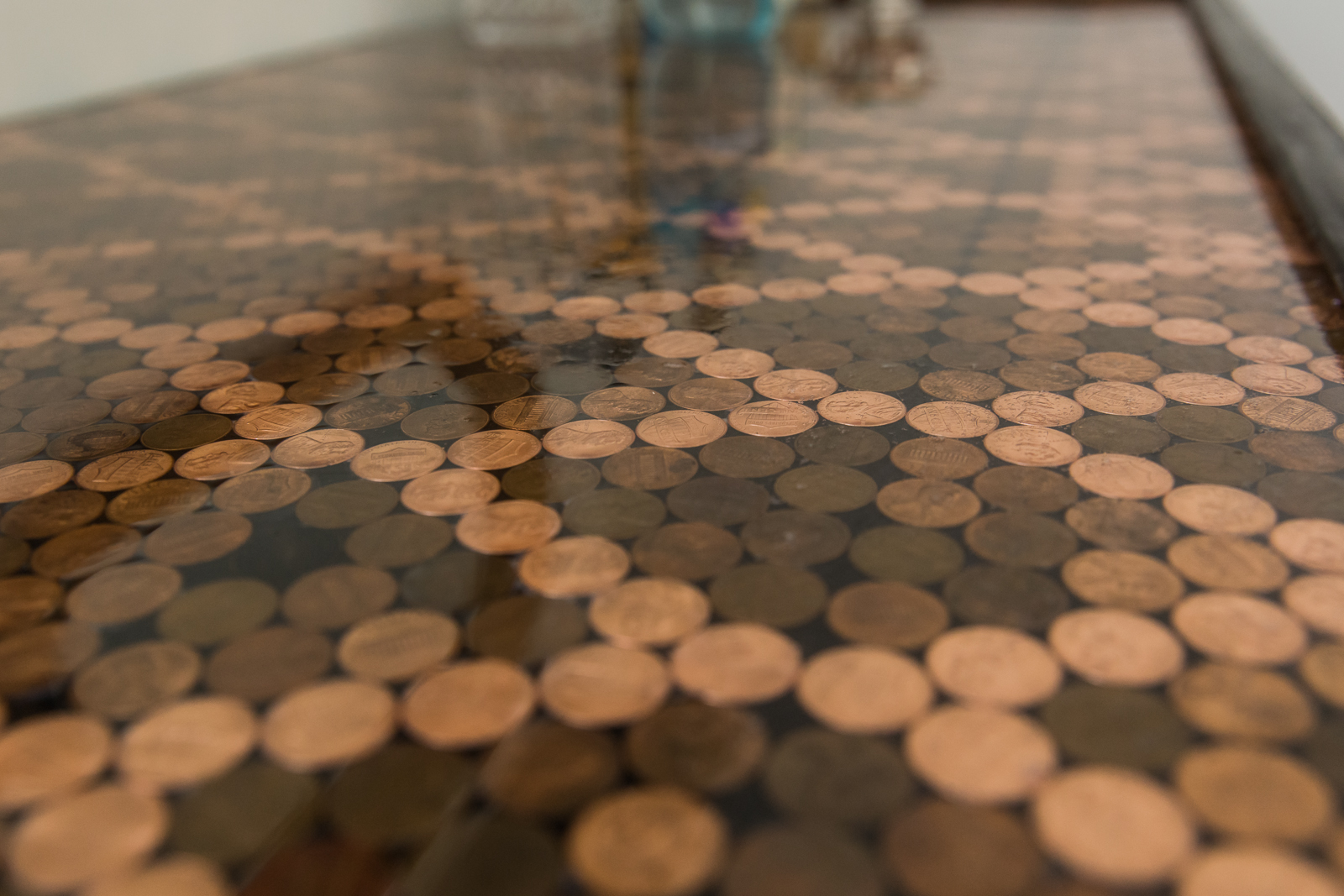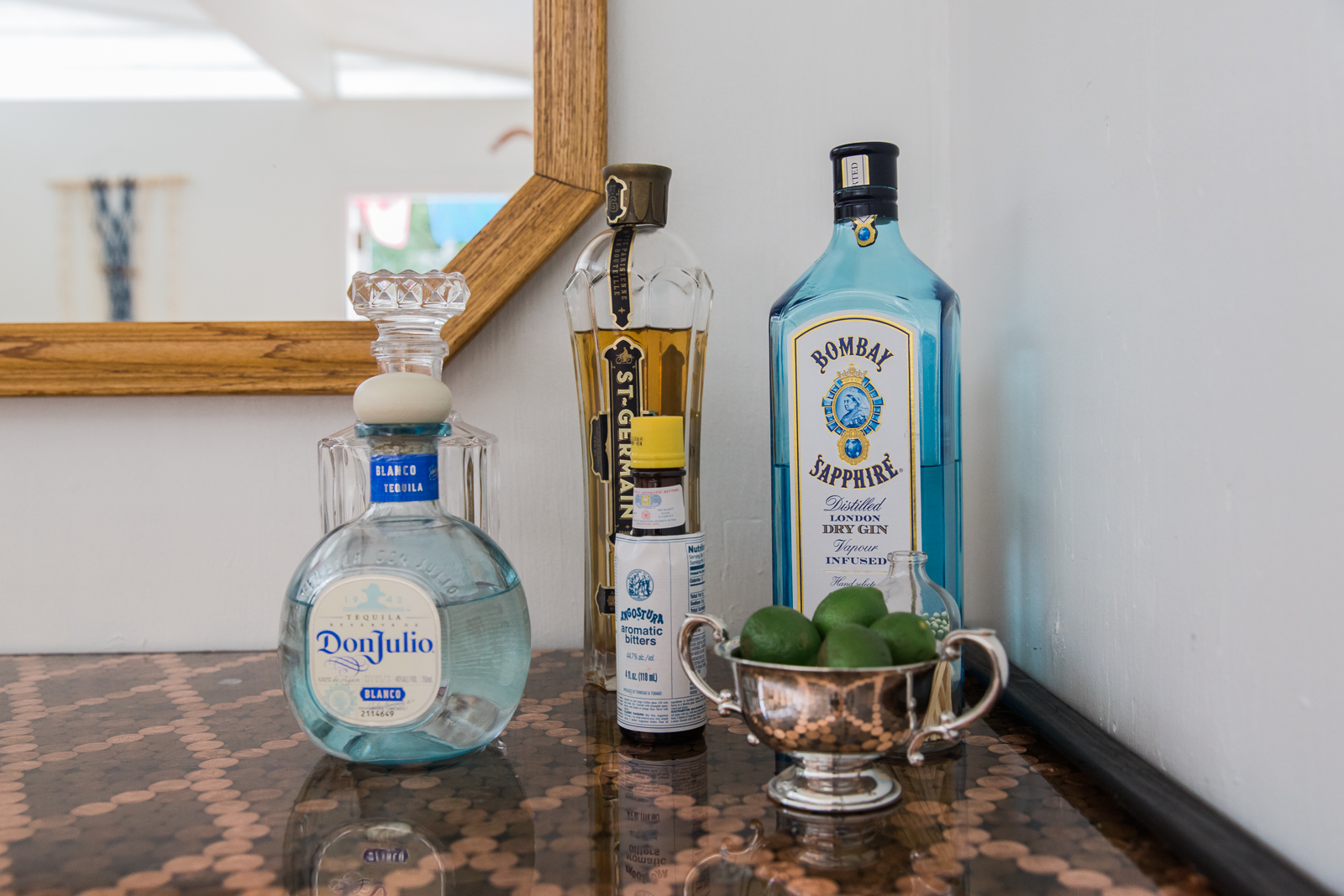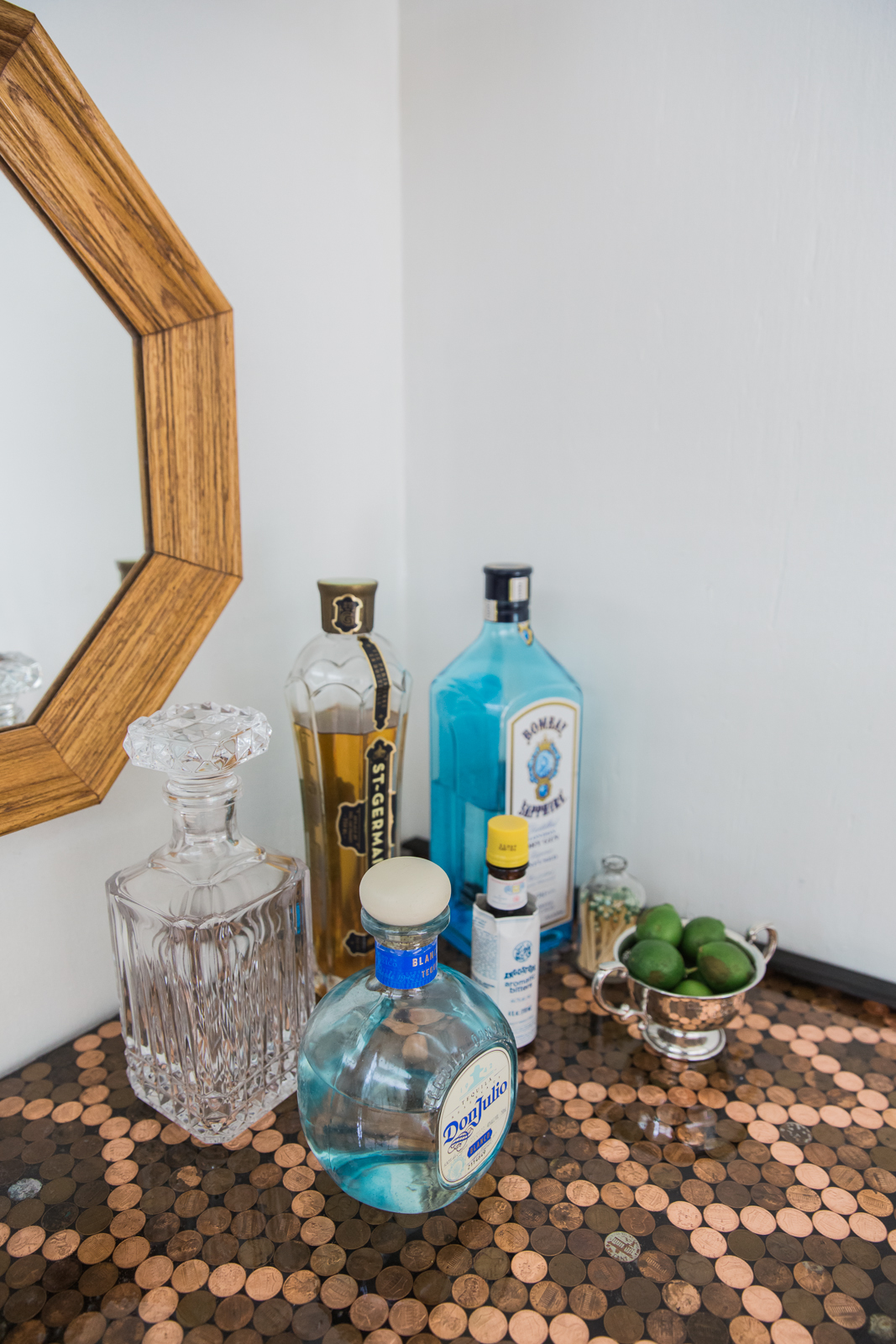 The hanging chair is a vintage find, and made all the prettier by the vintage beaded pillow from Stone Textile. It is part of a new vintage collection, curated in collaboration with Kelly LaPlante.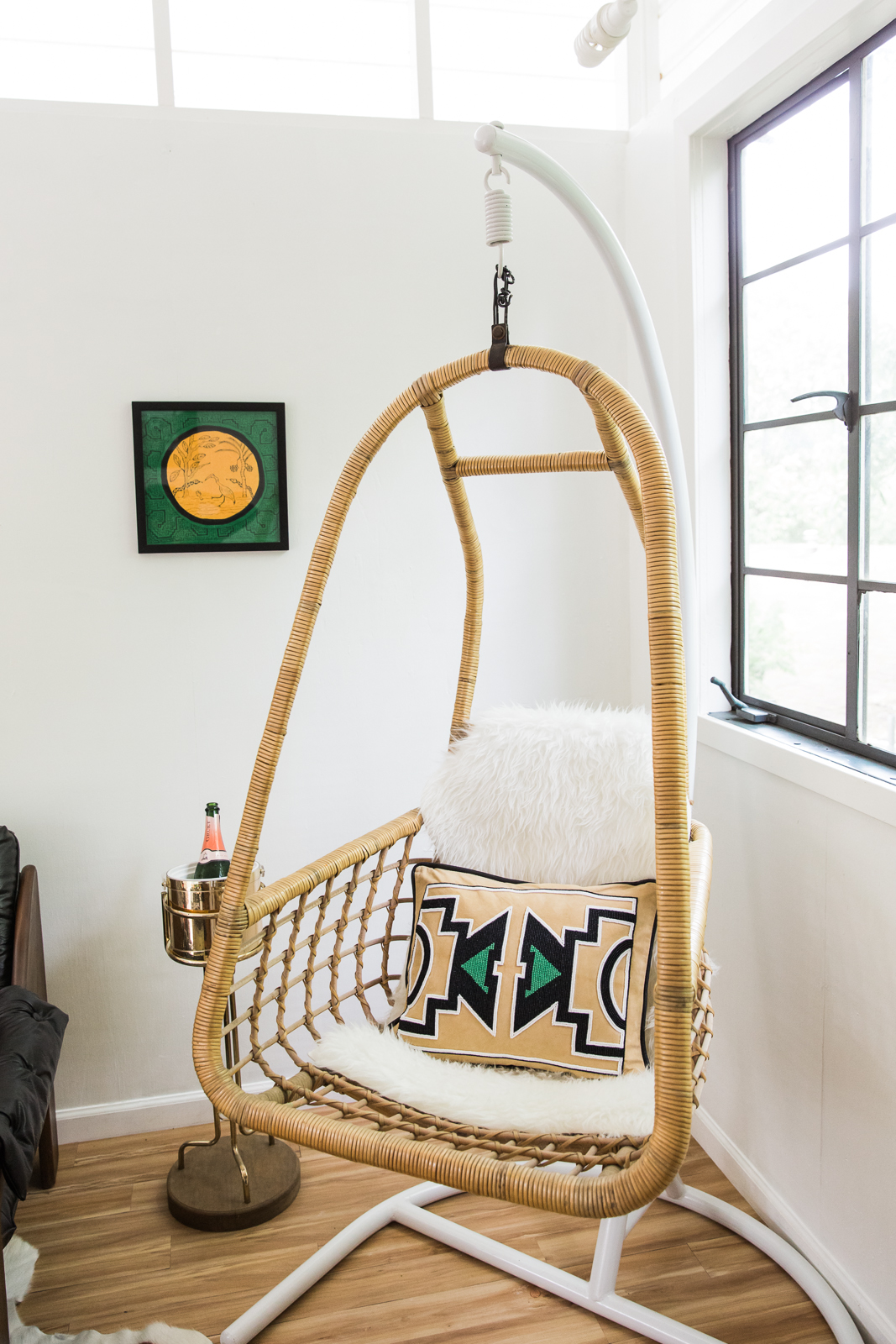 The brass bucket holder is also vintage.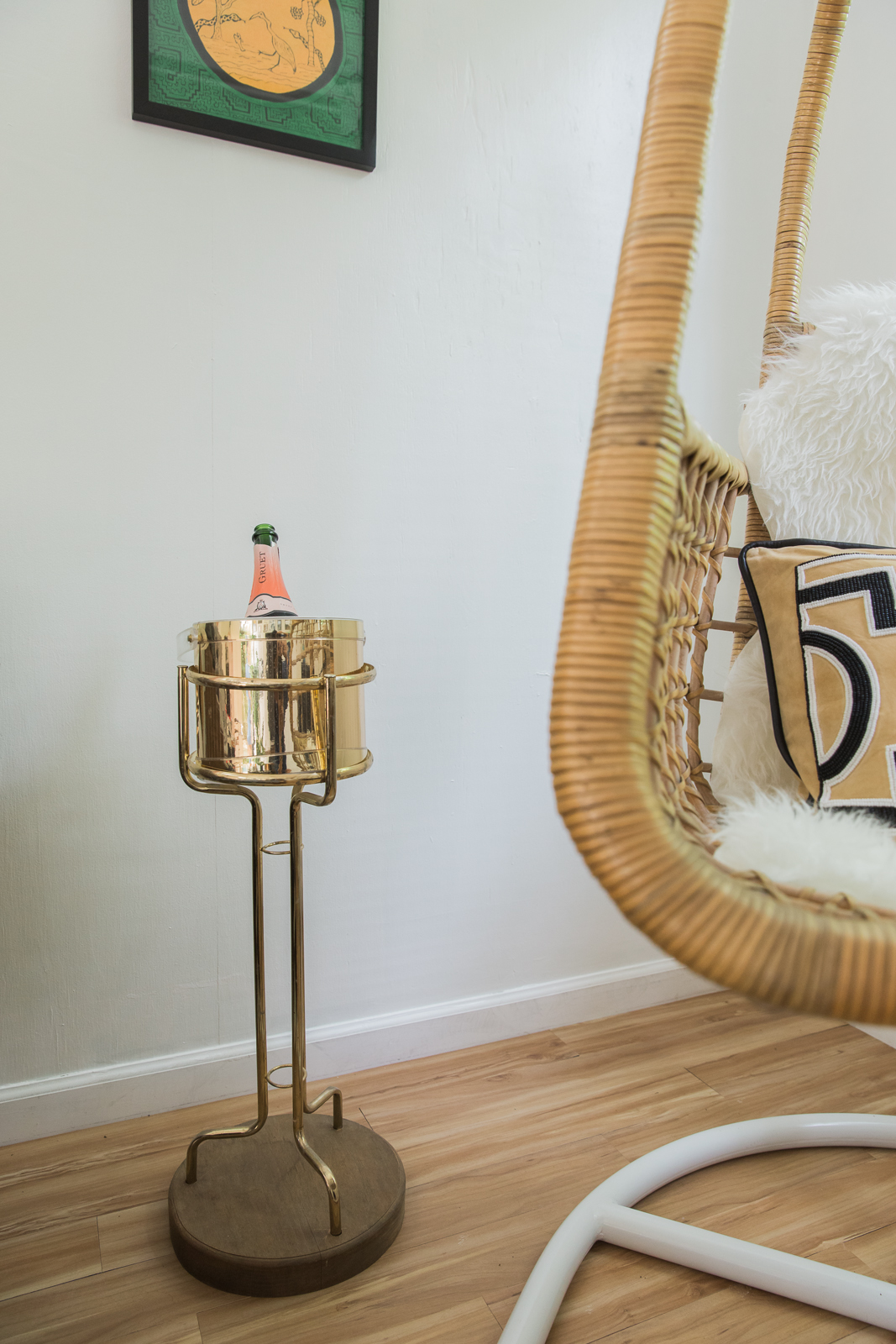 Like most others, I love me a gallery wall.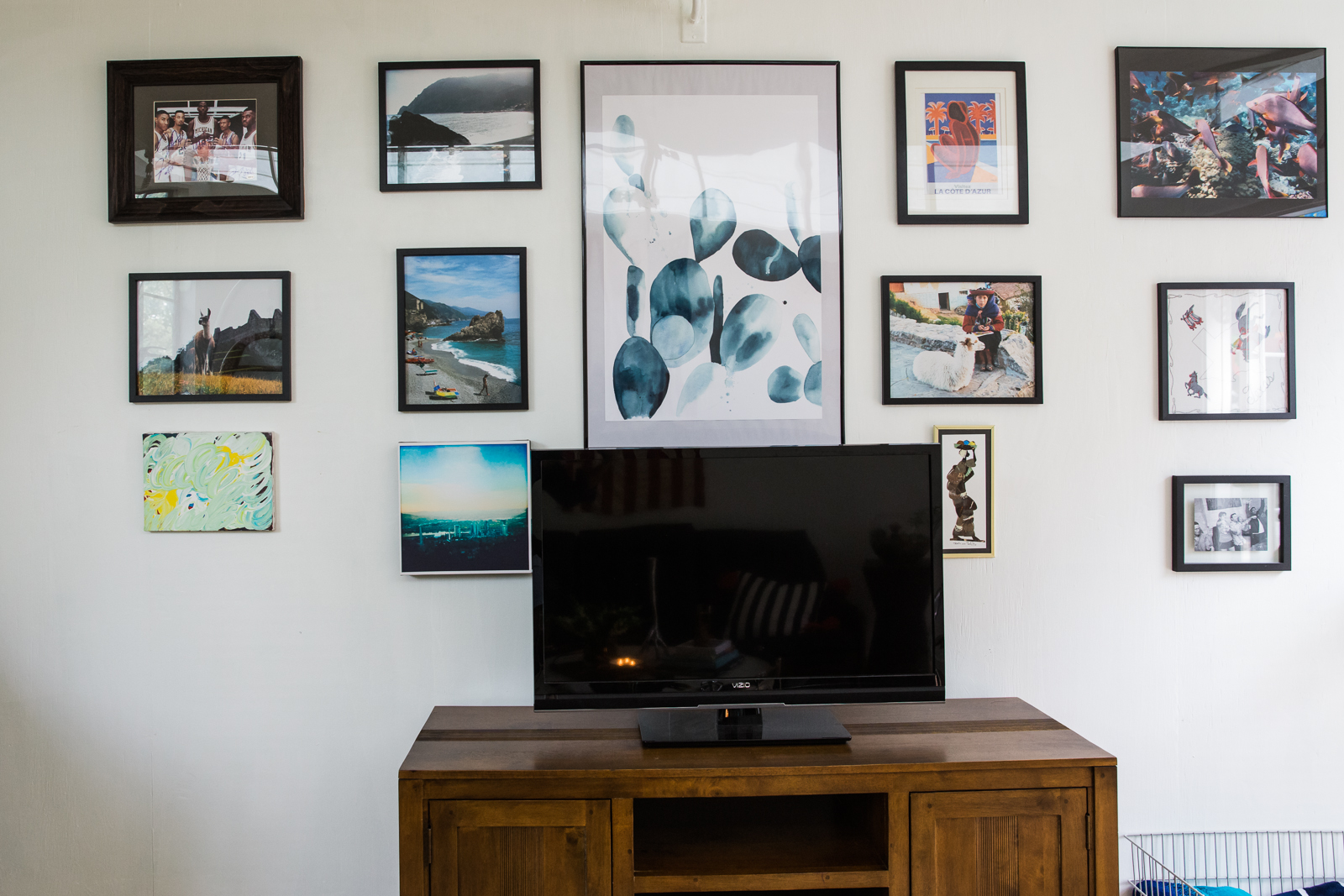 I particularly love this one because it is filled with images that are meaningful to me…pics from trips to Cinque Terra and Peru, original paintings, gifted posters. I particularly love the Cactus print from The Aestate.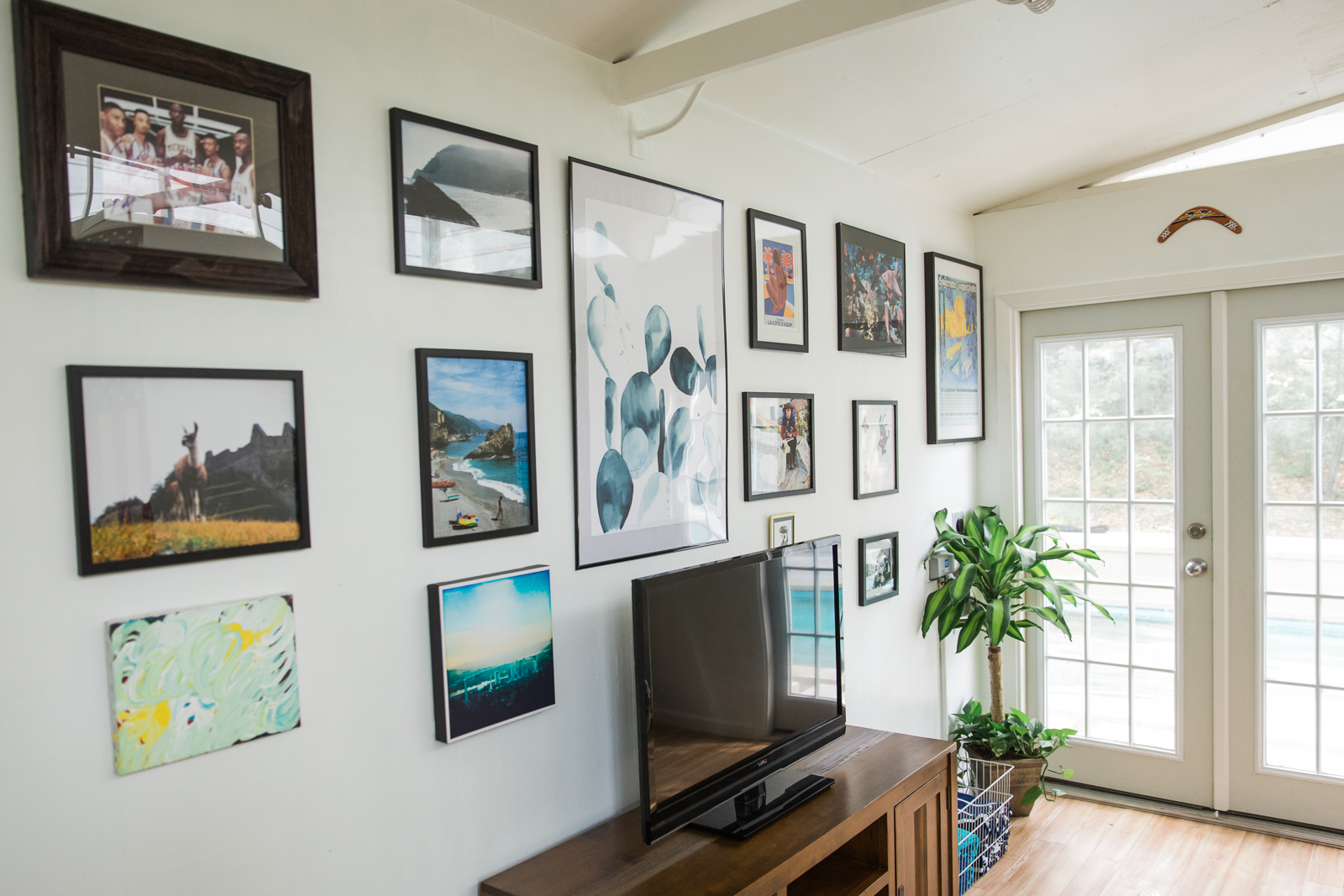 Can't forget my original macrame piece I MADE at a workshop..
and I love these mounted sombreros. We wore these last weekend during our Derby de Mayo party. Yes, me and my husband, and the tiny one belongs to my dog.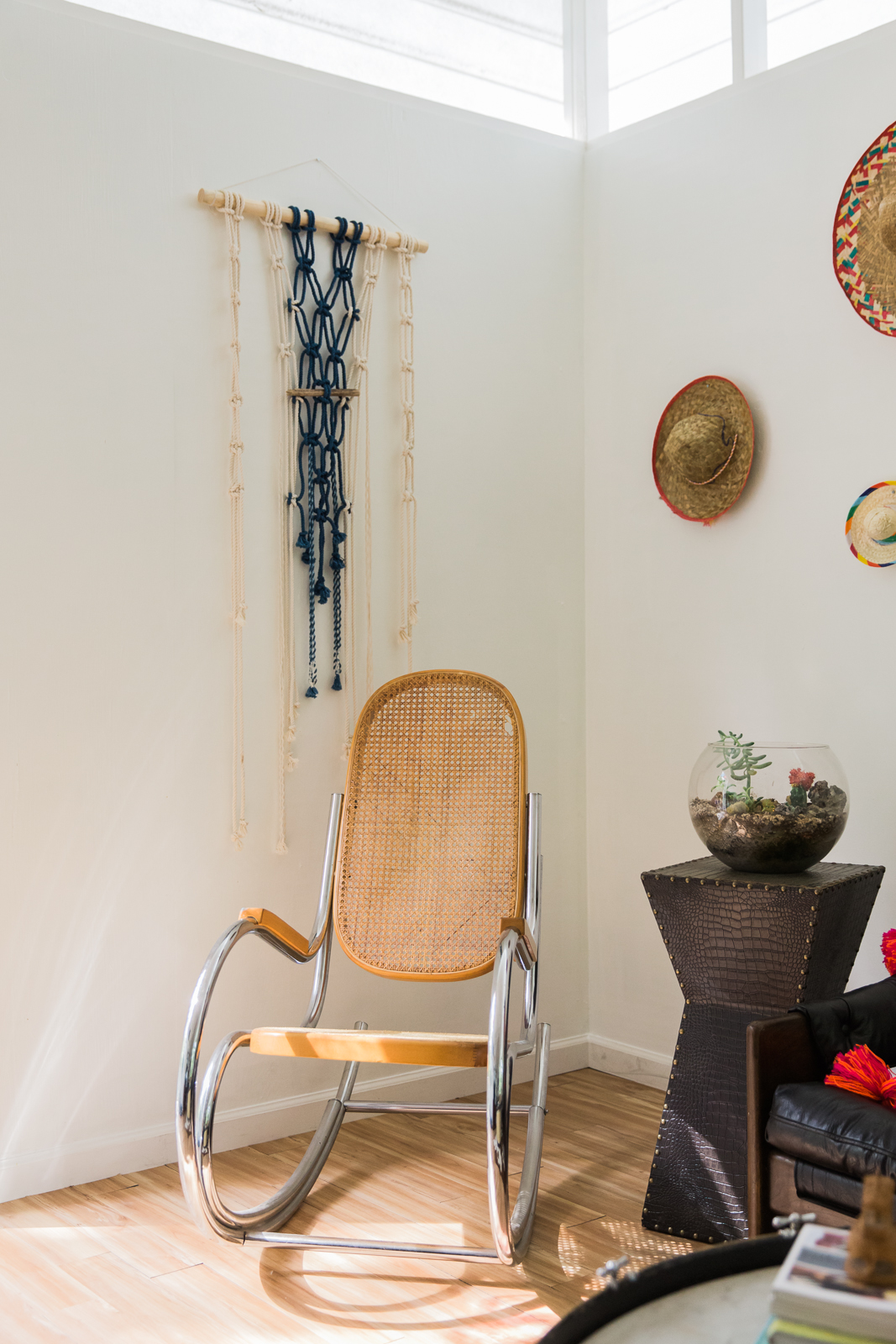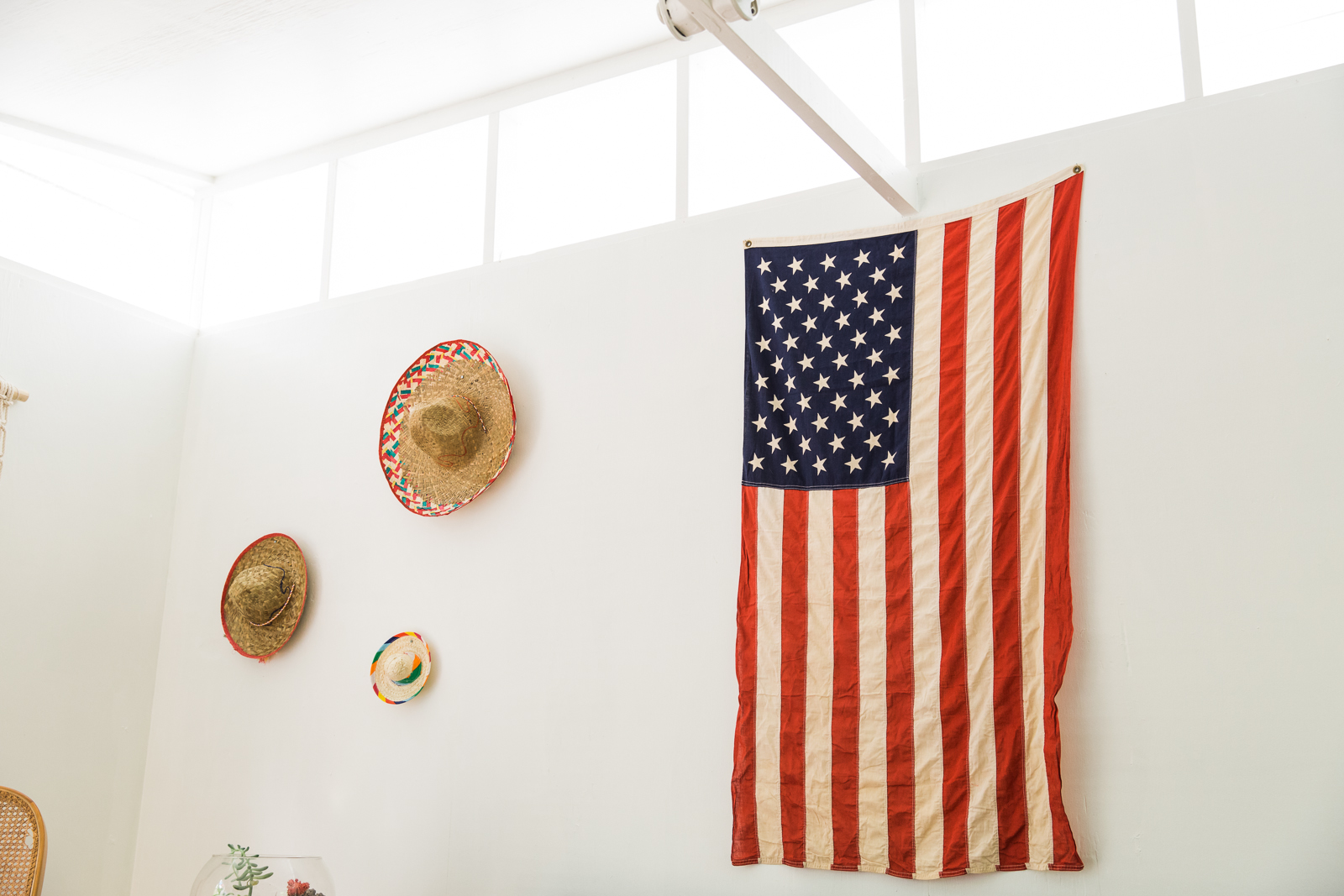 Well, that's about it for me. Stick a fork in me! I'll be here just hanging out (pun intended), drinking rose with my dog.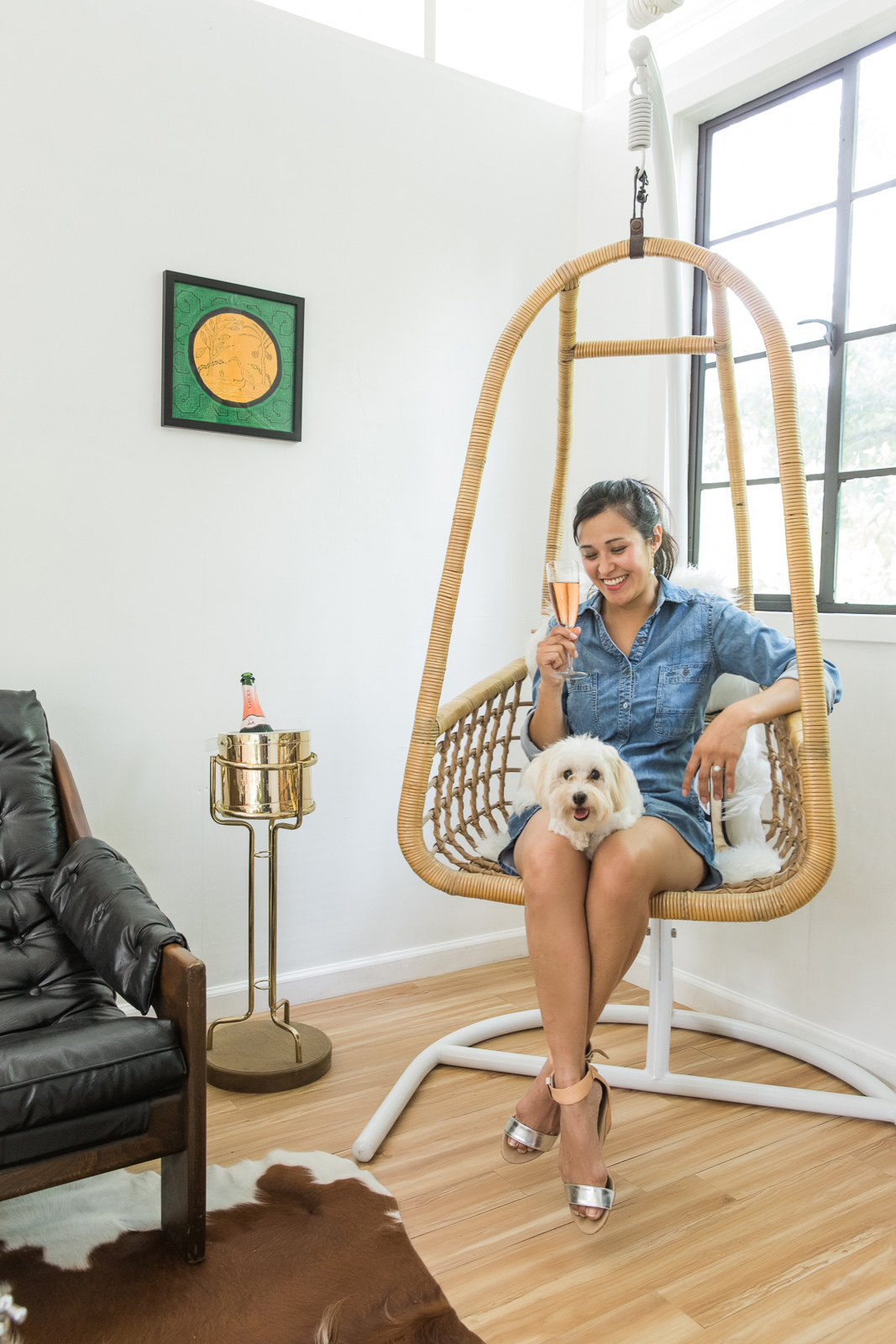 Thank you again Linda, this has been an absolute blast.
Until the next One Room Challenge, aquahaus out!
xoxo
Celine
p.s.- Special thanks to my awesome friend, Jason of Table4 for taking these kickass pics.