We had the best trip ever to Peru.  Peru is fantastic.  I will enumerate the reasons later.
We had 2 weeks to go and see the best of Peru, and this we did.
We started in Cusco, acclimating to the altitude before our 4D/3N trek to Machu Picchu.  This is key.  You will get some degree of altitude sickness.  You don't need diamox either, just lots of coca tea.
Cusco is a beautiful and charming town.  I never felt like we were there too long.  We stayed at the Hotel Encantada.  We LOVE this hotel.  It's beautiful, quaint, clean, and always smells wonderfully.  At night, it gets quite cold in Cusco.  This hotel provides hot water pouches to place by your feet in bed.  It is seriously heavenly.  We were so lucky, and got the best room ever, Room 206, which overlooks the city.  It has a beautiful little balcony where we'd drink tea and eat chocolate.
There is a lot to see in and around Cusco.  One good thing to do prior to going to Machu Picchu is to spend time in the Sacred Valley.  There are a few cities that are very lovely to visit on a day trip.  Pisaq has a huge market.  We visited ruins at Ollantaytambo.  And Chinchero is known for its handwoven textiles.  If you are bored in Cusco (which you shouldn't be), another fun thing to do is to take a cooking class.  We took an amazing one with Erick; I'll elaborate on this in a later post.
Here are a few collages of places visited before the trek: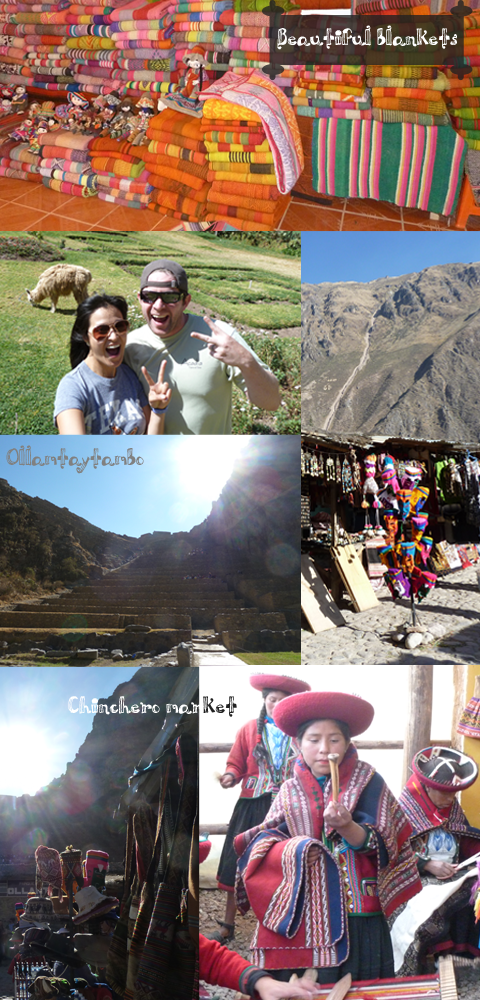 I'm already missing Peru…lots.